Mark your calendars: I have something very special coming March 30th!
Is your Marriage Healthy?
by Leslie Vernick MSW
Many of us have grown up in homes where sinful attitudes and destructive behavior are accepted as normal. We're so used to being mistreated or disrespected, controlled, and manipulated we don't recognize it as such.
Or, maybe you grew up watching Hollywood and Harlequin's version of love and marriage. They want you to believe that if you have enough sexual passion, the rest of your relationship is easy. It's a lie.
What are some of the foundational ingredients for a marriage to be healthy? And, why are these basics are crucial if a marriage is going to flourish?
Essentials to Thriving Relationships
Every grown-up relationship, not just marriage, requires three essential ingredients to thrive: mutuality, reciprocity, and freedom.
1. Mutuality means that both individuals contribute specific qualities essential for the care, maintenance, and repair of the relationship. They are honesty, safety, caring, respect, responsibility, and repentance. In marriage, both individuals make efforts to grow and change for the welfare of the other and the preservation of their relationship.
Destructive relationships lack these mutual efforts. When you are the only one in your marriage caring, repenting, being respectful and honest, sacrificing and working toward being a better spouse, or having a good marriage, you may be a godly wife but you don't have a healthy or biblical marriage.
Paul writes about the importance of mutuality in healthy relationships throughout his teachings. For example, he wrote, "We have spoken freely to you, Corinthians, and opened wide our hearts to you. We are not withholding our affection from you, but you are withholding yours from us. As a fair exchange—I speak as to my children—open wide your hearts also" (2 Corinthians 6:11-13 NIV).
Paul also emphasized mutuality throughout his teaching on marriage. Husbands and wives may have different roles and responsibilities, but he calls both to mutually fulfill them. Paul explains the mutuality of the sexual relationship where he writes, "The husband should give to his wife her conjugal rights, and likewise the wife to her husband. For the wife does not have authority over her own body, but the husband does. Likewise the husband does not have authority over his own body, but the wife does" (1 Corinthians 7:3-4 ESV).
These instructions to husbands and wives work great only when they are practiced by both the husband and the wife. Both are to give and both are to sacrifice to meet the needs of the other. When these directives are not practiced mutually, the relationship becomes a very different picture. That does not give you permission to give up or to disobey God's instructions although that path is tempting when you feel mistreated and angry. Instead, talk to God about how to handle this lack of mutuality and your hurt feelings. You do not have the power to turn a bad marriage into a good marriage all by yourself. But Peter reminds us that by our godly attitude and actions we can behave in ways that can influence our husband to surrender to God's transforming work of change in his life (1 Peter 3).
2. Reciprocity means that both people in the relationship give and both people in the relationship receive. Power and responsibility are shared and there is not a double standard where one person gets all the goodies in the relationship while the other person sacrificially does most of the work. The apostle Paul validates reciprocity when he gives guidelines how to give our resources sacrificially but not foolishly. He writes, "For I do not mean that others should be eased and you burdened, but that as a matter of fairness your abundance at the present time should supply their need, so that their abundance may supply your need, that there may be fairness" (2 Corinthians 8:13-14 ESV).
Destructive marriages are not mutual or reciprocal and therefore don't thrive. One person demands power over the other and relegates their partner to the status of a slave or a child. For example, John required Mary to be accountable for every penny she spent yet John did not hold himself to that same standard. He always had an excuse as to why his spending was more justified than Mary's and often spent large amounts of money without telling her. Mary worked a full time job as did John. Mary was required to direct deposit her entire paycheck into their joint account. John only deposited an equal dollar amount of his paycheck into their joint account. The rest of his income was put in a separate account with only his name on it. Mary had no access to it, nor did she even know what John's income was. There was no "we" to their financial decisions, John held all the financial power, Mary felt like a child being given an allowance.
To rebalance their marriage and create a healthier relationship Mary will need to speak up and require more reciprocity from John. And John will have to change how he sees and treats Mary. She needs to become his partner, not his possession if their marriage is to become healthy. Whether or not Mary and John are willing to do this work will determine whether or not their marriage becomes healthier.
3. Freedom means that in marriage you are allowed to make choices, to give input, and to express your feelings without fearing you'll be badgered, manipulated and punished. When freedom is present, we're not afraid to be ourselves nor are we pressured to become something we're not.
Freedom and safety is an essential component in all healthy adult relationships. We've all witnessed the results in world history, in fundamentalist religious groups, and in families where freedom is squashed. Members are not free to question, to challenge, to think differently than the group. They are not free to grow or to be themselves without fear of retaliation. Instead they have to do and say and be what the group or person in charge tells them. That is not healthy or God's plan.
Although God wants unity in a family and in the family of God, he created great diversity. We are to be ourselves and be of one mind all at the same time. This one mind idea doesn't mean melding ourselves into the desires or demands of another individual but together living for a common purpose and goal, the kingdom and glory of God.
Married couples need the freedom to thrive. I do not mean the freedom to do whatever you want regardless of how the other person feels. When you commit to someone in marriage, you freely choose to limit some (not all) of your choices. But all healthy relationships need the freedom to disagree, to respectfully challenge someone's decisions, and to be the person God made them to be. Having your freedom of movement, choices, friends, and emotional expression restricted by your husband sends the message that you are not allowed to be a whole person in your own marriage. Instead, you are to become what your husband tells you to be. This is not healthy for you, for him, or for your marriage.
Mutuality, reciprocity, and freedom. Essential qualities in all healthy relationships, especially marriage. How's your marriage doing?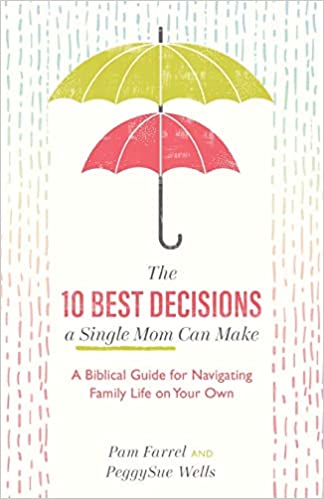 10 Best Decisions a Single Mom Can Make
by Pam Farrel and PeggySue Wells
No matter how you became a single mom, you share the same challenges and fears all single moms have. You may feel stretched to the limit. You may suspect your children need more than you're able to give. How are you going to do this on your own?
With humor, Scripture, and sage advice, Pam Farrel (child of a single mother) and PeggySue Wells (single parent of 7 children) show you how to
– be decisive
– create a nurturing home
– be proactive
– date wisely
– pray for your child
– embrace your happily-ever-after- and more
You are capable of parenting your children with courage, confidence, and clarity. This loving, practical guide shows you how.
Two winners will be selected in our next newsletter! One winner for each book (Giveaway only available to U.S. residents)
If you would like to enter to win, you can click here to provide name and email address.
The winners of "Forgiveness: Reflecting God's Mercy" by Hayley Satrom is Cheryl T and the winner of "A Painful Past: Healing and Moving Forward" by Lauren Whitman is Kathy R.
Upcoming
Events

Want to have Leslie speak at your event? Click here to find out more information.
AACC
March 19th – 20th, 2021
Dallas, TX

Call to Peace Ministry Retreat
May 13 – 16th. 2021
Asheville, NC
https://www.calledtopeace.org/events/retreat/
RESCHEDULED FOR 2021
The Village Church
December 3rd
Flowermound, TX
Lighthouse Christian Church
Date TBA
Rosemount, Minnesota
Center for Christian Counseling
Date TBA
Madison, WI
I'm Scared To Stay Well Or Leave Well
Question: In the 24 hours since discovering this site, I've read the Destructive Marriage e-book, watched every chapter on YouTube, scoured the blog posts, and read the Nine Tactics of Manipulators PDF… I'm desperate to understand how to restore my situation through any means necessary, but I just don't know how to stay well OR leave well.
Staying well means take care of yourself, don't harbor bitterness, don't engage in behavior that matches or retaliates the abuser… But we're also to show the law of consequences… How? How do you show consequences to a man that disdains your existence? Who is just as happy to lecture you for five hours as to ignore you entirely for weeks? I've demonstrated sacrificial love and perpetuated this cycle deeper every time, so what does the balance of good behavior and consequences look like?
Leaving well means establishing a community of support (which will certainly violate his expectations of privacy and respect) so you can do so safely and sanely. But how do you kick out a man who refuses to leave, except on his terms? And how can you walk away from a home to leave him to destroy everything of value to you?
Answer: Your feelings are valid and many women (and men) in your situation feel the same. They feel desperate for answers that will restore or fix their marriage – at any cost or any price.
But that approach will never lead to peace, true reconciliation or healing of your marriage. You don't really tell us much about what's going on in your marriage but you are quite clear that you feel ignored, distained, lectured, and trapped. You don't know how to stay well or leave well. Either choice will result in some pain and staying and doing nothing is also painful.
You said, "I've demonstrated sacrificial love and perpetuated this cycle deeper every time, so what does the balance of good behavior (CORE STRENGTH) and consequences look like?"
Let me take you to that passage in 2 Peter to give you a couple of examples of the balance of good behavior and consequences.
What People Are Saying About Leslie's Walking in CORE Strength Group
"My favorite part was just getting to hear directly from my coach on the subject. I actually found that I have started attempting to operate from my CORE without even knowing it. I definitely need work in some areas, but the validation that I am headed in the right direction was great! The affirmation and encouragement from her. Knowing that I'm not the only one out there trying to do as God would have me, but still feeling stuck and alone at times."
LESLIE WELCOMES YOUR QUESTIONS

Leslie wants to help you grow in your personal and relational effectiveness. Please submit your questions by clicking here.
Then, visit Leslie's Blog as she posts her responses to one question per week.
Note: Due to the volume of questions that Leslie receives, she is unable to respond to every question.