Facebook Lives: I will be doing some free FB lives in the upcoming weeks. Our first FB live is on March 17th at 12 PM ET and I will be discussing "the difference between a difficult, disappointing and destructive marriage."
Christian People Helpers: I am doing a special training just for pastors, counselors, lay leaders … anyone who helps women in marriages. You can save your seat for the Thursday training here.
How Do You Know When Someone is Truly Sorry?
by Leslie Vernick MSW
It's not always easy to tell if someone is truly repentant. They may say the words, I'm sorry, or cry buckets of tears, but how do we know if their tears are for the pain they've caused or for the pain they are in?
The apostle Paul speaks of two kinds of sorrow, worldly sorrow that leads to death and godly sorrow that brings repentance (2 Corinthians 7:9-10). I believe that it is crucial that the body of Christ learn to distinguish between the two especially if we are a people helper working with individuals in destructive relationships or ourselves are in one.
Worldly sorrow is a self-focused sorrow. It may contain great emotion, tears, and apologies, but the grief expressed is for one's self.
The person mourns the consequences of his or her sin and what she has lost. This may be a marriage, a job, a reputation, friends and/or family, or can even be one's own idea of who they thought they were. Here are some of the things we often hear a person say when they are sorrowing unto death.
I can't believe I did such a thing.
Why is this happening to me?
Please forgive me – implying, please don't make me suffer the consequences of my sin.
Why won't he/she forgive me? (In other words, why can't reconciliation be easy and quick?)
I'm so sorry (sad).
I'm a horrible person.
I wish I were dead.
I hate myself.
Judas is a good example of this type of sorrow (Matthew 27:3-5). After he betrayed Christ, he was seized with remorse yet it did not lead to godly repentance, but self-hatred and suicide. It is natural to feel compassion for the person suffering such emotional and spiritual pain.
However, it's crucial to not confuse this kind of sorrow with the kind of sorrow that leads to biblical repentance, especially when you are the victim of someone's sin or you are ministering to both the sorrowing sinner and the one who has been sinned against.
One-sided forgiveness may be granted, but biblical reconciliation is not possible when there has been no genuine repentance.
Godly sorrow demonstrates grief over one's sinfulness toward God as well as the pain it has caused others.
John the Baptist said to the religious leaders, "Prove by the way you live that you have repented of your sin and turned to God" (Luke 3:8).
Below are eight evidences that demonstrate the fruit of genuine repentance.
Accepts full responsibility for actions and attitudes, doesn't blame others or situations.
Acknowledges sinfulness (instead of "I can't believe I could do such a thing").
Recognizes the effects of actions on others and shows empathy for the pain he/she's caused.
Able to identify brokenness in detail such as abusive tactics, attitudes of entitlement, and/or areas of chronic deceit.
Accepts consequences without demands or conditions.
Makes amends for damages.
Is willing to make consistent changes over the long term such as new behaviors and attitudes characteristic of healthy relationships.
Is willing to be accountable and if needed, long-term help.
In my work with couples who have experienced grievous sin, I have found that it is not sin that ends a marriage.
All couples experience sin. Rather, it is one's blindness and refusal to acknowledge their sin and repent that makes reconciliation and healing impossible.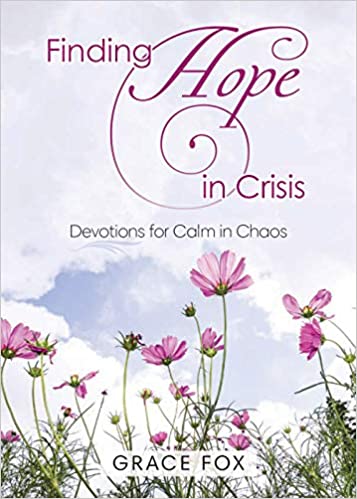 Finding Hope in Crisis
by Grace Fox
Enjoy having 90 daily devotions to find hope in crisis using Scripture, prayer, and practical applications. Start your journey to hope and healing today.
Enjoy having a devotional that will help you:
Tap into inner strength and wisdom with short reflections
Make the best of your day without shame or guilt, using encouragement from God's Word
Find comfort in routine in meeting with the Lord daily
And much more
A diagnosis. Death of a loved one. A layoff. A broken relationship. Life changes in a nanosecond when storms sweep in, often without warning. With minds barely able to think clearly, we often set our Bible aside. However, in reality, that's when we need its comfort and strength most. This devotional is written for those longing for hope, but are lacking the ability to focus on a lengthy Scripture passage.
Two winners will be selected in our next newsletter! One winner for each book (Giveaway only available to U.S. residents)
If you would like to enter to win, you can click here to provide name and email address.
The winners of "10 Best Decisions a Single Mom Can Make" by Pam Farrel and PeggySue Wells is Naomi V. and Yvonne K.
Upcoming
Events

Want to have Leslie speak at your event? Click here to find out more information.
AACC
March 19th – 20th, 2021
Dallas, TX

Call to Peace Ministry Retreat
May 13 – 16th. 2021
Asheville, NC
https://www.calledtopeace.org/events/retreat/
RESCHEDULED FOR 2021
The Village Church
December 3rd
Flowermound, TX
Lighthouse Christian Church
Date TBA
Rosemount, Minnesota
Center for Christian Counseling
Date TBA
Madison, WI
I'm In A Destructive Relationship With Myself
Question: I am seeing a counselor and I am on medication to deal with anxiety and depression. However, my counselor mentioned that I'm dealing with scrupulosity as part of my depression (there is OCD and anxiety that runs in my family). Granted she and I are dealing with this in counseling, but do you have any practical Biblical applications on dealing with this issue?
P.S. I seem to pick out all the tricky verses of the Bible and apply them to myself. I can't seem to sleep at night because I wake up thinking about this every morning at 2 a.m. Any practical suggestions would be appreciated, especially since sleep is vital to a depressed person.
Answer: For those who aren't sure what scrupulosity is, let me first give a brief definition. Scrupulosity is a religious form of obsessive-compulsive disorder that was first described hundreds of years ago by the Catholic Church.
In scrupulosity there is a preoccupation to the point of obsessing that one is not doing enough to make God happy, or that one has committed a sin by thought, word, or deed, and that God is displeased. Persons suffering with scrupulosity feel tremendous anxiety and guilt because they doubt their own faith and doubt whether God truly forgives them. Then they feel more guilt and anxiety because of their doubt and lack of trust in God. In this process they may develop rituals they must do that help them feel less anxious. But before long, the anxiety builds again and a new ritual or compulsion is needed to calm down.
It becomes a vicious circle of obsessive thought and compulsive behavior and scripture verses alone are usually insufficient to break into the obsessive thought patterns and ritualized compulsions of a person with this problem.
What People Are Saying About Leslie's Conquer Support Group
"I love being able to be in touch with Leslie and with other women who know what I am going through. I love being able to listen to the playback during times when I can't "be there" in person for the calls. I love knowing there is help out there, and receiving the supplementary videos and articles. The thing I love the most is the specific feedback on how to respond to situations. Thanks!." – Sherilyn
LESLIE WELCOMES YOUR QUESTIONS

Leslie wants to help you grow in your personal and relational effectiveness. Please submit your questions by clicking here.
Then, visit Leslie's Blog as she posts her responses to one question per week.
Note: Due to the volume of questions that Leslie receives, she is unable to respond to every question.