FREE TRAINING: I am doing a workshop on Thursday, August 17th. The topic will be "I'm Not Okay When You're Not Okay": Defining my problem, your problem, and our problem." you can save your spot at leslievernick.com/joinwebinar
Our New Quickstart Guide: If you wonder whether or not you're in a destructive marriage or just a difficult one, please check out our new Quick Start Guide to find out.
Who Do You Want To Be?
By: Leslie Vernick

A while back, my friend Barb noticed I was slouching more than usual. Ugh, I feared I was turning into an old lady with bad posture. I didn't want to end up with a walker and a curved spine so it was time to make a change. I called my gym and made an appointment with a trainer for an evaluation.
Chris, a young, burly fitness trainer, pushed me through a battery of tests and finished our evaluation by whipping out a camera. Already I felt old, frumpy, and fat, but it got worse. You know the saying a picture doesn't lie. The truth was right in front of me. My shoulders slumped, my belly pouched out, my back swayed, and my neck and chin jutted out from my shoulders in a most unflattering way—and I worked hard to stand up straight when he took the picture. Chris turned to me, eyebrows raised and said, "You need to build your core."
"What's that?" I asked, dreading his response.
"Your core muscles wrap around your abdomen and back, support your spine and keep you balanced and stable," Chris said. "Bottom line, a strong core keeps you from slouching and looking old." Then he asked, "Are you ready to get to work?"
"Ummm, let me think about this for a few days," I stammered, anxious to bolt out of there as soon as possible.
After a hard cry, I realized I faced a tough choice.
I was either going to work hard to strengthen my core muscles, or I could continue to do nothing and become rounded and more slouched. I didn't like those two alternatives. I wanted Chris to tell me that there was a third choice, a pill I could take, a massage I could get, something that didn't hurt and was easier than working out with weights three times a week. But that wasn't one of my options if I wanted to improve my core, my weight, as well as my overall muscle strength and alignment.
In the same way, when you're in a destructive marriage, you know that you have some difficult choices in front of you. You already know you can't change your marriage or your man, but you can change something. You.
I know change is hard, but I want you to know something important. You can do something even if your husband or marriage never changes. You can choose to grow stronger through your destructive marriage. But I also want to warn you if you choose to do nothing, it will cost you.
Your emotional, mental, and spiritual core will get weaker and weaker, curving inward until your entire personhood is out of alignment. You won't know who you are anymore or who God made you to be. Your example to your children will be telling them that it's okay for a husband to devalue a wife, a man to treat a woman with disrespect and contempt. Is this the picture you want them to see? The family life you want them to model in their own families in the future?
Sacrificing yourself and allowing your spouse to continue to sin against you simply to keep peace in your marriage or pretend things are fine when the relationship has terminal cancer sin is never a wise choice, not for you, not for your husband, not for your marriage. God calls you to be a biblical peacemaker but not a peacekeeper or peace faker.
In my book, The Emotionally Destructive Marriage, I outline four core strengths that are essential to build and maintain good mental, emotional, spiritual, and relational health. I use the acronym CORE to help you remember what they are. With God at your center and with His help, you can make these four changes:
C – I will be committed to truth, both internally in my own heart and mind and externally. I refuse to pretend.
O – I will be open to the Holy Spirit and wise others, teaching me, maturing me, and guiding me into his way of living my life.
R – I will be responsible for my own responses to destructive behavior and commit to being respectful without dishonoring myself.
E – I will be empathic and compassionate toward others without enabling people to continue to abuse and disrespect me.
Marital adversity not only reveals character but also shapes it. You have a choice about how that shaping is taking place in your character.
When you know and believe that you are a loved, valuable, worthwhile human being and live from that core place, toxic people lose their power to manipulate you. They can't control and intimidate you as they once did when you felt worthless, dependent and needy.
If you don't strengthen your core, you will always live from your circumstances (of an awful marriage) and your emotions. On the other hand, when you live from your core, your abusive/destructive husband might permanently damage your marriage, but he cannot destroy you.
Don't forget your CORE reflects who you are or who you want to be, not just what you do.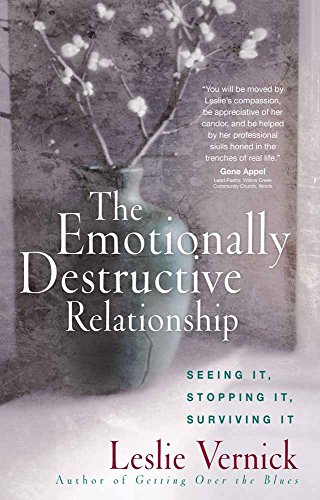 The Emotionally Destructive Relationship
by Leslie Vernick
Leslie Vernick, counselor and social worker, has witnessed the devastating effects of emotional abuse. Many, including many in the church, have not addressed this form of destruction in families and relationships because it is difficult to talk about. With godly guidance and practical experience, Vernick offers an empathetic approach to recognizing an emotionally destructive relationship and addresses the symptoms and the damage with biblical tools. Readers will understand how to:
Reveal behaviors that are meant to control, punish, and hurt
Confront and speak truth when the timing is right
Determine when to keep trying, when to get out
Get safe and stay safe
Build an identity in Christ
This practical and thorough resource will help countless individuals, families, and churches view abuse from God's perspective and understand how vital it is for victims to embrace His freedom from the physical, emotional, spiritual, and generational effects of emotionally destructive relationships.
Two winners will be selected in our next newsletter! (Giveaway only available to U.S. residents)
If you would like to enter to win, you can click here to provide name and email address.
The winners of "The Emotionally Destructive Relationship" by Leslie Vernick are Melise R. and Emily B.
What's the Difference Between
True Guilt and False Guilt?

By Leslie Vernick

Question: How do I discern true guilt from false guilt? I want to please God and serve others for Him, but I don't want to give in to manipulators, either in my family or my friends.
Answer: Thanks for your question. I think it's easy to get hooked into feeling like you have done something wrong (guilt) when someone is unhappy, disappointed, or angry when you don't do what they want.
If a person can make you feel guilty for saying no, he or she is much more likely to be successful in getting you to back down. This is the manipulator's strategy. To make you feel as if you are doing something wrong or you are being selfish when you won't do what he or she wants. This type of person's thinking is simple. He (or she) believes, "If you love me, then you'll always do what I want." Therefore, if you say no, then you must not love me or you are selfish.
A two-year-old uses this tactic on his mother to get her to buy them something while standing in line at the grocery store. Most mothers are wise enough not to be manipulated by these tantrums. We know that a firm "no" to our child is the most loving thing we can do. The same is true for other relationships. Saying no to manipulation is actually taking a stand against someone else's sin. This is a good thing.
What People Are Saying About Leslie's Walking In CORE Strength Group
I took WCS 2 years ago. I learned more than I dreamed possible. How to be who God called me to be. How to be responsible for my own life, how to stand strong and get stronger living alone. I had to put up with so much for so long, and I learned in WCS to finally say NO! Leslie and her team are amazing. I praise his name!
– Truly
LESLIE WELCOMES YOUR QUESTIONS

Leslie wants to help you grow in your personal and relational effectiveness. Please submit your questions by clicking here.
Then, visit Leslie's Blog as she posts her responses to one question per week.
Note: Due to the volume of questions that Leslie receives, she is unable to respond to every question.