Save The Date: If you struggle building broken trust, I have a free training coming up on September 29th. We will be sending out more details soon.
Money, Faith and Business: I am honored to be part of this amazing summit that my friend Jennifer Allwood put together. This virtual event was put together with the goal of helping you grow a profitable business as a woman of faith. I'll be speaking alongside anointed Christian entrepreneurs like Jennifer Allwood, Jordan Lee Dooley, Christy Wright, and Sandi Krakowski! It all starts September 13th. Find all the details here.
Where is God in my Destructive Marriage?
by Leslie Vernick
Anyone who grew up in church learned the song, "Jesus Loves Me This I Know." And, how do we know? As the song says, "The Bible Tells Me So."
Then you grow up and learn that this same Bible also says God hates. We're taught, for example, he hates divorce (Malachi 2:4). Not a big deal … unless you happened to grow up and marry an emotionally abusive man.
So what do you do? How do you reconcile the truth that the "God who loves me" seems to care more about keeping my marriage together than my personal (or my children's) safety or sanity?
Christian leaders and counselors often counsel women in these situations to:
"Keep extending grace.
"Forgive and put the past in the past."
"Stop pushing his buttons."
"Try harder to make him happy."
"Respect and submit to him. He's the head of the home."
And, of course, "If he hasn't cheated on you have no grounds for divorce."
Friend, please understand that the majority of people handing out this advice are well-meaning and truly believe they are offering godly counsel. But I believe they are wrong.
Anyone can cherry-pick a verse and make theology. But, to properly interpret the Bible, one needs to look at the whole counsel of God as well as know the heart of God. It's important to see who God is and how he has handled situations similar to the one you're in.
Here are three Biblical truths you can know for sure:
You have a God who knows how you feel.
God knew grief when Adam and Eve sinned…to the point where He actually regretted creating mankind (like you may regret marrying your partner). He gave them everything and it wasn't enough. They wanted even more. (Genesis 6:5-6)
Then there were the Jews…a nation God invited to be his chosen people. They were in a covenant relationship. But, instead of being faithful, Israel broke their covenant. They were unfaithful and indifferent. And, God's heart was broken once again." (Luke 13:34).
You have a safe place to pour your heart out. You have a God who understands and cares about the anguish you feel.
God hates what's happening in your marriage.
A lot of pastors and Christian counselors want women (or men) in destructive marriages to play a dangerous game of lie and pretend. Only a sexual affair is seen as Biblical justification for breaking marital vows. For every other sin (explosive anger, pornography, indifference, financial deceit, etc.,) the burden is on the injured spouse to perpetually forgive, forget the past and continue to supernaturally endure the abuse.
God is not asking you to pretend or to lie to cover up evil. You don't have to act like you have a great marriage when you don't. It's okay to acknowledge that your husband's sin has seriously damaged your marriage. That trust is broken. That you don't feel safe, or loved, or valued.
There are so many examples of this in Scripture. In Genesis alone, there's Cain and Abel, Joseph and his brothers, Rebekah and Isaac, Laban and Jacob. God didn't hide the hideous sin in these relationships and the damage it caused (Genesis chapters 4, 24, 29, 37).
The Malachi 2 passage that is so often quoted as "God hates divorce," is actually saying that God hates when a husband is treacherous and unfaithful to his wife. Hates it. He hates when you are being treated with cruelty and indifference. He hates it when you're struggling financially because of your husband's sin. He sees your situation and he hates it. (He doesn't hate your husband but his sin and the hardness of his heart.)
God Values Your Safety and Sanity
Too many Christians (and even pastors) expect a wife to stay in a marriage where she is not safe. But that's not the example we see in the Bible. God cared about the safety of his people. God told Joseph to flee King Herod when he sought to kill baby Jesus (Matthew 2:13-15), David fled from King Saul and didn't believe his words of remorse. God commended Rahab for hiding Jewish spies, even lying to the soldiers about it (Hebrews 11:31). Jesus confronted the Pharisees about their rigid Sabbath keeping, challenging them that it was right to rescue a child or even an ox on the Sabbath … emphasizing that their safety and well-being was more important than "blind obedience and rule keeping" (John 7:1, Luke 14:5).
Proverbs 27:12 reminds us, "The prudent see danger and take refuge."
Therefore, if you're in danger, do what it takes to get safe! Be confident that is God's will. That includes physical safety as well as your sanity. If you're at the end of your rope, tell someone. Get help. Don't lie and pretend all is well when it is toxic and/or dangerous. God does not care more about the sanctity of marriage than you and your children's safety and sanity.
Jesus loves you, this I know.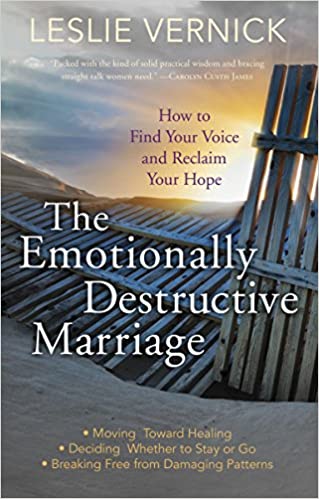 The Emotionally Destructive Marriage
by Leslie Vernick
You can't put it into words, but something is happening to you. Your stomach churns, your heart aches, and the tension in your marriage is making you feel weary and a little crazy. The constant criticism, disrespect, cruelty, deceit, and gross indifference are eroding your confidence and breaking your spirit.
For any woman caught in an emotionally destructive marriage, Leslie Vernick offers a personalized path forward. Based on decades of counseling experience, her intensely practical, biblical advice will show you how to establish boundaries and break free from emotional abuse. Learn to:
identify damaging behaviors
gain the skills to respond wisely
promote healthy change
stay safe
understand when, why, and even how to leave
recognize that God sees and hates what is happening to you
Trying harder to be a perfect fantasy wife won't help fix what's wrong your marriage. Discover instead how you can initiate effective changes to stop the cycle of destruction and restore hope for the future.

Two winners will be selected in our next newsletter! (Giveaway only available to U.S. residents)
If you would like to enter to win, you can click here to provide name and email address.
The winners of "Lord, I Just Want to be Happy" by Leslie Vernick are Marylou P. and Shelia Z.
Upcoming
Events

Want to have Leslie speak at your event? Click here to find out more information.
AACC
September 12th – 18th
Orlando, FL
Lighthouse Christian Church
October 22nd and 23rd
Rosemount, Minnesota
The Village Church
December 3rd
Flowermound, TX
Center for Christian Counseling
Date TBA
Madison, WI
A Courageous Woman Refused To Submit
A Courageous Woman
"On the seventh day of the feast, when King Xerxes was in high spirits because of the wine, he told the seven eunuchs who attended him…..to bring Queen Vashti to him with the royal crown on her head. He wanted the nobles and all the other men to gaze on her beauty, for she was a very beautiful woman. But when they conveyed the king's order to Queen Vashti, she refused to come." Esther 1:10-12 NLT
From a young age, many women are trained to give, to go along, to accommodate, and to not hurt anyone's feelings. "Be nice," we're told, "Or people won't like you". We've learned to please, to placate, and to pretend so as not to make waves. To keep the peace. To be loved and accepted.
What People Are Saying About Leslie's Conquer Support Group
"I can't thank you guys enough for all this ministry has given me. I have finally escaped my abusive husband after many attempts and empty promises of change. I don't think I could have ever had the strength and courage to do it without Leslie and the Conquer program. Thank you again for all you do and please extend my heartfelt gratitude to Leslie as well."
-Dana Lee
LESLIE WELCOMES YOUR QUESTIONS

Leslie wants to help you grow in your personal and relational effectiveness. Please submit your questions by clicking here.
Then, visit Leslie's Blog as she posts her responses to one question per week.
Note: Due to the volume of questions that Leslie receives, she is unable to respond to every question.