Back by Popular Demand: My Walking in CORE Strength 3 Month Group is open for our spring session. We allow only 15 women per group. We offer daytime and evening group options. Get all the details at leslievernick.com/groupcoaching
When Trying Harder Becomes Destructive
Leslie Vernick

Christian women and men in troubled marriages are often encouraged to try harder to be more caring, more attentive to their spouse's needs, more respectful, less demanding and more sacrificial or submissive, in the hopes that through these focused loving actions, the marriage will improve.
And, in many marriages this might be wise counsel. When one person starts to try harder it often begets a reciprocal response in the other person. The spouse begins to try harder too. Amends are made and the relationship is repaired. This is a good start and when the marriage stalls, someone needs to get some movement forward. However, in certain kinds of marriages it is not a good idea and can actually make the marriage worse.
Briefly, let me explain why, in some marriages, trying harder to accommodate one's husband or wife, do what he or she wants and needs and to be more compliant and accommodating to what he or she says becomes destructive not only to you but also to your spouse as well as your marriage.
It Feeds the Lie
In healthy child development a young child must come to face a hard truth – – It's not all about me. Often he or she is sobered into this reality by the arrival of a younger sibling or the needs of other people in the family. He sadly learns that my needs, wants, desires or feelings don't always trump.
However, some individuals have never learned this. They still believe the lie that it is all about me and that my feelings and needs are always the most important. We see entitlement thinking rampant in our culture.
Some men do not want to be married to a real woman who has her own feelings, her own needs, and her own brokenness. Instead they want a fantasy wife. A blow up doll wife that continues to bounces back with a smile even when he knocks her down. He wants a wife who always agrees, always acts nice, always smiles and thinks he's wonderful all of the time no matter what he does or how he behaves. He wants a wife who wants to have sex with him whenever he's in the mood, regardless of how he treats her. He wants a wife that will never upset him, never disagree or never challenge him, and never disappoint him. He wants a wife that grants him amnesty whenever he messes up and never mentions it again.
The more a woman colludes with her husband's idea that he's entitled to a fantasy wife, the more firmly entrenched this lie becomes. She will never measure up to his fantasy wife because she too is a sinner. A real wife will disappoint him some times. She won't always be able to meet every want or need. A real wife also reflects to him her pain when he hurts her and God's wisdom when she sees him making a foolish decision.
In a healthy marriage where both individuals are allowed to be themselves, couples must learn to handle disagreements, differences and conflicts through compromise, mutual caring, and mutual submission. Sacrifice and service are mutually practiced in order to love one another in godly ways. When we fail (as we will) we see the pain in our partner's face and with God's help, make corrections so that damages are repaired and love grows. In an unhealthy marriage when real wife and fantasy wife collide, it's never pretty.
Therefore, what would be wise for a in destructive marriages? We must help her gain a vision for God's role as her husband's helpmate. According to the Bible a helpmate is not an enabler, but rather a strong warrior. It means she will need to learn to fight (in God's way) to bring about her husband's good. She will need to think and pray about how God can use her to meet her husband's deepest needs, not just his felt needs.
I often give women in these situations this challenge. Ask God what are your husband's biggest or deepest needs right now. Is it to continue to prop him up, indulge his self-centeredness and self-deception or does he need something far more radical and risky from you?
I encourage her to prayerfully and humbly ask God to show her how best to biblically love her husband. It may be to stop indulging his selfish behavior and speak the truth in love. It may be to reflect back to him the impact his behaviors have on her and their children. It may be to set boundaries against his misuse of power under the guise of headship so that he doesn't remain self-deceived. It may mean exposing some of his sins to the leadership of the church so that they too can act as a reflective mirror so that he has the best opportunity to look at himself from God's perspective and repent.
That kind of love is indeed risky, redemptive, and sacrificial as she does not know what his response will be to this kind of love. But if he wakes up and repents of his demand for a fantasy wife that would be a positive change for her, for him, and for their marriage.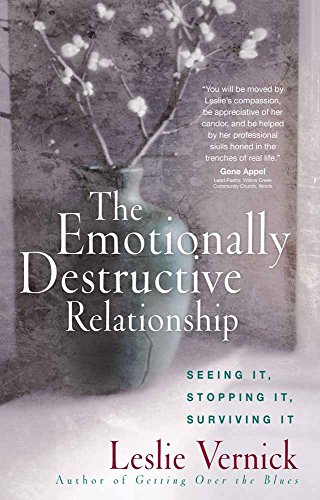 The Emotionally Destructive Relationship
by Leslie Vernick
Leslie Vernick, counselor and social worker, has witnessed the devastating effects of emotional abuse. Many, including many in the church, have not addressed this form of destruction in families and relationships because it is difficult to talk about. With godly guidance and practical experience, Vernick offers an empathetic approach to recognizing an emotionally destructive relationship and addresses the symptoms and the damage with biblical tools. Readers will understand how to:
Reveal behaviors that are meant to control, punish, and hurt
Confront and speak truth when the timing is right
Determine when to keep trying, when to get out
Get safe and stay safe
Build an identity in Christ
This practical and thorough resource will help countless individuals, families, and churches view abuse from God's perspective and understand how vital it is for victims to embrace His freedom from the physical, emotional, spiritual, and generational effects of emotionally destructive relationships.
Two winners will be selected in our next newsletter! (Giveaway only available to U.S. residents)
If you would like to enter to win, you can click here to provide name and email address.
The winners of "The Emotionally Destructive Relationship" by Leslie Vernick are BJ J. and Bonita A.
How Do I Get Through to My Spouse?
By Susan King

Question: How do I get through to my spouse the gravity of the pain & trauma our now grown daughter feels, due to growing up on the emotional roller coaster of his inconsistent moods and his emotional unavailability/often coldness? He doesn't show her enough compassion for her emotions & her need for love and approval from men, due in part to the lack of his efforts to bond more with her as a father when she was growing up. It's so painful to hear him make light of her emotions whether it be from their relationship or any heartbreaks she feels from her own destructive relationships with men.
Answer: Thank you for submitting your question. Many women have similar questions that begin with, "How do I get through to my spouse". That beginning leads me to believe there has already been an effort that has not created the outcome you have hoped for. I will assume that you have already had a kind, respectful, assertive conversation about your concerns. If not, that would be a great place to start. That conversation might sound like,
"It is painful for me to hear about our daughter's heartbreak. I would love her to have good, healthy interactions with men. I know you love our daughter very much so it is confusing to me when I hear what sounds to me like you making light of her emotions. I imagine that is not intentional, but I am concerned that it may not be helping her. Is there anything I can do to better help support your relationship with her?"
What People Are Saying About Leslie's book "The Emotionally Destructive Relationship"
I was so encouraged to read others' stories and know I was not alone, and Leslie's wisdom helped me sort through hurt feelings to see the heart of what was going wrong in my relationship and what I could do to help fix it. I could not have been more impressed with this book. It was exactly what I needed. Leslie is a Christian and is very pro-marriage and both of those were incredibly important qualities to me when I was looking for a book to help me learn how to handle my marital conflicts. She draws her wisdom both from extensive experience working with married couples and from a thorough understanding of Scripture, which she cites throughout the book.
~ Arlene P.
LESLIE WELCOMES YOUR QUESTIONS

Leslie wants to help you grow in your personal and relational effectiveness. Please submit your questions by clicking here.
Then, visit Leslie's Blog as she posts her responses to one question per week.
Note: Due to the volume of questions that Leslie receives, she is unable to respond to every question.