What to Do When Someone Hurts You
by Leslie Vernick
What do you do when someone hurts you?
The Bible gives us two Biblical principles when it comes to our response to being hurt.
The first is to "forbear," to bear one another's weaknesses.
James 3:2 says we all stumble in many ways.
Sometimes it helps to stop and recognize that, just like you, the person who hurt you is a sinner. We're all sinners.
Part of maturing as an emotionally healthy person is bearing with one another, overlooking some things and learning to be patient with others' imperfections.
If you verbalize every little offense to every person who hurts you, you won't have time for much else.
Some people are hypersensitive to even the slightest hurt. If that's you then it's important to look at that and start developing the skill of forbearance and a bit of a tougher skin.
On the other hand, there are those on the other end of the spectrum: the "doormats…" people who regularly allow themselves to be mistreated. Their forbearance is unhealthy.
The church often encourages women that their continual marital suffering somehow honors God.
So they'll put up with it and put up with it and put up with it until, one day, they just can't hold it together anymore and blow up.
Then, because they feel shamed and guilty about losing their temper, they go back to putting up with the abuse.
But being a doormat for habitual sin actually damages relationships. This is where the second Biblical principal comes into play: speaking the truth in love, confronting sin, and exposing darkness.
Matthew 18:15 says, "If another believer sins against you, go privately and point out the offense. If the other person listens and confesses it, you have won that person back."
The relationship, in this instance, can be restored.
Please understand, it is possible to forgive someone who doesn't confess their sin. But forgiveness does not automatically mean a restored relationship.
Unconfessed sin separates us from God and from one another (Isaiah 59:2).
So, when you become aware that you're feeling angry or hurt over being sinned against, and it isn't the first time this has happened, it's important to talk with the person… with the goal of preserving the relationship.
You see, God calls us to be peace-makers, not peace-keepers. Or peace fakers
And there's a difference. A peace-maker, when there's unresolved conflict, goes to the person and tries to make peace by bringing the hurt or sin to light.
Two biblical principles: forbearance and truth in love. Both are important for healthy relationships.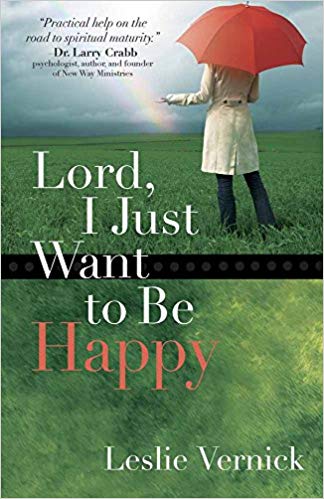 Lord, I Just Want to Be Happy

by Leslie Vernick


Counselor and author Leslie Vernick has discovered that many people pray, "Lord, I just want to be happy!" With candor, Leslie reveals that readers don't need new circumstances but a new perspective to discover true happiness. With biblical insight, Leslie guides readers to take simple steps as they…
recognize and change habits that, day by day, keep them from experiencing happiness
make good choices and learn from mistakes without beating themselves up
develop the skills that enable them to let go of negative and painful emotions more quickly
transform difficult circumstances so they can live with gratitude, joy, and purpose
Application questions help readers work godly thinking, as well as healthy skills and habits, into their lives and hearts. They'll discover that, even if nothing changes in their circumstances, their inner chains can be broken and they can go free…into a new path of real hope and happiness.
Two winners will be selected in our next newsletter! (Giveaway only available to U.S. residents)
If you would like to enter to win, you can click here to provide name and email address.
The winners of "How to Live Right When Your Life Goes Wrong" by Leslie Vernick are Gennesse R. and Anna V.
Upcoming
Events

Want to have Leslie speak at your event? Click here to find out more information.
RESCHEDULED FOR 2021
New Hope Church
November 6th and 7th
East Lansing, MI
Center for Christian Counseling
November 20th and 21st
Madison, WI

The Village Church
December 3rd
Flowermound, TX

Am I Judging Or Discerning?
Question: For almost 19 years I've lived under a financial and emotionally destructive spouse. The mistreatment and humiliation towards me was practiced by my husband in many ways. During these almost 19 years I tried to get out of this destructive relationship three times in a very clear way, but he would always "show" to be repentant when I would take bold steps to get away from him.
The Christian community around us would always encourage me to give him a chance. I regretted the three times in the past I fell for it. It took me all these years to have a clear perspective of my situation and accept that I probably would have to go through a process of putting boundaries that would change everything, alone or with a lot of criticism around me.
A month ago I finally was able to find a lawyer (a Christian) who heard my case and accepted me to pay him as I could for his services to file for divorce. Prior to my finding a lawyer my husband was behaving against me worse than ever. The abuse escalated to verbal and constant humiliation. All of these in front of our three daughters. When he found out I finally got a lawyer, he got very upset (furious). Then after a week of processing it, he again tried to show that this time my bolder step got him to realized how bad he has been living his life. For the first time, he actually called his sins by name, at least as much as I could confront him with. And asked for forgiveness to me and our daughters.
The problem is, none of my daughters believe him. I've been hurt so much and for so long and fell for his apparent repentance before that, but now I am firm and will continue my decision until is over. He is now behaving as I always wanted him to behave but I don't believe him. But yes sometimes a little bit of doubt comes to my heart: why is this time true?
Am I judging him by not believing his recent repentance? I have also lost all feelings for him as the pain I endured covered my feelings for him as a husband. I was seeing him as an enemy that I had without knowing why he decided to be my enemy. I know I have always had good discernment. Many times I won't listen to my discernment doubting myself and then regretted not listening.
But how can I know that I shouldn't believe him this time because of my discernment or because of resentment? I simply don't believe him and I am ready to start a new life where my daughters and I can find healing. I believe if he repented for real as he says this time crying and clearly under stress, he would accept the consequences of his actions.
Am I judging or am I being correctly discerning?
Answer: Two things are really important here. One is that you are asking yourself important self-reflection questions. Am I judging or discerning? Am I wrong in not believing him? Is my resentment getting in the way?
Healthy people ask themselves those questions as part of discernment. Judgmental people don't ask themselves questions, because they believe they are always right. Judgmental people condemn and judge as if they were always right. I don't hear you doing that here.
I also hear you have believed his words of repentance before and the fruit of repentance never really followed.
So right now, you don't know for sure where he is. Only God knows.
What People Are Saying About Leslie's Conquer Support Group
I can't thank you guys enough for all this ministry has given me. I have finally escaped my abusive husband after many attempts and empty promises of change. I don't think I could have ever had the strength and courage to do it without Leslie and the Conquer program. Now that I'm living independently, however, without any financial assistance from my husband, I am having to cut several things from my budget to make ends meet, pay attorney fees for the divorce, medical bills, etc. I am medically disabled so I'm on a fixed income. If my financial situation improves in the future, I definitely plan to join again. Thank you again for all you do and please extend my heartfelt gratitude to Leslie as well.

– Dana Lee
LESLIE WELCOMES YOUR QUESTIONS

Leslie wants to help you grow in your personal and relational effectiveness. Please submit your questions by clicking here.
Then, visit Leslie's Blog as she posts her responses to one question per week.
Note: Due to the volume of questions that Leslie receives, she is unable to respond to every question.