Move it Move it January! Our Conquer Support Group has been doing a Movement Challenge for the month of January. Our challenge is to do one minute more of walking or stretching each day. Or one more rep of a regularly done exercise or a new one, to build more strength. Leslie is doing one more man's push up each day. So far, she's on 12 each day (not in a row). We invite all of you to join us in moving and enjoying the physical and mental benefits of moving your body.

What Story will This New Year Tell?
by Leslie Vernick
Last year I sent you a newsletter in January with this same title. Never in a million years did any of us expect the year we had. A bad guy named Corona Virus invaded our world in early 2020. His mission? To kill and destroy whatever he could. Our physical health, our economy, our mental health, our education, our trust in a benevolent and good God, our governments and our trust in our fellow human beings. He's been busy and he's not defeated yet. As we start this new year, his mission remains the same. He's powerful and wily; we're scared of him.
In most epic stories, whether in film or book, fiction or non-fiction there are always bad guys who seek to take over and destroy the good. The writer of Proverbs speaks of this when it says, "For evil people can't sleep until they've done their evil deed for the day. They can't rest until they've caused someone to stumble." (Proverbs 4:16)
The Bible is full of these kinds of stories. Good versus evil. Right fighting wrong. For example, Genesis tells the story of Joseph. His brothers were jealous and tried to destroy him by selling him into slavery. Later, his boss's wife tried to seduce him and when that didn't work she lied about him and he ended up in jail. In Exodus, Pharaoh felt threatened by the fertility of the Jews and ordered all baby boys to be killed. In Esther, Haman wanted to exterminate the Jews. Nehemiah had perpetual mockers and accusers who tried to intimate him to stop rebuilding the walls. Judas betrayed Jesus.
Remember this important truth. You do not know the outcome of your story while you are in the middle of it. But you do have choices on how your character is going to respond to the unfolding drama. Are you going to trust God? Persevere in doing the next right thing? Help and serve others? Grow stronger?
Or, become angry. Despondent. Fall apart. Give up. Cry uncle. Get mean and selfish with your resources? Blame life's circumstances for your life story?
Joseph's story, Moses' story, Daniel's story, Esther's story, Abagail's story, and Ruth's story are not unlike your story. These ordinary human beings faced extraordinary challenges. But how the characters in these stories handled themselves and their challenges impacted many other people's life stories as well. And so do you.
As you enter into this New Year of 2021, we don't know what's around the corner. There is a lot of uncertainty and change ahead. Therefore, I want to issue you a challenge. Is essentially the same challenge I gave you last year, but now I want you to understand how important it is that you take action now.
Maybe you've never recognized that God has given you an opportunity to co-partner with Him in writing your story within HIS larger story. Like Joseph, Esther, Abagail, Daniel, Moses, Deborah, and Mary the mother of Jesus.
God allowed some of them to be in horrible life circumstances, but they still recognized that they had choices about how they were going to live out those circumstances. And their choices made all the difference in how their story played out. History bears witness to their impact on future generations.
Sometimes when you or I are in the midst of difficult or unfair life circumstances like COVID-19, or political unrest, or unwanted divorce, we lose our way. Instead of allowing God to build the virtues he wants us to develop to accomplish his purposes. we let life circumstances and our emotions determine the outcome of our story (See 2 Peter 1:3-10).
During this past Christmas, I watched the Nativity Story movie with my granddaughters. Mary is pregnant and Joseph knows the baby is not his. Mary tells this wild story about God visiting her, which makes her crazy or a liar. And then Joseph has a dream where an angel confirms Mary's story. Still, uncertainty reigns. Was that dream a real angel or just wishful thinking? Joseph had a choice to make. Was he going to believe God? Believe Mary? Joseph felt confused, perhaps even betrayed by circumstances, but chose to act virtuously. He didn't understand everything about what was going on. He embraced his situation by faith and cooperated with God. That mindset gave him the strength to write his part of the story differently than he would have had he written it out of his painful or confused feelings.
We all feel anxious and worn out about now, but I want to remind you that you can create a different ending to your life story.
How?
1. Rely on God's love for you. He may have allowed tough circumstances in your life. Situations that you would never volunteer for. Understand, he always has a bigger purpose than you can see right now. Right now is not the end of your story or legacy.
2. Embrace God's sovereignty and cooperate with his plan to mature you through it. Doing so will empower you to write a new chapter to your life story in 2021. You're not in charge of all the obstacles, challenges or characters in your story. But will you be the hero, the victim, or the villain? The one who handles adversity with strength and courage or the one who runs away from it or becomes defeated by it?
3. What kind of person do you want to be at the end of 2021? Make a list of three desired virtues. Write them down. For example, I wrote down, Wise, Generous, and Compassionate. Every day ask yourself how would this wise, generous compassionate version of yourself handle this moment? And then do it. Don't let your feelings decide. Because I promise you, you will not always feel wise, generous, or compassionate. Let your godly virtues build spiritual muscles internally so that your life is a light to others in dark places.
Don't let another year go passively allowing your life story to be written by default. Instead, decide. Then take action, one small step at a time. How do you want to live your precious life, even in the midst of hard?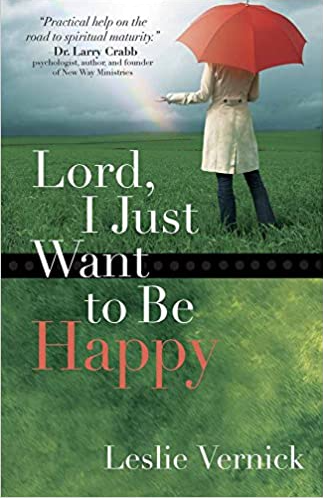 Lord, I Just Want
to Be Happy
by Leslie Vernick
Counselor and author Leslie Vernick has discovered that many people pray, "Lord, I just want to be happy!" With candor, Leslie reveals that readers don't need new circumstances but a new perspective to discover true happiness. With biblical insight, Leslie guides readers to take simple steps as they…
recognize and change habits that, day by day, keep them from experiencing happiness
make good choices and learn from mistakes without beating themselves up
develop the skills that enable them to let go of negative and painful emotions more quickly
transform difficult circumstances so they can live with gratitude, joy, and purpose
Application questions help readers work godly thinking, as well as healthy skills and habits, into their lives and hearts. They'll discover that, even if nothing changes in their circumstances, their inner chains can be broken and they can go free…into a new path of real hope and happiness.
Two winners will be selected in our next newsletter! (Giveaway only available to U.S. residents)
If you would like to enter to win, you can click here to provide name and email address .
The winners of "Change My Relationship" by Karla Downing are Dorothea G. and Valeta C.
Upcoming
Events

Want to have Leslie speak at your event? Click here to find out more information.
Lighthouse Christian Church
April 30th, 2021
Rosemount, Minnesota

Center for Christian Counseling
May 2021
Madison, WI
Call to Peace Ministry Retreat
May 13 – 16th. 2021
Asheville, NC
https://www.calledtopeace.org/events/retreat/
RESCHEDULED FOR 2021
The Village Church
December 3rd
Flowermound, TX
Is My Hope Realistic?
Question: I am unhappily married now for about four years. Separated 9 months ago. My husband is a doctor and was a pastor (stepped down last year). He has a temper, verbally is abusive. We have been in counseling for a few years.
Last year, I felt unsafe and prayed and spoke to the counselors and we separated. It is hard as people say just get divorced you cannot stay separated forever he might never change, you are young you can start over etc. He says I'm deserting him and suggests it is grounds for divorce.
He is very frustrated as he said he thought it would be over now. I am fortunate to have a counselor who supports me in prayer, over email and the phone. She loves God, the Bible and she and her husband worked with us as a couple for a long time so she has seen the truth.
Here is my dilemma. I struggle to keep hope alive as nothing seems to change and my family are concerned for my safety and don't quite understand why I'm still in this. Please comment on how to keep hope alive if no change is evident.
Answer: I'm sure you do struggle to keep hope alive in the face of mounting evidence that your husband is not changing. I also don't hear anything in your question that says he is aware he needs to change. As the saying goes, you can't change something unless you see it needs to change.
Let me ask you a question. Why do you need to keep hope alive? What's the pressure to stay positive about your marriage or about him? Isn't it more Biblical to be truthful than to be falsely positive?
Are you hoping that God will miraculously make your husband humble himself and admit his sinful ways so that he can repent?
What People Are Saying About Leslie's Equip Support Group for Professionals and People Helpers
"Leslie and Chris exhibited a profound mastery of the content in our work with them. They are both experts in this field… with a wealth of knowledge from which to draw wisdom. Coupled with their vast study are decades of experience working with victims, abusers and couples. Their insights and advice were invaluable for our ministers for both recognizing abusive behaviors and working with victims and perpetrators of abuse. They are able to advise with a level of detail, nuance, discernment and pastoral delicacy that is fitting for this intricate topic."

~ Matt Chandler, Josh Patterson and Brian Miller,
Lead Pastors of The Village Church in Dallas, TX

LESLIE WELCOMES YOUR QUESTIONS

Leslie wants to help you grow in your personal and relational effectiveness. Please submit your questions by clicking here.
Then, visit Leslie's Blog as she posts her responses to one question per week.
Note: Due to the volume of questions that Leslie receives, she is unable to respond to every question.