Happy Holidays: Our offices will be closed on January 2nd. We wish you a wonderful New Year.
What Matters Most Now?
Leslie Vernick

Bringing in a New Year always causes me to reflect. Where have I been? Where am I going? What matters most right now? The right question propels you forward in powerful way. I've also learned that the wrong question spirals you downward fast. For example, one of the questions I used to always ask when life got hard was "Why me?" or "Why this?" But I've learned the "why" question never brought me any real answers or comfort… it led me to a dark place and depressed mood.
The great Scottish writer "George McDonald listed what he called three grand essentials—three things without which no meaningful life can be lived: They are someone to love, something to do, and something to hope for."
Here are some reflection questions that can move you to a new life story in the New Year.
Self-Reflection Question #1 – Do you have someone to Love?
Everyone I know is looking for love, but we're looking in the wrong place. Instead of loving God, our very source of life and goodness, we love lesser things, things that harm our relationship with God and others. For example, we love our way (James 4:1-4), we love being right, we love being first (Matthew 23). We love the world (1 John 2:15), we love money (Hebrews 13:5, Luke 16:14), we love the praise of humankind (John 12:43), we love sin (John 3:19), and we love positions of status and authority (Matthew 23:6,7; Luke 11:43). God warns you about your other loves. He calls them idols. God is jealous of your other loves. When you love things or other people (including yourself) more than God, you lose out on intimacy with him. He calls it spiritual adultery and it breaks his heart (Ezekiel 6:9).
Jesus warns you that who or what you love is crucial to your well- being because he knows what controls your heart, controls you( Matthew 6:21). What you love orders your priorities, determines how you invest your resources of time, money, energy and talents and guides you to know what's worth living for and dying for.
God says what matters most, what's most worthy of your fullest love, greatest attention and deepest devotion. Knowing and loving him. You do have someone to love. When you love God first, you will have a meaningful life.
Self-Reflection Question #2 – Do you have something to do?
I used to think what I was supposed to do had to be big and bold in order to matter. Anna was a multi-talented woman raising small children who often felt like she was wandering in circles. She said, "Leslie, I have no real goals. I try to get through the chores and tasks of each day, taking care of kids, homework and household responsibilities. But there's no time for anything significant or meaningful."
I asked her if she were to die next week, would she have regrets? She thought for a moment and then said, "I'd regret that I didn't enjoy today. I'm always rushing through everything I do so I can get to more important things." When I asked Anna to name her most important things. She thought for a moment and said, "Spending more meaningful time with my family like riding bikes, having a picnic and enjoying a walk. But I'm always too busy doing everything else."
Anna may need more balance and recreation in her life but she has lost sight of the important work she is doing. I asked her, what is the difference between savoring the time with your kids while riding bikes and feeling hassled with the kids while during homework?" With a flash of insight she said, "My attitude! Maybe what I'm doing is important and significant all the time, I just didn't see it before." Oswald Chambers reminds us that "it is not the work you do for God that keeps you fresh; it is the work you allow God to do through you."
Paul says you are "God's workmanship, created in Christ Jesus to do good works, which God prepared in advance for you to do" (Ephesians 2:10). You do have important work to do. Reflect Jesus in all you do and you will have a meaningful life.
Self-Reflection Question #3 – Do you have something to hope for?
Everyone needs to put their hope in something. Just like we can love the wrong things and invest our lives in pursuits that won't matter, we can put our hope in things that have no real substance. That lead to disappointment and heartache.
Jesus warns us life is hard. Even while on earth we get tastes of hell. The hope that sustains while in hell on earth is hope. Hope that God is still good. Hope that God knows what he's doing even if we don't understand. (Nahum 1:7; Psalm 119:68). Hope that God cares about our suffering. He knows every tear we cry and that none of it is wasted because he will bring good out of it (Psalm 56:8; Romans 8:28,29). Hope that someday we will be with him in heaven where there will be no more tears or suffering (John 14:2).
While suffering Paul expressed hope in the eternal reality when he said, "Therefore we do not lose heart. Though outwardly we are wasting away, yet inwardly we are being renewed day by day. For our light and momentary troubles are achieving for us an eternal glory that far outweighs them all. Therefore, we fix our eyes not on what is seen, but on what is unseen. For what is seen is temporary, but what is unseen is eternal" (2 Corinthians 4:16-18).
While feeling discouraged, David reflected and asked himself, "Why are you downcast, O my soul?" His answer? "Put your hope in God" (Not in what God will do. Psalm 42:5). Right now, friend, you can have hope. Trust God.
I want a meaningful 2023. Don't you?
PS: We still have a few spots left in our six month group coaching program Empowered to Change. It starts the week of January 9th. If you need help asking yourself some new questions so that you can begin to write a new chapter to your life story, click here.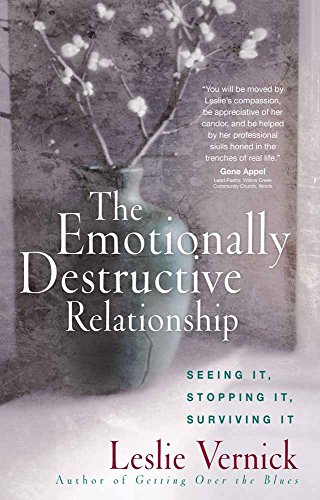 The Emotionally Destructive Relationship
by Leslie Vernick
Leslie Vernick, counselor and social worker, has witnessed the devastating effects of emotional abuse. Many, including many in the church, have not addressed this form of destruction in families and relationships because it is difficult to talk about. With godly guidance and practical experience, Vernick offers an empathetic approach to recognizing an emotionally destructive relationship and addresses the symptoms and the damage with biblical tools. Readers will understand how to:
Reveal behaviors that are meant to control, punish, and hurt
Confront and speak truth when the timing is right
Determine when to keep trying, when to get out
Get safe and stay safe
Build an identity in Christ
This practical and thorough resource will help countless individuals, families, and churches view abuse from God's perspective and understand how vital it is for victims to embrace His freedom from the physical, emotional, spiritual, and generational effects of emotionally destructive relationships.
Two winners will be selected in our next newsletter! (Giveaway only available to U.S. residents)
If you would like to enter to win, you can click here to provide name and email address.
The winners of "Lord, I Just Want to Be Happy" by Leslie Vernick are Lisa Q. and Nancy S.
I Can't Accept I Wasn't Enough
By Leslie Vernick

Question: I have been out of a verbally, emotionally, and sometimes physically abusive marriage. We are going through a divorce. It has been 9 months since I left. I am struggling with so many things about this divorce and everything I have gone through.
I do go to counseling once a week. I have done that for about a year and a half now. I think sometimes I still have a hard time accepting that he did not care about me and that he can move on so quickly. Actually, he was interested in this other person before we separated in January. If you have any advice or thoughts, please share. I need some help with this. Thank You
Answer: Friend, I'm so sorry for how you're hurting. It's raw and real and isn't fair that you must experience such profound disrespect and rejection from someone who promised to love you.
You don't fully share what exactly you are still struggling with, but you did highlight that it's hard to accept that he could move on so fast with another person. You battle with the thought that because he has this new love interest that means he did not care about you. I suspect you might also be battling with the thought, "Was I not worth caring about?"
I'm going to break this down into steps like I have done recently with choices. Not because life is in such simple 1, 2, 3, steps or choices, but because it helps untangle some threads that get jumbled up in our minds and hearts when we're struggling with deep emotional pain.
Let's start with the facts (as you stated them).
What People Are Saying About Leslie's Empowered To Changed Coaching Group:
I joined E2C to become stronger in my CORE, so that I'm healthier in all my relationships. I have focused waaaaay more on others' problems, rather than seeing my problem with their problem. I avoided doing my own work by "working" on their problems. It IS empowering to stop throwing away so much energy on efforts to change others, rather than exerting the productive energy of changing myself! I love connection and community, and in my delight of serving others I am growing more and more loyal to Jesus so that others are not idols to me, that I let control me. I am so thankful for this class!
~ Frannie T.
LESLIE WELCOMES YOUR QUESTIONS

Leslie wants to help you grow in your personal and relational effectiveness. Please submit your questions by clicking here.
Then, visit Leslie's Blog as she posts her responses to one question per week.
Note: Due to the volume of questions that Leslie receives, she is unable to respond to every question.