Save The Date: I am doing a brand new workshop on Thursday, February 16th. The topic will be "I'm Not Okay When You're Not Okay": Defining my problem, your problem, and our problem."

Be on the lookout for your invite to this free workshop starting the first week in February!
What is a Godly Woman?
Leslie Vernick

When you think of a godly woman what mental picture comes to mind? Meek and mild? Homemaker? Doting mother? Submissive? Humble? Peaceful? Gentle? A caring and generous helper?
All good qualities for sure. But are these the only traits required to grow into a godly female?
To answer this question, it makes sense to go to God's word. God created both male and female in his image. (Genesis 1:26,27) Throughout the Bible, both male and female pronouns are used to describe God and his character. (see Deuteronomy 32:18; Isaiah 42:14; 49:15; 66:`13 for a few examples of God describing himself using feminine qualities)
Jesus perfectly represented the image of God. (Hebrews 1:3; Colossians 1:15-29) He shows us what God is like. He is not only meek but also bold. He is strong, decisive, and courageous. He shows compassion and gentleness but he is also fierce when needed. He displays amazing grace yet speaks bold truths, often a hostile audience.
Some might argue those "tougher" qualities are more suited to men while the "softer" ones are reserved for women. But think about it. Can you picture a godly man who is strong and powerful without any gentleness or humility? He would be described as a bully, incapable of a healthy relationship with anyone. To become a godly man, he would need both strength and gentleness, leadership with humility.
If it's true that a godly man should develop both godly masculine and godly feminine qualities, does it not make sense that a mature woman would also possess both as well? Strength and gentleness? Courage and humility? Yes. Unfortunately, our Christian culture tends to sometimes label strong, courageous or outspoken women in a negative light.
But the truth is a woman who stays only submissive, trusting, meek, and mild is not a fully mature human being anymore than a man who only possesses courage, boldness, decisiveness and leadership. In order for Christ to be fully formed in us, all human beings should aim to exhibit the full character trails of their Creator.
That means there may be times when a woman is to speak boldly, to stand up against sin, injustice and evil. To be courageous and yes, even confrontational at times. Queen Esther is a good example of a woman who took initiative, who spoke up when necessary even when it went against the cultural norms of the day. Deborah the warrior is another. And Abigail another.
The Proverbs 31 woman is someone who is often cited as an example of godly womanhood. Sometimes we get distracted or exhausted reading about all she did, but let's look at her character. The Bible tells us she is a woman who embodied strength and dignity as her clothing. She was a problem-solver. A business owner. Trustworthy. Generous (while earning and properly stewarding her finances). Innovative, a hard worker, resourceful and independent. She teaches with wisdom. And her own husband declares that her strengths and capabilities enrich him, not diminish him. He trusts her with full confidence (See Proverbs 31:11,12).
Friend, be challenged to become more like Christ. Don't limit yourself fearing that you're not supposed to have the more masculine godly traits. That's not true.
God calls all of us, male and female to grow to be like him.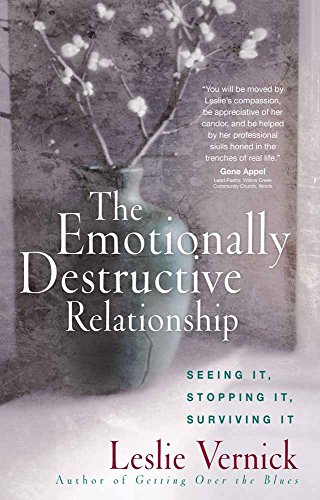 The Emotionally Destructive Relationship
by Leslie Vernick
Leslie Vernick, counselor and social worker, has witnessed the devastating effects of emotional abuse. Many, including many in the church, have not addressed this form of destruction in families and relationships because it is difficult to talk about. With godly guidance and practical experience, Vernick offers an empathetic approach to recognizing an emotionally destructive relationship and addresses the symptoms and the damage with biblical tools. Readers will understand how to:
Reveal behaviors that are meant to control, punish, and hurt
Confront and speak truth when the timing is right
Determine when to keep trying, when to get out
Get safe and stay safe
Build an identity in Christ
This practical and thorough resource will help countless individuals, families, and churches view abuse from God's perspective and understand how vital it is for victims to embrace His freedom from the physical, emotional, spiritual, and generational effects of emotionally destructive relationships.
Two winners will be selected in our next newsletter! (Giveaway only available to U.S. residents)
If you would like to enter to win, you can click here to provide name and email address.
The winners of "The Emotionally Destructive Relationship" by Leslie Vernick are Darcy L. and Rowena A.
Boundaries And Addiction
By Susan King

Question: I suffered in silence for many years with my husband's alcohol addiction. The more he drank, the worse our marriage was because his addiction consumed him and then I was consumed by it too. I got the courage to put up boundaries about 9 months ago and he just blows through them. Or says he abides by them for a while and then blows through them. He had been to rehab 3 times, always with great promises but he just can't stay sober. I forced a separation because my kids and I can't continue to live in the chaos and destruction and lies from his addictive behavior. He continues to guilt me about this – continues to lie about his own behaviors, cares only about his emotions, and downplays the trauma and pain he has caused us. But I feel guilty every time he calls and says "how could you do this after I've gone to rehab for you, you don't understand addiction, you are heartless, etc". How can I ever find peace and healing for myself and my kids?
Answer: I can certainly relate to this question and I am sure there are many more women out there who are struggling due to a spouse's addiction. The addicted mind does not think clearly and is blind to the effects of addiction. After many years, you could see that your situation was not going to change until you created change for yourself and your children. I am so glad to hear that you are valuing your own health and safety.
To answer your question, "How can I ever find peace and healing for myself and my kids?", I believe you have begun the process already. It does take time; be patient with yourself. As you detach from the chaos and destruction, you can focus on creating peace and healing. In John 14:27, Jesus says, "Peace I leave with you. My peace I give to you. I do not give to you as the world gives. Don't let your heart be troubled or fearful." Jesus reminds us as believers, we have the Spirit of Truth to help us discern danger and find the courage to grow to be healthy.
What People Are Saying About Leslie's book "The Emotionally Destructive Relationship"
A lot of great information in this book. I love how much ties back to the bible and I enjoyed cross referencing and dig deeper. I was able to reflect on different relationships as I read through the book. Highly recommend.
~ Mary W.
LESLIE WELCOMES YOUR QUESTIONS

Leslie wants to help you grow in your personal and relational effectiveness. Please submit your questions by clicking here.
Then, visit Leslie's Blog as she posts her responses to one question per week.
Note: Due to the volume of questions that Leslie receives, she is unable to respond to every question.