Live Women's Retreat: I will be a speaker at the "He Makes All Things New Retreat." This live retreat happens May 13th – 16th. You can find out more information here.

What if the way Evangelicals have defined sex is leading to emotional distance, and even abuse, in marriage?
by Sheila Wray Gregoire
After blogging about sex and marriage for thirteen years, and listening to so many women with heartbreaking stories, last year my team and I decided to try to get to the bottom of it. We conducted the largest survey that's ever been done of Christian women's marital and sexual satisfaction to see if certain evangelical teachings about sex led to worse outcomes for women. And this Spring, we released those findings in our new book, The Great Sex Rescue.
Here's what we discovered. Many of the things taught in the church lead to lower rates of arousal, lower orgasm rates, lower trust in your mate—even higher rates of sexual pain.
When we looked at what the teachings had in common, one overarching theme emerged: we see sex as Emerson Eggerichs does in Love & Respect as—" a husband has a need for a physical release," and, "if your husband is typical, he has a need you don't have." So sex is defined as mostly physical, and it's pretty much just for men.
Let's see how that definition of sex plays out. If I were to ask you, "did you have sex last night?", what would you think I was asking? Chances are you'd ask yourself, "did my husband put his penis into my vagina and move around until he climaxed?"
That's the definition of intercourse, yes. But what happens when we equate sex and intercourse? It means that you could be lying there making a grocery list in your head; you could be lying there in emotional turmoil, or you could be lying there in physical pain and agony, and it would still count as sex. Our typical definition of sex leaves a wife's experience completely out of the equation.
Last year, on a whim, I conducted a poll on Twitter and Facebook (this one wasn't scientific!) and asked, "which message have you heard more often in Christian circles?
Do not deprive your husband
Women's sexual pleasure matters
The results were 95%-5% for do not deprive your husband.
Our evangelical world stresses the central importance of sex in marriage, but then erases a wife's experience from our definition of sex.
The Bible, though, does not define sex as one-sided intercourse.
In Genesis 4:1, we read—"And Adam knew his wife Eve, and she conceived…" But if you look at that Hebrew word for "know", it's the same word that David uses in the Psalms when he says "search me and know me, O God." It's a deep longing for connection, to be completely intimate with someone else. God-designed sex is to be INTIMATE, a deep knowing.
If we look at Song of Solomon, it's evident that sex is also supposed to be exciting and pleasurable for both. And if we look at 1 Corinthians 7:3-5, everything that the husband has the wife has too. The whole point of that passage is complete and utter mutuality.
Sex, the way the Bible portrays it, is INTIMATE, MUTUAL, and PLEASURABLE. It's not one-sided intercourse.
But so often women do accept one-sided sex because we are taught sex is our "duty."
The most harmful message that we measured by far was the idea that "a wife is obligated to give her husband sex whenever he wants it." Other messages were also harmful—"all men struggle with lust; it's every man's battle," or "a wife should have frequent sex with her husband to help him fight against porn." But the obligation sex message, as we called it, was a whole other level of toxic.
To explain why, let me share just one statistic we found. The obligation sex message increases a woman's likelihood of experiencing vaginismus, or primary sexual pain, almost to the same extent as prior sexual abuse does. Our bodies interpret the obligation sex message as trauma, because both abuse and obligation sex say, "Your needs don't matter. I get to use you when I want to." The obligation sex message erases you as a person.
And yet, over and over again, our evangelical resources told women they had no right to say no. In Sheet Music, Kevin Leman advised women to give husbands oral sex or hand jobs during their periods because her period was a difficult time for the husband. Emerson Eggerichs warned that a husband would come under satanic attack without regular physical release. Over and over again, the books told women: you can't say no.
In fact, all too many of our bestsellers even mention marital rape without calling it bad. Tim LaHaye, in The Act of Marriage, called a man who had raped his wife throughout their marriage "equally unhappy" as his wife, the rape victim. Willard Harley in His Needs, Her Needs describes a husband saying, "I felt like I was begging her, or even raping her. But I can't help it—I need to make love!" He never explained that rape is not okay.
In the book of Genesis, we read the heartbreaking story of Hagar, maid to Sarah and Abraham. When Sarah couldn't conceive, she gave her maid to Abraham, and he had a child with her. As his slave, Hagar had no way of properly consenting. Then, later, when Sarah did conceive and have a child, Hagar and her son were considered threats to the child of the promise. So they were banished and sent out to the desert.
While they were there, alone and desperate, Hagar has an encounter with God. And she is the first person in Scripture given the honor of bestowing a name upon God. This woman who had been sexually abused, used, and discarded, looked at God, and called him, "The God who sees me."
God sees women. He loves his daughters. And it is not His will that we are used or abused, sexually or otherwise.
Sheila Wray Gregoire is the blogger behind ToLoveHonorandVacuum.com and the Bare Marriage podcast, calling women to strip away all the faulty teachings about marriage from the church and get back to Jesus. Her latest book, The Great Sex Rescue: The Lies You've Been Taught and How to Recover What God Intended, asks the church to finally listen to women's voices.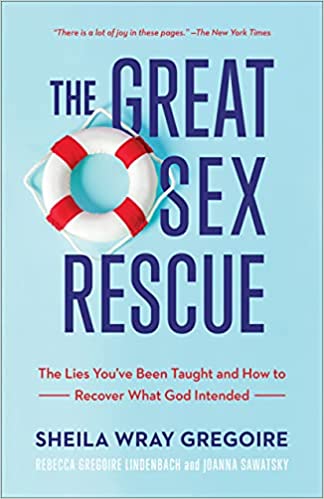 The Great Sex Rescue
by Sheila Wray Gregoire
What if it's not your fault that sex is bad in your marriage?
Based on a groundbreaking in-depth survey of 22,000 Christian women, The Great Sex Rescue unlocks the secrets to what makes some marriages red hot while others fizzle out. Generations of women have grown up with messages about sex that make them feel dirty, used, or invisible, while men have been sold such a cheapened version of sex, they don't know what they're missing.
The Great Sex Rescue hopes to turn all of that around, developing a truly biblical view of sex where mutuality, intimacy, and passion reign. The Great Sex Rescue pulls back the curtain on what is happening in Christian bedrooms and exposes the problematic teachings that wreck sex for so many couples–and the good teachings that leave others breathless. In the #metoo and #churchtoo era, not only is this book a long overdue corrective to church culture, it is poised to free thousands of couples from repressive and dissatisfying sex lives so that they can experience the kind of intimacy and wholeness God intended.
Two winners will be selected in our next newsletter! One winner for each book (Giveaway only available to U.S. residents)
If you would like to enter to win, you can click here to provide name and email address.
The winners of "Worthy: Celebrating the Value of Women" by Elyse Fitzpatrick and Eric Schumacher is Janise B. and Rita S.
Upcoming
Events

Want to have Leslie speak at your event? Click here to find out more information.
Call to Peace Ministry Retreat
May 13 – 16th. 2021
Asheville, NC
https://www.calledtopeace.org/events/retreat/
AACC Conference
September 16th – 19th
Orlando, Florida
RESCHEDULED FOR 2021
The Village Church
December 3rd
Flowermound, TX
Lighthouse Christian Church
Date TBA
Rosemount, Minnesota
Center for Christian Counseling
Date TBA
Madison, WI
Is Not Talking Cruel
Question: My desires are to stay well, overcome evil with good, obey God, keep myself in the love of God, live out CORE. I have been seeing things as they are and have stepped back to observe rather than 'try to fix' by explaining, defending, encouraging and inviting us to work together since the last few years.
I have openly explained that he is free to be who he wants to be. No longer am I going to talk, talk, and talk to try to make things better when there is still not mutual respect, investment and care. I have slowly and lovingly said that I want the best for both of us and our marriage and that the best is God's way but it takes two people to walk God's way to make a marriage of God's design.
I explained that it is time for me to take care of myself and to stop using my energy trying to change someone else when it is not within my power. I explained that 'letting go is not me no longer caring but it's me no longer trying to get him to'.
Is my not speaking except when absolutely necessary, living my own life basically, doing my own thing for now an unwise idea or a wise one? Should I handle 'detaching' a better way?
Answer: I'm sorry this has been so painful for you. Living with a spouse who does not desire to engage in anything more than superficial niceties can be tough. He interprets a lack of conflict coupled with superficial chit chat as "all is well". You don't want him to look at it that way and therefore stopped talking except for necessary conversations. And is that to protect you from further pain or is that to continue to "show him all is not well?" Detaching doesn't necessarily require silence and no conversations.
Detaching means you let go of your need/desire for him to get it. To change. To be different than he is right now. In other words, detaching means you live your own life, do your own work and accept he does not want to engage in personal or difficult conversations with you. He does not want you to tell him what he's done wrong or expect him to apologize. You've told him that he's free to be the person he wants to be yet you're not okay with that person.
You've learned that things can be superficially peaceable between the two of you as long as you abide by his rules. When you transgress and want more, you pay. You know that. You've known that for years. Yet it's hard for you to be at peace with this living arrangement. It seems like you still have hope or some expectations that he'll get it and change.
What People Are Saying About Leslie's Conquer Support Group
"I love the Facebook community. It gave me a place to dump my frustrations and tell my stories without being lectured or judged or misunderstood. Everyone there instinctively and immediately knew exactly what I was talking about without my needing to go into the nuances of the situation.
It also helped to hear other stories, get to know some great women, feel like I had a community of caring support, and get some great resource links and education I would never have discovered otherwise."
~Natalie
LESLIE WELCOMES YOUR QUESTIONS

Leslie wants to help you grow in your personal and relational effectiveness. Please submit your questions by clicking here.
Then, visit Leslie's Blog as she posts her responses to one question per week.
Note: Due to the volume of questions that Leslie receives, she is unable to respond to every question.