You can still join us! Our popular summertime challenge is back! We started yesterday, but you can still catch up. See what we will talk about each day at leslievernick.com/joinchallenge
What Does a Healthy Relationship Look Like?
Leslie Vernick

A lot is said about unhealthy, destructive relationships here. So much, that we can almost forget that there are, indeed, healthy relationships out there! But, they aren't always easy to recognize. Just because a couple is holding hands in public doesn't mean they have a healthy relationship. Just because a couple posts glowing pictures of their anniversary on social media doesn't mean they have a healthy relationship.
So how do you tell when a relationship is healthy? For any relationship to be healthy there must be three things present. They are to a relationship what oxygen, blood, and skin are to the body: essential. When you begin to recognize the signs of health you'll very quickly learn to spot when a relationship is becoming unhealthy or even destructive. And, let me say, these ingredients aren't just for couples. They are essential to every relationship you have.
The first ingredient is mutuality. In order for a relationship to flourish and be healthy there needs to be two people mutually contributing to it. It's impossible for one person to make a relationship healthy. It takes two people being mutually honest, mutually caring, and mutually responsible for the care and maintenance of their relationship.
There's a law of maintenance that applies to everything in life, whether it be relationships, vehicles, pets, or your home. Let's say you build a brand new home. It's beautiful and you're in love with it on move-in day. But, what if, for weeks, you never clean the kitchen? What if you never pull weeds or take out the trash? If you ignore regular, daily maintenance, your home is not only going to be a smelly mess, it's going to start developing more serious issues.
Now, let's say that home did develop more serious issues. Termites. Wood rot. Maybe the plumbing is backed up. At this point you decide it's time to clean up. So you start taking out the trash and pulling weeds and sweeping the floor. While those are good things, the issues have become more serious. And, even if you do get rid of the termites … the damage they've left behind is still there.
It's the same in marriage. When there is no mutual maintenance of a relationship it's going to need repair. And if you don't mutually make the repairs needed, the relationship will die. What I am saying is you must both deal with the root cause of your relationship problems. Your husband may stop his extra-marital affair but that doesn't repair the relationship. There's been damage. The root issue of why he went outside the marriage must be addressed as well as the damage his actions had on the relationship.
The second essential relationship ingredient is reciprocity. There must be shared power and shared responsibility. Too many times Christian women are taught to take a subservient role to their husbands. Once she says her vows she gives up all power in the marriage (but keeps plenty of the responsibility). She gives up her right to have an opinion or make her own choices. She's suddenly relegated to the role of a child. This is not biblical!
2 Corinthians 8:13-15 talks about reciprocity: "Of course, I don't mean your giving should make life easy for others and hard for yourselves. I only mean that there should be some equality. Right now you have plenty and can help those who are in need. Later, they will have plenty and can share with you when you need it. In this way, things will be equal. (NLT)
If you have no voice and no choice in your relationship or, if you are punished for trying to express a different opinion, you are not in a healthy relationship. The Bible actually tells us that we are to be influencers of one another. We are to speak into each other's lives. Sometimes what we have to share (or hear) may hurt but, if it's necessary and done with gentleness and humility, that is what God calls us to do. Proverbs 27:6 says, "Faithful are the wounds of a friend."
The third essential ingredient present in all healthy relationships is freedom. God created each one of us in his image and one of the hallmarks he created in us is the freedom of choice. God gave us individuality. He doesn't ask us to give up our thoughts, ideas, and opinions for the sake of peace in a relationship. In a healthy marriage both the husband and the wife have the freedom to say, "No." "I don't like that." If you are punished or put through a guilt trip for not giving up your freedom then you're missing this ingredient in your relationship and it's not a healthy one. There is room to negotiate certain desires and opinions but there must always be the freedom for each person to say, "no."
If you recognize that you're in an unhealthy relationship and want to move to a healthy one you must move yourself from unhealthy to healthy. It's impossible to force the other person but the relationship will change simply because you are not continuing in the destructive dance.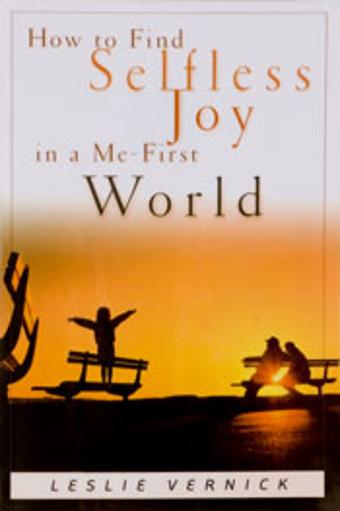 How to Find Selfless Joy in a Me-First World
by Leslie Vernick
Do You Need Greater Self-Esteem–Or Something Else Entirely? Western culture increasingly emphasizes the importance of self-love and self-esteem. Many of us believe we must "find" ourselves–and feel good about what we see–before we can experience significant spiritual growth. Focusing so much on ourselves, however, distracts us from pursuing the only source of true fulfillment. Do we, as God's people, really need to love ourselves more? Or is there a wiser, biblical path that can lead us to joy that is not self-centered and fleeting, but God-focused and lasting? Challenging the current fascination with self esteem, Leslie Vernick answers these questions and others that trip up Christians today. Offering surprising insights and practical helps that can make a real difference in your life, she shows how you can experience greater personal, relational, and spiritual growth while humbly adoring and glorifying your God.
Two winners will be selected in our next newsletter! (Giveaway only available to U.S. residents)
If you would like to enter to win, you can click here to provide name and email address.
The winners of "Lord, I Just Want to Be Happy" by Leslie Vernick are Tissa B. and Judy J.
Upcoming
Events

Want to have Leslie speak at your event? Click here to find out more information.
AACC
September 8th – 10th
Dallas, TX
Center for Christian Counseling
Date TBA
Madison, WI
My Husband Blames Me When He Blows Up
By Leslie Vernick

Question: Do you have any tips for finding clarity and standing your ground when your husband blame-shifts during a conversation?

Answer: When your husband blame-shifts, you have two options. If this is his pattern it's probably not going to change because it works for him. Why? Because you go into defending, arguing, explaining, or justifying. We call it "JADE" in Conquer. (It's a term you can find on the internet too.)
So, when someone blames you, then you defend or justify yourself or you argue with them or you explain yourself and then they blame you some more and it becomes this crazy dance of him blaming, you arguing, him blaming, you explaining, him blaming, you justifying… it goes nowhere!.
A better approach would be either end the conversation and just say, "Well, I guess we're going to have to agree to disagree." You're not going to get anywhere by justifying, arguing, defending, and explaining because you're not really having a conversation. It's a dance. So end the conversation.
What People Are Saying About Leslie's Moving Beyond Challenge
I feel like I finally understand the story I have been telling myself. I am learning better ways to change that story. I can't wait to the topic tomorrow! This is worth SO much more than just $17

– Jane Z.
LESLIE WELCOMES YOUR QUESTIONS

Leslie wants to help you grow in your personal and relational effectiveness. Please submit your questions by clicking here.
Then, visit Leslie's Blog as she posts her responses to one question per week.
Note: Due to the volume of questions that Leslie receives, she is unable to respond to every question.