It's Open!: Our Conquer Support Group is once again open to new members. This is an amazing and low cost online support group that is life changing. If you have ever wanted to get the details about the Conquer Support Group – now is the time! We close our doors on Friday, April 22nd. Find out all the details at leslievernick.com/conquersignup
Unconditional Love / Conditional Relationship
Leslie Vernick

Over the years Christian individuals in emotionally destructive marriages have been counseled to forgive and reconcile with their spouse, reminding him or her of God's command to forgive and to love unconditionally. Adultery, they said, was the only biblical grounds for divorce.
Implied in the counseling these people receive is the idea that they are called by God to maintain a relationship with their spouse even while he or she is repeatedly destructive toward them. But is that counsel truly biblical? Is someone ever biblically allowed or even encouraged to end a relationship or distance themselves from someone because of their unchanged sinful behavior?
God love for humankind is unconditional but he does not offer anyone unconditional relationship. He tells us that our sin separates us from him and that without repentance we have no fellowship with him (1 John 1:6). Our sin does not separate us from God's love (Romans 5:8) but it does separate us from his presence (Isaiah 59:1-2). Jesus distanced himself from certain religious leaders because he didn't trust them. He knew what was in their heart (John 2:24). Throughout much of the Old Testament, God withdraws his presence from his people because of unrepentant sin.
God calls people to a covenant relationship that is like a marriage. He not only wants us to enjoy his love, he wants us to love him back (Deuteronomy 6:5). He not only promises us his faithfulness, he requires that we be faithful in return (Deuteronomy 4:23-24). The book of Hosea is a picture of God's love for his unfaithful spouse (Israel). He longs for her, but his relationship with her will remain broken until she is willing to change.
In this sinful world there is no perfect person and in every relationship there is some brokenness and suffering. That's why Jesus tells us that when someone sins against us we are to go and talk to that person so that we can be reconciled. However, he also adds, if they refuse to hear you after you have repeatedly tried to get them to listen, he says, "Treat them as you would a pagan and a tax collector" (Matthew 18:15-17). Jesus says, if there is no repentance, the relationship you once had changes. Pagans and tax collectors were not trusted, nor were they friends, although a good Jew would help a pagan or tax collector who was in need, fulfilling the biblical mandate to love one's enemy.
There are certain basic conditions necessary for any relationship (personal and professional) to be healthy and safe. They are mutuality, reciprocity, and freedom. One person can certainly make a bad marriage better all by him or herself, which may eliminate some strife and dissention, but one person cannot turn a bad marriage into a good marriage all by herself. It is an unfair and heavy burden we have often unknowingly placed on people because we strive to be true to the Scripture.
What's the alternative? When Joseph's brothers came to Egypt, seeking grain, Joseph cared for their needs despite the treachery they had done to him many years earlier. He had forgiven them but he did not trust them. He graciously ministered to their needs but did not seek reconciliation until he tested their hearts and saw that they were different. Joseph loved his brothers unconditionally (he sought their well-being) but they did not share intimate fellowship. It was all one-sided, it was ministry not relationship. (See Genesis 42-45.)
We are indeed called to be imitators of Christ and live a life of love (Ephesians 5:1), but let us not put a yoke on someone to do something that God himself doesn't do. God is good to the saint and unrepentant sinner alike, but he does not have relationship with both. When someone repeatedly sins against someone and is not repentant and willing to change, it's not possible to have a healthy or safe relationship with him or her, including marriage.
Being in close fellowship with someone is not a right, even if both people are Christians. It is a sacred privilege. The apostle Paul advises us to distance ourselves from people who are continually destructive, especially if their behaviors or attitudes are sinful and unacceptable, both to us and to God (1 Corinthians 5:9-11; 2 Thessalonians 3:6,14-15).
Loving a person unconditionally may indeed require sacrifice and suffering but we suffer and sacrifice for another person's good, not to allow them to continue to sin against us. To do that is foolishness, not biblical love. Too many counselees have been wrongly instructed that biblical love means they must be nice and suffer quietly, even as they are being mistreated and abused. But as C.S. Lewis wisely wrote, "Love is more stern and splendid than mere kindness."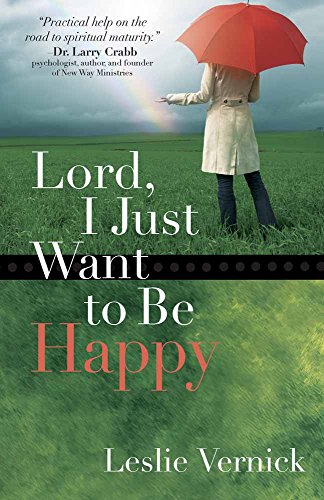 Lord, I Just Want to Be Happy
by Leslie Vernick
Counselor and author Leslie Vernick has discovered that many people pray, "Lord, I just want to be happy!" With candor, Leslie reveals that readers don't need new circumstances but a new perspective to discover true happiness. With biblical insight, Leslie guides readers to take simple steps as they…
recognize and change habits that, day by day, keep them from experiencing happiness
make good choices and learn from mistakes without beating themselves up
develop the skills that enable them to let go of negative and painful emotions more quickly
transform difficult circumstances so they can live with gratitude, joy, and purpose
Application questions help readers work godly thinking, as well as healthy skills and habits, into their lives and hearts. They'll discover that, even if nothing changes in their circumstances, their inner chains can be broken and they can go free…into a new path of real hope and happiness.
Two winners will be selected in our next newsletter! (Giveaway only available to U.S. residents)
If you would like to enter to win, you can click here to provide name and email address.
The winners of "The Emotionally Destructive Marriage: How to Find Your Voice and Reclaim Your Hope" by Leslie Vernick are Margaret K.. and Patty L..
Upcoming
Events

Want to have Leslie speak at your event? Click here to find out more information.
AACC
September 8th – 10th
Dallas, TX
Center for Christian Counseling
Date TBA
Madison, WI
My Daughter Is Dating A Boy She's Crazy About
By Leslie Vernick

Question: My daughter is dating a boy she's crazy about and he seems to be crazy about her but I don't have a good feeling about it. She's stopped hanging out with her friends and dropped out of some of her school activities just to spend more time with him. She met him at the church youth group but his parents do not attend our church. She's 16 and I don't know what to do. Her father was abusive and we're now divorced. I don't' know whether I'm just hypersensitive to this whole thing or she's picking someone like her dad. What are things I need to look for or what can I tell her?
Answer: I know it's tempting to think you are reading into things, but I'd trust your gut instinct. Did you know that:
40% of girls age 14 to 17 report knowing someone their age who has been hit or beaten by a boyfriend.
Nearly 1 in 5 teenage girls who have been in a relationship said a boyfriend had threatened violence or self-harm if the couple were to break up.
1 in 3 teenage girls has feared for their safety in a dating relationship.
It's important that all parents, as well as teenagers, understand what a healthy relationship looks like and be able to identify the first signs that the dating relationship may be unhealthy and potentially abusive.
What People Are Saying About Leslie's Conquer Support Group
I'm thankful for the CONQUER program. I would like to extend a HUGE "Thank you" to Leslie and her team for making a difference in my life and in my relationship!!! All the knowledge and support I have received from CONQUER has been extremely valuable. I know it was only through divine providence that I stumbled across Leslie and this program at the exact time in my life when I needed help. God is so good! I pray that God will continue to Bless Leslie and all those who are a part of CONQUER to continue teaching, supporting, and loving women in unhealthy relationships. Thank you!

~Pearl
LESLIE WELCOMES YOUR QUESTIONS

Leslie wants to help you grow in your personal and relational effectiveness. Please submit your questions by clicking here.
Then, visit Leslie's Blog as she posts her responses to one question per week.
Note: Due to the volume of questions that Leslie receives, she is unable to respond to every question.