Podcast Interview: I was able to be on the Living Truth Podcast. I talk about how well-meaning pastors and counselors can most times recommend actions that are more hurtful than helpful. Listen to the entire show here.
Our Empowered To Change Group is coming soon. We always sell out quickly, so if you want to be notified first when we open doors, please click here.

Today is Election Day
by Leslie Vernick
Today is election day. We don't know right now the outcome of our 2020 Election, but one of the certainties of life is that things always change. Some things we will change by choice such as our government, our job, our furniture, our hairstyle, even sometimes our spouse.
But some of the changes we face are unwanted and unwelcome. Perhaps you will be disappointed or angry about who wins the election this year. Or you hate that you have no choice whether or not your spouse wants to stay married.
Whether it's an unexpected change in our nation's top office, a job loss, health problem, divorce, or simply losing our luggage or wallet while on vacation, changes happen.
Most of the time we don't know why, but we can successfully navigate through unwanted changes if we learn to do these three things.
1. Accept change: Many times we acknowledge the truth of what happened but we refuse to emotionally accept it. We get stuck in the anger of this shouldn't have happened this way. In doing so we resist change and fight it. We refuse to believe the Life/Death/Life cycle that God has created. Winter comes. Spring always follows. Good Friday was horrible. But resurrection Sunday followed. Sometimes things die. We must let them go in order to prepare for new life.
Accepting this reality allows us to move through our anger to grieving the losses we face because of the change. Allow yourself to feel your painful feelings. Let them serve their purpose. They are here to teach us something about life, about ourselves or others. Learn from them, but don't coddle or save them, especially when they're negative. They become more toxic the longer we hold on. Begin to nourish the new seedlings of growth within.
2. Prepare for Change: When we accept that life changes, we prepare for it best we can. For example, make sure your will is up to date and you know where your spouse keeps financial records and insurance policies. Recently when my husband became ill, that was never more obvious to me. Preparing for your own death or your spouse's death doesn't erase the loneliness but it sure mitigates some of the stress. Ask your aging parents to do likewise so that if they die suddenly, you know what their wishes are and where they keep their financial records. In the midst of grieving, you don't want to feel angry at them that you have to spend precious time figuring out where they kept their things or what they wanted.
Is empty nest sneaking up on you? What are some things you can do in preparation for the changes you will face once the children are all gone? Do you feel called to a specific ministry or to go back to school to finish up a degree long ago abandoned? What are some things you can do now to refresh your relationship with your spouse now that you won't have kids to distract each of you?
We all know even the best preparations don't always hold up. Those who prepared for retirement sometimes have less than they thought they would have. The apostle Paul said that he learned the secret of contentment. He enjoyed whatever God gave him without holding it too tightly. We can practice not clinging in small ways today in order to prepare for letting go in bigger ways later on.
Part of accepting unwanted or unwelcome change is learning to let go of our dreams and wishes of what could have been or should have been so that we are free to embrace what is new in our lives.
3. Embrace Change: When we embrace unwanted change, we don't deny that there is a problem or pain, but in the midst of it we ask ourselves the question, "How can I sit with this in a good way?" A while back my younger brother lost his wife to cancer. They were high school sweethearts and it terrified him to be alone. He didn't know how to do many of the things his wife normally handled. But he made a life changing decision. He decided he could learn.
Although he would never have chosen the path he found himself on, he learned things about himself and his strengths in ways that would not have been possible had he not embraced the unwanted changes in his life as a result of widowhood.
When change is unexpected and unwelcome, sometimes our attitude is the only thing we can still control. When we choose to stay positive and look for the good in a situation, we often discover unexpected blessings and opportunities that would have never happened had not this change entered our life.
Although my brother never wanted his wife to die so young, he now says, "I am not the same man I was back then. Not only my life circumstances have changed, I've changed. I was reborn. This is a very good thing."
Friend, what unwanted changes are you facing? You can learn to accept them, prepare for them, and embrace them and thereby transform their negative impact on your life.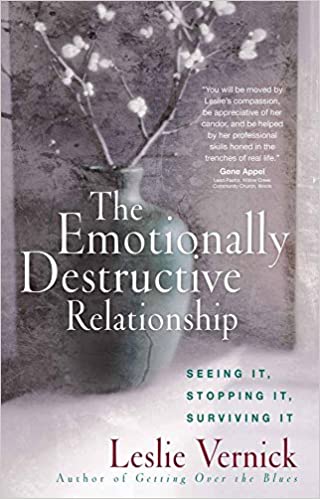 The Emotionally Destructive Relationship
by Leslie Vernick
Leslie Vernick, counselor and social worker, has witnessed the devastating effects of emotional abuse. Many, including many in the church, have not addressed this form of destruction in families and relationships because it is difficult to talk about. With godly guidance and practical experience, Vernick offers an empathetic approach to recognizing an emotionally destructive relationship and addresses the symptoms and the damage with biblical tools. Readers will understand how to:
Reveal behaviors that are meant to control, punish, and hurt
Confront and speak truth when the timing is right
Determine when to keep trying, when to get out
Get safe and stay safe
Build an identity in Christ
This practical and thorough resource will help countless individuals, families, and churches view abuse from God's perspective and understand how vital it is for victims to embrace His freedom from the physical, emotional, spiritual, and generational effects of emotionally destructive relationships.
Two winners will be selected in our next newsletter! (Giveaway only available to U.S. residents)
If you would like to enter to win, you can click here to provide name and email address.
The winners of "Called To Peace" by Joy Forrest are Melissa C. and Joey B.
Upcoming
Events

Want to have Leslie speak at your event? Click here to find out more information.
RESCHEDULED FOR 2021
New Hope Church
November 6th and 7th
East Lansing, MI
Center for Christian Counseling
May 2021
Madison, WI
Call to Peace Ministry Retreat
May 13 – 16th. 2021
Asheville, NC
https://www.calledtopeace.org/events/retreat/
RESCHEDULED FOR 2021
The Village Church
December 3rd
Flowermound, TX

My Husband Is On The Spectrum. I Feel Guilty Leaving.
Question: I want to ask you about an Asperger's/ Neurotypical marriage. The damage done "unintentionally" by my husband who has Asperger's, feels as though it is intentional. The damage feels the same, the PTSD diagnosis is still PTSD. It did not change because the damage came from an Asperger's man.
Answer: First, before I answer your question let me give a disclaimer that I am not an expert on Asperger's or Autism Spectrum disorder as it's better defined these days. However, I think I can answer your question and refer you to a few other resources that may help you as well.
Asperger's syndrome (as it used to be called) is a developmental disorder along the Autism Spectrum in which an individual may be very high functioning and intelligent but lacks in social awareness and processing. The brain of a person with this neurological problem works differently than someone without it, especially how it processes language and social cues.
He or she processes language literally. As a result, he often misses or misinterprets what someone really means, especially emotional nuances within conversations. For example, if you say, "I'm tired and sigh with a frown on your face" a normally wired person may ask you questions like, "What's wrong?" Or "What happened?" Or "Are you physically tired or emotionally tired?" Someone on the Autism spectrum would zero in on the literal details of what you s
What People Are Saying About Leslie's Empowered To Change Group
"YAY! I LOVED the first Empowered to Change group experience and am still benefiting from the FB community. (Do it again Leslie! Whatever it was you did before– the Lord is continuing to use it!)
I'm a slow learner so the six month duration was very important to me– but more than that– half a year is long enough to get to know each other a little bit online as a group. (Or at least to go through stuff with each other…) And I really liked it that the FB page didn't shut down after our six months were over. That's been cool too…
During the past 11 months the group has shared that FB page, it's turned into a little community we can bop in and out of when time permits. (Even the ones who dropped out seem to stop in every once in a while…) Although other 'real time' support groups are important, there's something about an online place to go that's really helpful after being isolated for so long– especially when it requires writing in order to communicate."
~ Woman in a difficult marriage
LESLIE WELCOMES YOUR QUESTIONS

Leslie wants to help you grow in your personal and relational effectiveness. Please submit your questions by clicking here.
Then, visit Leslie's Blog as she posts her responses to one question per week.
Note: Due to the volume of questions that Leslie receives, she is unable to respond to every question.