Free Conquer Workshop: It happens tomorrow and I will cover the topic of How long should you keep hoping for your destructive spouse to change and how will you know his change is real? Save your seat at leslievernick.com/joinwebinar.
The Silent Treatment
by Leslie Vernick
There are a couple of extremes when it comes to conflict. One is the "in your face" person who yells, slams doors, and maybe even becomes physically abusive.
Then there's the person who does none of that. They simply live life as though nothing ever happened and the person who offended them isn't even alive. We commonly refer to this as the silent treatment. And, while it may not be as scary as dealing with a rage-a-holic, the silent treatment is still damaging to a relationship.
It's important to point out that there's a difference between taking a healthy time-out during a heated exchange and giving someone the silent treatment. It's perfectly okay to step away from an argument that's escalating in order to calm down, pray, and be able to deal with the problem in a healthier manner.
To keep a time-out in the healthy category, you should follow a couple of guidelines. First, a time-out should not go beyond 24 hours. Any longer than that and you're slipping into silent treatment territory.
Second, the person who initiated the time-out should really be the person who initiates the conversation again. That way the other person doesn't have to guess when it's okay to reconnect.
But, maybe what you experience is nowhere close to a healthy timeout. You are regularly on the receiving end of the silent treatment…for days, weeks, even months. I once worked with a woman whose husband didn't talk to her for over a year. She pleaded with him to talk but he wouldn't flinch.
Maybe you're the one giving the silent treatment. It could be to your husband, your kids, or anyone who upsets you. Some women feel this is the only power they have…the power to not engage.
But this isn't simply withdrawing your presence from a heated conversation. The silent treatment is a withdrawal of communication, attention, and care. It's a form of punishment. And, the person giving the silent treatment is a person who operates out of a victim mindset.
A victim mindset believes he (or she) is powerless to change anything. He blames circumstances or others for the way he feels. Despite being hurt and angry, he's unwilling to do the work of dealing with his feelings and expressing them in a constructive way. He's also unwilling to listen to another person's perspective and to care about that person's feelings.
Instead of working towards a resolution and repair of the relationship, the silent treatment is used as a means of manipulation, punishment, and even control. The silent partner ultimately wants to punish you for upsetting him and he wants you to take full responsibility for his emotional upset. And, he knows, given enough time, you will beg him to talk, plead for an end to the silence…and that will give him more opportunity to reject you through more silence. More punishment.
So, how do you deal with a spouse who gives you the silent treatment?
The most important thing you can do is ignore this tactic. Do not react to his passive-aggressive form of punishment. Too often, people will respond to the silent treatment by rescuing, pleading, and begging, or they go to the other extreme and go on the attack…yelling, shaming, and living in a state of constant anger. You might even go back and forth between the two extremes. Regardless, the person giving the silent treatment gets to stay in the role of the innocent victim and you've taken on the role of the bad guy…the reason for all of these problems.
Seriously, don't go there. That is a destructive dance and you don't want to be a part of it. As awkward as it might feel, go about your life. Go out with friends. Let him brood in silence while you continue to live your life.
Try not to take his rejection personally. Remind yourself that his behavior is an extremely immature response to being unhappy. It's his inability or unwillingness to deal with feelings or solve problems.
What you can do is simply say, "I'm happy to discuss what's wrong when you're ready. Just let me know." Then go about your life. That is telling your husband that his attempt to control you isn't going to work. You will not rescue him. You will not beg for attention. Simply put, you are going to behave like a healthy adult.
Remember, you can invite someone to have an adult discussion but you cannot force him to talk. And you cannot fix something if you don't know what's broken.
This approach could backfire with him sinking deeper into a victim mentality. He may tell himself, "She doesn't care about me," because you won't fall all over him trying to work it out. Or, he may leave his passive-aggressive manner and go on the attack…blaming, accusing, and berating you for everything that's going wrong in his life and in your marriage.
This is where you focus on staying in CORE Strength. Try to have compassion for the fact that your husband doesn't have the skills to express himself in a healthy manner.
If he explodes in anger, you can respond with, "I see you are very upset and I'm glad you're ready to tell me what's bothering you. But I cannot and will not listen when you're attacking me. I'll give you some time to collect yourself and figure out how to calmly tell me what's wrong." Then walk away.
This invites him into a mature, adult conversation. You are willing to talk about and resolve the issue. He may decline your invitation and continue his destructive ways. But, remember, you don't have to be part of his unhealthy pattern.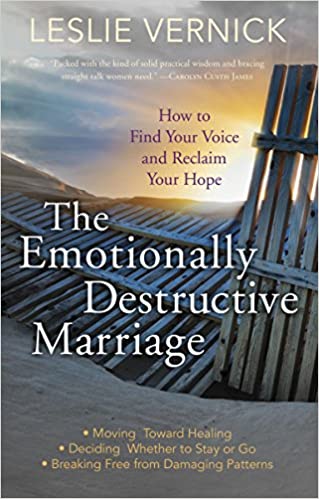 The Emotionally Destructive Marriage
by Leslie Vernick
You can't put it into words, but something is happening to you. Your stomach churns, your heart aches, and the tension in your marriage is making you feel weary and a little crazy. The constant criticism, disrespect, cruelty, deceit, and gross indifference are eroding your confidence and breaking your spirit.
For any woman caught in an emotionally destructive marriage, Leslie Vernick offers a personalized path forward. Based on decades of counseling experience, her intensely practical, biblical advice will show you how to establish boundaries and break free from emotional abuse. Learn to:
identify damaging behaviors
gain the skills to respond wisely
promote healthy change
stay safe
understand when, why, and even how to leave
recognize that God sees and hates what is happening to you
Trying harder to be a perfect fantasy wife won't help fix what's wrong your marriage. Discover instead how you can initiate effective changes to stop the cycle of destruction and restore hope for the future.

Two winners will be selected in our next newsletter! (Giveaway only available to U.S. residents)
If you would like to enter to win, you can click here to provide name and email address.
The winners of "The Emotionally Destructive Marriage" by Leslie Vernick are Lynn L. and Rae M.
Upcoming
Events

Want to have Leslie speak at your event? Click here to find out more information.
Lighthouse Christian Church
October 23rd
Rosemount, Minnesota
Learn the details here.

The Village Church
December 3rd
Flowermound, TX
Center for Christian Counseling
Date TBA
Madison, WI
Beliefs That Will Mess Up Your Life
Below are ten beliefs that people have that cause unnecessary suffering.
Ten Beliefs that Mess Up Your Life
1. Life should be fair.
2. Hard is bad.
3. I should be able to have my cake and eat it too.
What People Are Saying About Leslie's Conquer Support Group
"I personally joined CONQUER to continue to grow and strengthen my CORE – or emotional and spiritual health – while staying well in my marriage. Before CONQUER, I had been recovering well from the effects of my spouse's destructive behaviors. However, I believed CONQUER would equip me more and be an environment to practice what I've learned and shared it with others. The CONQUER program did just that. It did not disappoint."
-Shelley
LESLIE WELCOMES YOUR QUESTIONS

Leslie wants to help you grow in your personal and relational effectiveness. Please submit your questions by clicking here.
Then, visit Leslie's Blog as she posts her responses to one question per week.
Note: Due to the volume of questions that Leslie receives, she is unable to respond to every question.