Webinar: My friend, Pastor Brad Hambrick is doing a webinar on May 6th called "Developing a Safety Plan for Domestic Violence." You can save your spot by clicking here.
The Power of Positive Peer Pressure
by Leslie Vernick
Two books that I read have had a profound influence on my thinking about current events are Bonhoeffer, by Eric Metaxas, and the other was In the Garden of Beasts, by Erik Larson.

It was hard to comprehend how an entire culture, including the Christian church, closed their eyes to the evil that was happening, especially to the Jews. Reading both books helped me to see how "sheep like" we are. We become brainwashed by charismatic leaders that convince us that it is better to protect and promote allegiance to the country than to care about what happens to the individuals in that country.
The same process has happened in much of the Christian church. The idea that loyalty to the Church is more important than the safety and protection of the children entrusted to it's care led to the sexual abuse cover up scandals we read about today.
Victims were sacrificed on the altar of protecting the institution. And those who refused to be silenced were shamed. They were labeled as troublemakers, instigators and accused of slander, gossip and trying to ruin a good person's reputation.
Today most churches are more alert to the reality of children being exploited. At a minimum they have policies in place are to handle allegations of child sexual abuse. I hope this change is because they are truly repentant rather than because they fear lawsuits with huge financial ramifications.
Sadly I see the same pattern happening with abused spouses. Churches often value protecting the institution of marriage over the safety and sanity of the individuals within that marriage.
When a woman goes to her church leaders for help because her husband is raging out of control, addicted to pornography, lying about everything, or scaring their children with his discipline, the help that's offered usually revolves around keeping the marriage together, not getting the abusive behavior to stop or getting the women and children healthy and safe.
The mistake churches make in these instances is defining these problems as a marriage problem. Repetitive abuse (of any kind), addictions, chronic deceit or adultery are NOT marriage problems. They cause marriage problems for sure, but at their heart, they are personal sin problems. Individual character issues that must be addressed before the damage of those issues within the marriage can be repaired.
Marriage counseling for serious personal sin issues doesn't work. Why not? Because the problem isn't the marriage. The core problem is misdiagnosed. It's like giving someone with lung cancer an antibiotic because you misdiagnose their nagging cough as bronchitis. Antibiotics are great for bronchitis, but impotent for lung cancer.
It's easier to tell the wife to stop pushing his buttons so he won't act that way rather than turn to the abuser and tell him "How you behave is sinful, cruel, and inappropriate no matter what your wife does or says that push your buttons." We don't want to confront the abuser or "label" sin as sin. Or if we do, it's the wife's sin for not forgiving or not reconciling because we value protecting the marriage rather than the person who is being abused.
By our collective silence we empower the emotional (or political), or sexual bully to continue sinful behaviors. Jesus was never afraid to speak out about injustice, about oppression, and about hypocritical law keeping to those in power. As his church we must speak out too.
There is a good deal of research on the powerful impact of positive peer pressure on a community, workplace environment, school, and even a church.
For example, in the book The Bully, The Bullied and the Bystander, the most influential person in this triad is the bystander. When bystanders speak up for the bullied at school, the bully looses face and power and the bullied feels supported and valued. When the bystander is an influential person such as a star athlete or a popular student, it has an even greater impact on the culture in the school.
However, when the bystander stays silent, the bully is empowered to continue his or her bullying behaviors. When bystanders stay silent in the face of evil, oppression and injustice, it implies acceptance, agreement and alignment with the bully.
A number of women have told me that they have begged someone in their church leadership to speak to their husband about his bullying and controlling behaviors. Rarely has that happened.
What might change if a courageous pastor stood up for victims during Domestic Violence awareness month? What shifts would happen if Christian leaders, when talking about marriage said, "If you are raging, or cheating, or lying or verbally battering your spouse, understand this, it's sin. It's not your wife's fault you act that way, it's yours. And if you don't ask God to help you change, you will ruin your marriage."
Instead of being protected by the church, wives in these kinds of marriages are often pressured into long suffering, silence, forbearing, and endless trying harder to appease her husband so he doesn't behave that way. Why? Because the sanctity of marriage is held to be more important than the safety or sanity of the individual in that marriage.
Dietrich Bonheoffer a young Lutheran pastor during World War II was horrified at the church's silence at what was happening in the culture. He wrote, "Silence in the face of evil is itself evil. Not to speak is to speak. Not to act is to act."
The foundation of any marriage is safety and trust. Both are destroyed when there are patterns of destructive and abusive behaviors. Until the damage is addressed the relationship remains broken even if there is no legal divorce. I don't believe that glorifies God.
Please, let's not repeat the past by valuing the institution of marriage, over the safety and sanity of the people in it.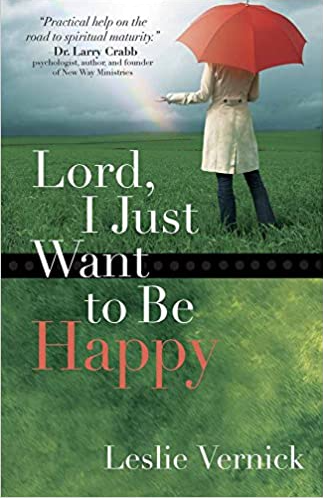 Lord, I Just Want to Be Happy
by Leslie Vernick
Counselor and author Leslie Vernick has discovered that many people pray, "Lord, I just want to be happy!" With candor, Leslie reveals that readers don't need new circumstances but a new perspective to discover true happiness. With biblical insight, Leslie guides readers to take simple steps as they…
recognize and change habits that, day by day, keep them from experiencing happiness
make good choices and learn from mistakes without beating themselves up
develop the skills that enable them to let go of negative and painful emotions more quickly
transform difficult circumstances so they can live with gratitude, joy, and purpose
Application questions help readers work godly thinking, as well as healthy skills and habits, into their lives and hearts. They'll discover that, even if nothing changes in their circumstances, their inner chains can be broken and they can go free…into a new path of real hope and happiness.
Two winners will be selected in our next newsletter! One winner for each book (Giveaway only available to U.S. residents)
If you would like to enter to win, you can click here to provide name and email address.
The winners of "The Great Sex Rescue" by Sheila Wray Gregoire is Christine B. and Jennifer J.
Upcoming
Events

Want to have Leslie speak at your event? Click here to find out more information.
Call to Peace Ministry Retreat
May 13 – 16th. 2021
Asheville, NC
https://www.calledtopeace.org/events/retreat/
RESCHEDULED FOR 2021
The Village Church
December 3rd
Flowermound, TX
Lighthouse Christian Church
Date TBA
Rosemount, Minnesota
Center for Christian Counseling
Date TBA
Madison, WI
Getting Healthy After Divorce
Question: I've been a part of your coaching sessions and read your books on destructive relationships, including marriage. I was in a destructive marriage and stayed well, until I couldn't stay well any longer.
Then I told my husband that I was divorcing him. We are separated now, and the process went well. I would like to know what to do after leaving well? How to heal, how to avoid falling into the same kind of relationships, and how to choose healthy relationships. And how to lead my children in the right direction (boys 8,10).
Answer: I believe many other women who are in this blog community will want to chime in on answering this question but let me just give you a few things to work on in order to heal and avoid falling into the same type of destructive relationship pattern in the future.
First: It's important that you understand that healing is a process of growth and you can't rush the process. I think sometimes a lot of our mental and emotional distress comes because we aren't growing faster.
We feel angry because we're still stuck in a lie, or a negative emotion. We get discouraged because we thought we were getting better, but then slipped into some old behavior.
But think of growth this way. When you become pregnant, there are a lot of things you can do to harm your unborn child – drinking, drugs, smoking, and excessive roughness to your abdomen.
There are some things you can do to nurture your unborn child.
What People Are Saying About Leslie's Moving Beyond People Pleasing Class
"I have realized that my husband had the God spot in my life. This has helped me to see that I am not sinning in making my own worship choices, despite what he tells me. This has taken a huge burden off my heart.
I am no longer feeling like I have to make everything okay, especially after none of his tirades. I now get that his unhappiness resides in him and it is not my job to fix it.
My confidence is small but growing. I love the reinforcement that I am doing what is right. Without Leslie and my course sisters, it's all too easy to go back to believing the lies I am told every day. So thankful for this course"
LESLIE WELCOMES YOUR QUESTIONS

Leslie wants to help you grow in your personal and relational effectiveness. Please submit your questions by clicking here.
Then, visit Leslie's Blog as she posts her responses to one question per week.
Note: Due to the volume of questions that Leslie receives, she is unable to respond to every question.