Next Thursday: Our Conquer Workshop goes live next Thursday (9/29). Our topic will be "How long should you keep hoping for your destructive spouse to change and how will you know his change is real?" This is a free workshop, so save your seat at leslievernick.com/joinworkshop
The ONE Thing You Can Control
Leslie Vernick

If you remember nothing else from this newsletter, remember this: the only thing you can control is you.
It's a simple truth but a very hard one to accept when you're in a destructive relationship. I work with women all the time who are desperate to get their husbands to see their destructive behavior, to repent and change.
These women are pretty resourceful. They find articles, books, recordings, sermons, counselors, and come up with their own persuasive lectures…all in an effort to open their husband's eyes. By the time I come into the picture they're exhausted, frustrated, and incredibly sad. But, hopefully, they're also in a place to accept their powerlessness… that they are absolutely, completely, totally powerless – to get their husbands to see or do anything.
Friend, if you are one of those women, it's time to get the focus on the only person you can control: you.
Let me first say, working on you won't make your marriage great. That takes two people. But it will make you much, much stronger. Doing your own work will mean you react better, know how to set better boundaries, have the strength to enforce those boundaries, and don't fall apart when your husband hurts you.
Carefully follow these steps if you're ready to work on what you can control: you.
1. Open your eyes to the truth. God tells us that the truth sets us free (John 8:32)
Self-deception is easy…until it's not. It's time to really contemplate how you got here. What happened inside of you that allowed the mistreatment for so long? What did you tell yourself? Why – and how – did you allow it? What lies have you believed? These are really important questions to answer.
2. Believe God's word about your value, you are God's daughter and he loves you.
Women who have been demeaned for a long period of time have a very difficult time accepting they have value. But, just like a lay person isn't qualified to appraise valuable art, your husband doesn't get to decide your worth. God does that. Go back to his word every day and meditate on these verses until you truly believe what he says about you:
"But God demonstrates his own love for us in this: While we were still sinners, Christ died for us." Romans 5:8
In fact, even the hairs on your head are all numbered. Do not be afraid; you are more valuable than many sparrows. Luke 12:7
"For we are God's masterpiece. He has created us anew in Christ Jesus, so we can do the good things he planned for us long ago." Ephesians 2:10
"For you created my inmost being; you knit me together in my mother's womb. I praise you because I am fearfully and wonderfully made; your works are wonderful, I know that full well. My frame was not hidden from you when I was made in the secret place, when I was woven together in the depths of the earth. Your eyes saw my unformed body; all the days ordained for me were written in your book before one of them came to be. How precious to me are your thoughts, God! How vast is the sum of them! Were I to count them, they would outnumber the grains of sand— when I awake, I am still with you." Psalm 139: 13-18
3. Get feedback from godly, wise people. Women in destructive marriages often find themselves isolated from others. But, in order to get healthy, you need to have the perspective of godly, wise people who will see things you don't see. People who will love you enough to tell you. Invite trusted people into your life and situation to hold you accountable and speak into your situation. (And be open to their feedback, even when it may hurt.)
4. Be aware of how you are being shaped by what's happening to you in the midst of your marriage.
Haggai 1:7 says, "give careful thought to your ways.
It is not selfish to prioritize you right now. Get alone and reflect on what's happening inside, how you're feeling, what you're thinking and how you are responding. What do you value? Remember, negative emotions aren't "bad." They actually serve an important purpose and it's wise to pay attention to them without being controlled by them. If you don't pay attention, your emotions tend to become bigger and stronger until you find yourself out of control and full of negative, toxic feelings.
5. Put your marriage in its proper place.
One of the reasons your marriage has gotten so bad is because it's become too important. That may be the opposite of everything you've heard but it's true. You've become obsessed with making it work, with making him change. You've put keeping your marriage together as God's highest priority, above your own safety and sanity and maybe even the well-being of your children.
If you're in this place, your marriage has become an idol. It's in a place where only God belongs.
Ask yourself this question: "If I do my part and my marriage doesn't make it, can I trust God to be enough for me?"
Until you can answer "yes" to that question, you'll be too afraid to do anything differently. You must be willing to unravel the life you're living to allow God to create the life he meant for you to live.
Your marriage is important, to you and to God. But it is not more important than your safety and sanity. Only God can get through to your husband. So focus on what you can control: you.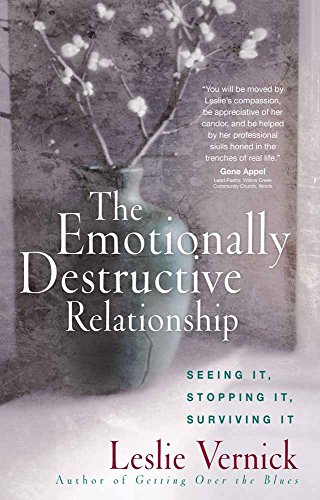 The Emotionally Destructive Relationship
by Leslie Vernick
Leslie Vernick, counselor and social worker, has witnessed the devastating effects of emotional abuse. Many, including many in the church, have not addressed this form of destruction in families and relationships because it is difficult to talk about. With godly guidance and practical experience, Vernick offers an empathetic approach to recognizing an emotionally destructive relationship and addresses the symptoms and the damage with biblical tools. Readers will understand how to:
Reveal behaviors that are meant to control, punish, and hurt
Confront and speak truth when the timing is right
Determine when to keep trying, when to get out
Get safe and stay safe
Build an identity in Christ
This practical and thorough resource will help countless individuals, families, and churches view abuse from God's perspective and understand how vital it is for victims to embrace His freedom from the physical, emotional, spiritual, and generational effects of emotionally destructive relationships.
Two winners will be selected in our next newsletter! (Giveaway only available to U.S. residents)
If you would like to enter to win, you can click here to provide name and email address.
The winners of "The Life-Saving Divorce: Hope for People Leaving Destructive Relationships" by Gretchen Baskerville are Candace P. and Lori G.
When Your Old Beliefs Must Change To Grow
By Leslie Vernick

Question: In your blog listing "10 Lies that will Mess Up Your Life" you stated the first lie is Life is Not Fair. Can you explain that more, please?
Scripture says you reap what you sow. I don't understand this. I sowed love and kindness; teaching God's word to my children. My daughter ends up struggling with depression, promiscuity, addicted to substances, and in rehab. Why?
My girlfriend raised her kids the same and her daughters are doing well. It can make me sad, angry, and jealous. I want to scream, "It's not fair!" But, if I tell myself that life is not fair, then what am I to do with that scripture??? I DIDN'T reap what I sowed, so the Bible must be lying. How am I misunderstanding this passage?
Answer: I'm sorry you're experiencing disappointment and pain with your daughter's choices. Most of us do the best we know how to teach and show our children love and the wisdom of God's path for life. Yet, they still may make poor choices.
First, God knows exactly how you feel. When Adam and Eve sinned, he grieved over their choice to go their own way. He lamented when the Israelites refused to follow him and worshiped other Gods. God is perfect. Yet his children rebelled and went their own way. In Deuteronomy, Moses lays out two choices before the Jews enter the Promised Land, inviting and reminding them that God says, Choose Life (Deuteronomy 30:19).
What People Are Saying About Leslie's Conquer Support Group
"I personally joined CONQUER to continue to grow and strengthen my CORE – or emotional and spiritual health – while staying well in my marriage. Before CONQUER, I had been recovering well from the effects of my spouse's destructive behaviors. However, I believed CONQUER would equip me more and be an environment to practice what I've learned and shared it with others. The CONQUER program did just that. It did not disappoint."
-Shelley
LESLIE WELCOMES YOUR QUESTIONS

Leslie wants to help you grow in your personal and relational effectiveness. Please submit your questions by clicking here.
Then, visit Leslie's Blog as she posts her responses to one question per week.
Note: Due to the volume of questions that Leslie receives, she is unable to respond to every question.