You can still join us! Our popular summertime challenge is back! We started yesterday, but you can still catch up. See what we will talk about each day at leslievernick.com/challenge.
Our New Quickstart Guide: If you wonder whether or not you're in a destructive marriage or just a difficult one, please check out our new Quick Start Guide to find out.
The Hardest Part
Susan King

I have been working with women who are in destructive relationships for a number of years. With experience both personally and professionally, I am certain that destructive patterns are very hard things to contend with. Some of those patterns include being subject to coercive control, gaslighting and addiction, being devalued, dismissed and betrayed; as well as making honest attempts at change and reconciliation only to be disappointed over and over again.
I have noticed that the period of growth that seems to be most challenging for many women is in accepting the truth of what is and letting go of a specific outcome. It can be gut wrenching to look at yourself in the mirror and tell yourself the truth: "This relationship is destructive. My husband is not taking responsibility for the destruction or making personal change. My marriage is not and may not ever be what God intended for marriage to mirror. No matter how hard and how long I try, a biblical marriage and true unity is not happening." For many of you, this is what is true about your marriage. I want you to know that one person can not single handedly create a good marriage.
Accepting the truth can be brutal because destructiveness is not what women expect when they say yes to marriage. Most women are not looking for perfection from a husband, but they do usually expect a partnership offering faithfulness, reliability, care, honesty, and decency. The Leslie Vernick & Co. team holds to mutuality, reciprocity, and freedom as the cornerstones of a healthy marriage. But what happens when the basic tenets of marriage are not present?
Most women want to see resolve in the destruction and to find reconciliation in the relationship. They want their husband to hear them and understand how the destruction has harmed them. They want him to get healthy and have a real heart change. They want to make sense of what is happening and have repair and lasting change be a meaningful part of their transformative story. When that does not happen within the marriage, the truth is hard to accept.
Because this truth is hard to accept, what I see happen often is women being consumed with the desire to save their marriage at all cost. Sometimes the cost is physical health. Other times the cost is giving away her own worth, values, and God given purpose. Over time, energy is exhausted and mental health breaks down. There is an alternative to this outcome and there is still hope in the Lord. However, no matter how hard you may try, a healthy marriage does not develop when one or both partners are unhealthy.
Your health and wellbeing is so important. You may have many different roles in life and purposes to invest in that are worthwhile. A wife's God-given role in marriage is to be a helpmate. A helpmate is not an enabler; it is a trusted friend and advisor. That means being a truth teller. If you have a counselor, pastor or friend who encourages you to put up with abusive behavior and stay quiet, that person is not knowledgeable about destructive relationships. You will not win your self centered husband over with passivity. That advice is damaging, not only to you but to your husband.
If you enable or collude with addiction, manipulation, betrayal and abuse by allowing yourself to continue to be subject to the destructive patterns it is not just harmful to you, it is harmful to your husband. He learns that he is entitled to treat you that way. He learns that he is immune to the consequences of poor behavior. He becomes more self centered and more destructive. That is not God's best for him and it certainly isn't a healthy way for you to spend your one life.
Acceptance does not mean you condone or like what is happening, and coming to terms with the truth of your situation and acknowledging reality may be the hardest part. With that is the possibility that even if you speak the truth, your husband may not be willing to face it. However, you can be clear in communicating your perspective. That conversation might sound like, "I accept that you don't want to hear what I have to say about the condition of our marriage. I accept that you don't agree with me about the issues I believe we have. And, I accept that you are comfortable with being the man you are and have no intention to change."
For your own wellbeing, that may not be the end of the conversation. While you have no control over his perspective, you have plenty of control over yourself. In other words, you don't have to continue living like you have. Therefore you might continue the conversation like this, "I accept your viewpoint, but I am not going to continue living like I have been. That means I will no longer pretend we have a good marriage. I will no longer go to marriage counseling and I will no longer initiate conversations with you to improve this marriage. I'm not punishing you. I simply refuse to live like I've been living. You may not want to change but I do."
Admitting the truth and refusing to continue pretending is often the hardest part of dealing with a destructive relationship. Acceptance is key to experiencing real change. When you accept the truth of what is, you are better able to let go of fixed outcomes and look to God for His direction. Much of the time, God moves in ways we don't expect and would not have chosen ourselves. When you live life to the full for the glory of the Lord, you will experience a meaningful outcome.
In John 14:6, Jesus tells us that He is the way, the truth, and the life. He is Truth; and Jesus was not the king many expected. The cross was not the outcome many wanted or put their hope in, and yet it was God's plan for our redemption. May your hope be in the Lord not in a particular outcome or desire. Be well!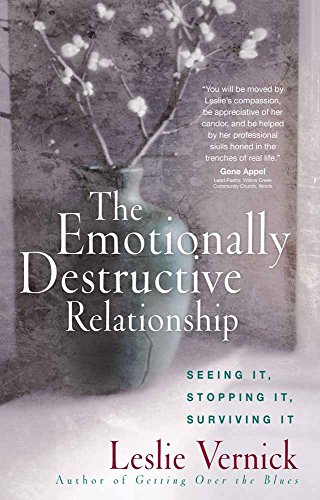 The Emotionally Destructive Relationship
by Leslie Vernick
Leslie Vernick, counselor and social worker, has witnessed the devastating effects of emotional abuse. Many, including many in the church, have not addressed this form of destruction in families and relationships because it is difficult to talk about. With godly guidance and practical experience, Vernick offers an empathetic approach to recognizing an emotionally destructive relationship and addresses the symptoms and the damage with biblical tools. Readers will understand how to:
Reveal behaviors that are meant to control, punish, and hurt
Confront and speak truth when the timing is right
Determine when to keep trying, when to get out
Get safe and stay safe
Build an identity in Christ
This practical and thorough resource will help countless individuals, families, and churches view abuse from God's perspective and understand how vital it is for victims to embrace His freedom from the physical, emotional, spiritual, and generational effects of emotionally destructive relationships.
Two winners will be selected in our next newsletter! (Giveaway only available to U.S. residents)
If you would like to enter to win, you can click here to provide name and email address.
The winners of "The Emotionally Destructive Relationship" by Leslie Vernick are Amber B. and Natasha S.
Faith Over Fear: Finding Strength
and Healing in a Destructive Relationship
By LeAnne Parsons

Question: Reading the emotionally destructive marriage, I, in a very long term marriage, thought I was in a disappointing one, but your questions came up with an absolutely destructive one. He has never and would never cheat, hit or speak to me in a disparaging way. There is very little concern for how I think or feel and most decisions have been his. Apologies and thank yous are not part of his dialogue. Maybe a short fight once a decade, you can't discuss or fight when one literally walks away. Wanting to be a sweet Christian wife I did not deal with this well. I lived "Count your blessings…" we have actually had a pleasant marriage and no one we know would think otherwise. Counseling brought short term results. I realize that there are many much more difficult marriages, yet my heart would love to speak and be heard. What would you say to those of us in this type of marriage?
Answer: Dear Sister in Christ,
I know the pain and frustration that comes from being in an emotionally destructive marriage. I'm sorry to hear that you're struggling with communication issues in your marriage. It can be difficult to recognize and address, especially when there are no overt signs of abuse or infidelity. However, I am here to tell you that your voice matters, your feelings matter, and your needs matter. You are seen, known, and heard here in this space. It takes so much courage to lean in and explore the truths in your relationship.
I see you and hear you. Thank you for finding your brave, and asking this important question…
What People Are Saying About Leslie's Moving Beyond Challenge
I love this challenge! The Godly wisdom and wise counsel are a true blessing. Can't wait for days 2 and 3.
Kim CP.
LESLIE WELCOMES YOUR QUESTIONS

Leslie wants to help you grow in your personal and relational effectiveness. Please submit your questions by clicking here.
Then, visit Leslie's Blog as she posts her responses to one question per week.
Note: Due to the volume of questions that Leslie receives, she is unable to respond to every question.