Free Training: If you haven't yet signed up, be sure to save your seat for my upcoming training, 4 Lies That Make Women In Destructive Relationships Feel Crazy and Powerless – And what you can do today to stop them. Sign up here.
The Good That Is Never Good Enough
by Leslie Vernick
Have you ever seen a verse in the Bible for the first time – one that you were sure you never noticed before, even though it is underlined in your Bible?
That's what happened to me recently, and I can't stop thinking about it. Paul prays for the Philippians. He said".. that your love would abound more and more in knowledge and depth of insight, so that you may be able to discern what is best and may be able to be pure and blameless until the day of Christ, filled with the fruit of righteousness, that comes through Jesus Christ – to the glory of God" (Philippians 1:9-11)
I usually have no problem figuring out the difference between good things and bad things, but Paul prays for something greater. He prays that we would learn to discern between the better things and the best things. That is a whole lot trickier. There have been times in my life where the good things have distracted me from pursuing the best things. Other times I was so busy enjoying the good things, I got lulled into a false belief that they were the best things.
Mary of Bethany is a woman who learned to discern the best thing. She chose to spend her time loving Jesus; her sister Martha chose serving Jesus. I used to think of the Mary and Martha story as an illustration of personality differences. Martha was a worker, Mary, a listener, but I'm more convinced than ever that it wasn't a matter of personality but of discernment. Mary's love for Jesus taught her how to see what the best things were at the moment. Whether sitting at his feet in rapt attention or spilling her treasured perfume over her Savior's tired and callused feet, Jesus said Mary made the right choice.
To be honest, in the busyness of ministry, sometimes I fail to take that quiet time to sit at Jesus' feet. I struggle to be still, simply love Him, learn from Him and allow Him to fill me with His love. I'm so busy doing things for Jesus, I am not taking the time to be with Jesus.
As Christian coach I know I'm not alone. I work with many women who feel too busy to take time to be alone with Jesus. Multiple priorities, ministry responsibilities, a hectic home life and people constantly tugging for something, keep them lost in the good that is not good enough.
Oswald Chambers writes, "The great struggle in the life of faith is not sin but the good that is not good enough." I don't want to settle for the good and forsake the best God has for me. I hope you don't either.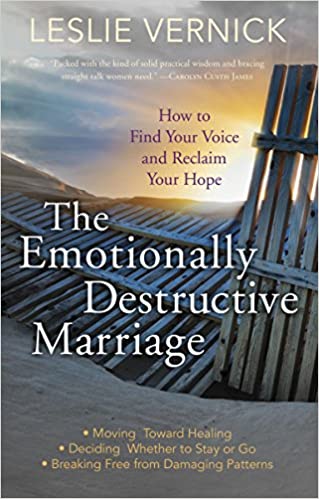 The Emotionally Destructive Marriage
by Leslie Vernick
For any woman caught in an emotionally destructive marriage, licensed clinical social worker, relationship coach, and marriage counselor Leslie Vernick offers a personalized path forward. Based on decades of experience, her intensely practical, biblical advice will show you how to establish boundaries and break free from emotional abuse today. Learn to:
Indentify damaging behaviors
Gain the skills to respond wisely
Utilize tools that promote healthy change
Stay safe
Understand when, why, and even how to leave
Recognize that God sees and hates what is happening to you
Trying harder to be a perfect fantasy wife won't help fix what's wrong with your marriage. Now initiate some changes that can.
Two winners will be selected in our next newsletter! (Giveaway only available to U.S. residents)
If you would like to enter to win, you can click here to provide name and email address.
The winners of "How to Act Right When Your Spouse Acts Wrong" by Leslie Vernick are Mistie M. and Katarzyna.
Upcoming
Events

Want to have Leslie speak at your event? Click here to find out more information.
AACC
September 12th – 18th
Orlando, FL
Lighthouse Christian Church
October 22nd and 23rd
Rosemount, Minnesota
The Village Church
December 3rd
Flowermound, TX
Center for Christian Counseling
Date TBA
Madison, WI
He Won't Let The Affair Go.
Question: Twenty-three years ago (after being married 5), I had an emotional affair at work. The church advised me to quit my job. I did and immediately got pregnant with our first. I separated for a while because he was so mean to me, but the church said I needed to be with my husband for protection (nobody ever questioned my husband. He was the victim of an adulterous wife).
After the birth of our son, I divorced him. I made him an even bigger victim within the church. Women felt led to focus on me and get me back into my marriage. Four years later we remarried. Submitting to my husband, I found myself constantly trying to please him (I have a bookcase full of books on how to be a good wife), which resulted in a bad case of people-pleasing.
Not realizing how easily I was being manipulated, I allowed myself into a situation three years ago, that resulted in gross sexual imposition, which I am being blamed for because I was told I wanted it. I feel like a fool!!!! I am stupid trusting! I had to tell my husband to call this man to leave me alone. I had given him my number before he tried to rape me thinking he was a nice older man in the military taking care of a military wife on her way to visit her husband out of the country.
Sometimes I feel like I blame my husband for my situation, but that isn't right either. I made the choice because I chose to marry a man that cares nothing for me, but just that his meals, laundry, and home are run from top to bottom. I am a slave. The slave who strayed and now I am being punished. I want to be free of this chain. With God, I am forgiven. With my husband, I am not. What do I do and how should I react to him?
Answer: First, I'm so sorry for all the pain you're going through. Marriage, even good marriage is hard work and over time exposes our own issues – jealousies, insecurities, immature coping mechanisms, wrong thinking patterns, etc. We can blame marriage for exposing them, but they were in us. Your husband's jealousy, entitlement thinking, and selfishness were in him before you had the emotional affair at work. Your people-pleasing and naivety were in you before your husband treated you so poorly.
But that's not all. You also have strengths. You separated after your first baby was born because of your husband's mistreatment of you. You sought counsel from those you believed had godly wisdom, even though they too were naïve and idealistic about how a destructive marriage is reconciled. You were an eager learner, reading a lot of books on how to make your marriage work. You care for two special needs children. You took what you read in Boundaries and applied it to many areas of your life and your relationship with God grew stronger and more secure than ever.
Currently, you are telling yourself that you must stay married for financial support. Yet you recoil at the thought of being just a slave who does his meals, laundry and takes care of the home. No one who is married wants to be "Just a paycheck" or "Just a maid". Your question is where do you go from here?
What People Are Saying About Leslie's Walking in CORE Strength Class
"Thank you so very much for the encouragement and affirmation you have given each of us in the group. Put me in coach. I want to "play". Actually, I want to keep working every day. I will miss your smiling face and all your props to help us get the concepts we are learning. The fact that I could confront some tough experiences by realizing I have feelings but they don't have to have me. The fact that I could confront the issues is because I am worthy of speaking up for myself. I am worthy of respect and I can do both without being disrespectful to others."
-C.
LESLIE WELCOMES YOUR QUESTIONS

Leslie wants to help you grow in your personal and relational effectiveness. Please submit your questions by clicking here.
Then, visit Leslie's Blog as she posts her responses to one question per week.
Note: Due to the volume of questions that Leslie receives, she is unable to respond to every question.