What's New:
Save Your Spot:

My free training called

4 Lies That Keep Women In Destructive Relationships Feeling Crazy and Helpless

is next week. There is still time to secure your seat for this free training. Save your seat at

leslievernick.com/joinwebinar
The Good Enough Mom
by Leslie Vernick
Many of us picture a good mom as supermom. We think that our kids will do better and love us more if we do everything for them. We're always there for them. And we sacrifice our own needs to help them and make sure there are plenty of pillows around when they fall down. But in the end, that approach cripples your child. It teaches her that she cannot be the owner of her own life because you don't trust that she is capable of managing without you or your help.
The basic job of a good enough mother is to help your children NOT to need you when they grow up. Sure we all want a great relationship with our kids, but that relationship must mature into a more mutual and reciprocal one or it's not healthy.
Below are essential life lessons you must teach your child (besides teaching them to know and love God).
Please do not beat yourself up if you see you fall short. This may be an opportunity for you to see parenting in a whole new way. But you won't learn if you are upset with yourself that you didn't know these things or do them before.
Life Lesson One: Your child must learn/experience that he/she is unconditionally loved. Unconditional love creates a secure base from which the rest of life's lessons are absorbed. That does not mean that anything goes in terms of bad behavior, but it means that no matter how poorly your child behaves, he or she knows Mom loves me. (If this is hard for you, fill yourself up with God's unconditional love for you).
Life Lesson Two: Every child needs to learn how to name and express his/her own emotions appropriately. For example when a child is whining, put words to their whine, "I see you are tired, or hungry, or crabby." Doing this helps your child develop a vocabulary to express what's going on inside of his/her body.
Life Lesson Three: Every child needs to learn how to manage and control his/her emotions, especially the more volatile or negative emotions. As a mother, validate and name your child's emotions as well as the boundaries or limitations of expressing them. "I know you're tired (or hungry or mad) but you cannot hit mommy."
We live in a "feeling" dominated culture but without self-control, indulging those feelings with no boundaries will wreak havoc over one's life and cause one to become "corrupt" or "deformed" as a person.
Life Lesson Four: Children need to understand reality and its limits. For example, "not everyone comes in first place or gets a trophy." Sometimes we lie to our kids inflating his/her abilities or talents (you can do anything you want to do) because we want them to gain self-esteem and self-confidence. But that ultimately backfires when they come up against reality (life).
Genuine self-esteem isn't built by false reality. Confidence in one's ability is built by learning to do something well. Confidence is also achieved by knowing you can LEARN to do something if you need to, even if you don't know how to do it yet.
Help your children "accept" reality rather than resist it. They will become happier rather than always feeling sullen and angry that "reality" doesn't bend to what he/she wants it to.
Life Lesson Five: Children need to learn how to take responsibility for themselves. Being a good mom does not mean you over function and do everything for your child. You must give your child age appropriate responsibilities so that they learn how to NOT need you anymore in order to become a fully functioning adult. For example, don't do his science project when he has procrastinated. Let your child experience the consequences of reality, a bad grade.
Life Lesson Six: Children need to learn how to identify the lies they believe and learn to think truthfully. Children will naturally lie to themselves just as adults do. Therefore a good mom corrects her child's thinking with the truth, as appropriate to the situation and his/her age. For example, your child cries, "I'm just stupid" because she's having problems with her math homework. You don't do her homework for her, but you say, "Math can be difficult and it takes more effort and concentration to learn harder things. You can learn this math but it takes work. You're not stupid."
Parenting is hard work. I wish I would have understood these things better when I was raising children. Don't beat yourself up, but stop knocking yourself out trying to be the hero of your child's story. It's much more empowering for your child to become the hero (problem solver) of his or her own life.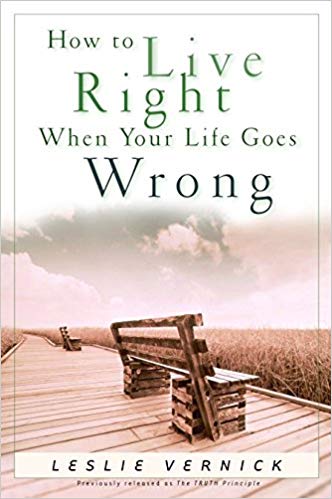 How to Live Right When Your Life Goes Wrong

by Leslie Vernick


Despite the abundant availability of both self-help books and Bible study materials, many of us find it difficult to apply what we learn, to make that long head-to-heart journey of change. When we are faced with life's daily trials, our responses often lack the Christian maturity we desire–showing us clearly just how far we have to go. Is it possible to achieve a deeper, more permanent change of heart?
Discover the Principle that Could Transform Your Life.
Now, through one practical, simple-to-understand and easy-to-remember model, you can:
• Gain a new perspective on the troubles God allows in your life.
• Come to better understand your response to those trials.
• Discover the underlying idols that hamper your efforts to change.
• Learn how to discern the truth of God's Word.
• Develop the heart response that will draw you closer to God.
Come on a journey of personal growth and spiritual discovery as your heart is drawn back to a central tenet of the Gospel: Truth isn't something you learn, but Someone you know. And the Truth will set you free.

Two winners will be selected in our next newsletter! (Giveaway only available to U.S. residents)
If you would like to enter to win, you can click here to provide name and email address.
The winners of "When to Walk Away" by Gary Thomas are Jacqueline R. and Roberta C.
Upcoming
Events

Want to have Leslie speak at your event? Click here to find out more information.
GT Church
Video Message by Leslie
August 16th
West Lawn, PA
RESCHEDULED FOR 2021
New Hope Church
November 6th and 7th
East Lansing, MI
Center for Christian Counseling
November 20th and 21st
Madison, WI

The Village Church
December 3rd
Flowermound, TX

Navigating A Separation Wisely
Question: I am separated from my husband as a result of indifference and apathy towards my kids and my needs as well as major addiction and unwillingness to change and not really understanding a need for him to change. He comes to drop things off in the evening and I'm wondering if it's okay to sit by the fire with him or will it send him mixed messages?
I'm definitely not ok with the way he has treated us and I'm finding it difficult to discern what's best to protect myself. I don't want to pretend everything is fine but the reality is we have 3 children together so I will have to have some sort of relationship with him. He says he has been listening to lots of podcasts including the ones I have sent him from your website and he says "it's not looking good" for him. It seems he's just starting to understand there are major changes needed and understands the separation is long term and we won't be having any physical contact. I message him regularly with things about the kids. Not sure how to proceed.
Answer: Separation can be a confusing and murky time in a marriage because the boundaries of what's okay and what's not okay aren't always clear both in our own heads, as well as in the relationship.
So perhaps a good step to clarify things for you is to redefine why you felt it was important for you to separate from him, to begin with. Was it for safety reasons? Was it for your own healing and sanity? Was it in the hopes he would wake up and want his family back? Some of each?
Once you've clarified why you separated, ask yourself the next question. Do I want reconciliation? If so, then define what is needed for that to happen? What is your work to do? What is his work to do? What is marriage work to do? Write all those things out in as much detail as you can for your own benefit (not necessarily his).
The reason I ask if you want reconciliation is that sometimes the destruction and damage is so great that trust and safety can never be completely repaired. If or when you move back together and attempt to do marriage and you still live afraid of danger or harm, this is NOT how God wants you to live or to be married.
Let's assume that reconciliation is your desired outcome. Therefore, your other questions can now be looked at. First, you say that he comes over frequently to drop things off. So since he is there and you have three kids together, would it be okay to invite him to sit by the fire? Or, you wonder if that will send a mixed message to him?
What People Are Saying About Leslie's Walking In CORE Strength Class
I am so very thankful that I took Walking in CORE Strength. I have learned how to take things my head has known and apply them to me in a very real and personable way.
My head knows I am loved by God, my heart even knew that as it comforted me through many a hard time but now I am able to carry that through to its intended end…that I roll my shoulders back, hold my head up and stand before others as someone who knows how deeply loved she is. Being loved means that I can love and being loved means I can love for the good of the other not for keeping myself safe and protected.
I have learned to stop pretending. I still do at times but that is growing less and less as I grow stronger and stronger. I don't pretend I can do everything and I ask for help. I don't pretend to have feelings I do not have. I don't pretend I want what my husband wants.
I am learning to stop lying to myself and I can do that because in these groups I have found a safe emotional place where I can be genuine without fear of being shamed.
Thank you so much!
Roby T.
LESLIE WELCOMES YOUR QUESTIONS

Leslie wants to help you grow in your personal and relational effectiveness. Please submit your questions by clicking here.
Then, visit Leslie's Blog as she posts her responses to one question per week.
Note: Due to the volume of questions that Leslie receives, she is unable to respond to every question.