Coaching Groups: We still have a few spots open for our small coaching groups that start next week and will cover Moving Beyond People Pleasing. We have 4 classes still open. Go to leslievernick.com/peoplepleasingcourse to secure your spot.
Ten Reasons to Say NO MORE to People Pleasing
Leslie Vernick

Pleasing others has often been seen as Christian virtue and it can be, as long as you are free to say no without a guilt trip, a shame attack, or feeling selfish.
Perhaps a better way to describe an unhealthy people pleaser is a person who is trapped in approval-based relationships. If that's you, you feel compelled to do what other people want, demand, or imply, so you get their approval, acceptance, affection, love or have some basic safety needs met. Friend, this is not God's design for you or for healthy relationships.
Below are ten reasons why you should move beyond approval based, people pleasing behaviors.
1. You're depleted and exhausted trying to make everyone happy and doing what they want.
2. You're seething with resentment. For all you do, you are not appreciated or valued as you want.
3. You are living for someone else's agenda and missing your own purpose.
4. You are enabling someone else's dysfunction to grow.
5. You are misusing the talents and abilities that God gave you in order to serve someone else's purpose not God's.
6. You continually allow other people to determine your value, worth and purpose.
7. You have no authentic relationships where there is mutuality and reciprocity. You are the giver; they are the taker.
8. You have lost the person you are supposed to be/become by deforming yourself into who other people want you to be.
9. You do not know who you are, what you want, or what's important to you.
10. You are disobeying God. (Read Galatians 1:10; Proverbs 29:25; 1 Thessalonians 2:4; Colossians 3:23; Ephesians 6:7 for a few examples).
If you've resonated with some or most of these reasons, it's time for you to make a change.
Don't continue this unhealthy pattern.
Don't regret that you've missed becoming the person God has called you to become because you lived afraid. Afraid of someone else's disapproval, anger, or rejection. God wants more for you than to be an object for others to use.
Starting July 11, next week, our six week coaching program starts and is specifically designed to help you move beyond unhealthy approval seeking people pleasing behaviors. We have a few spots open. For more information click here.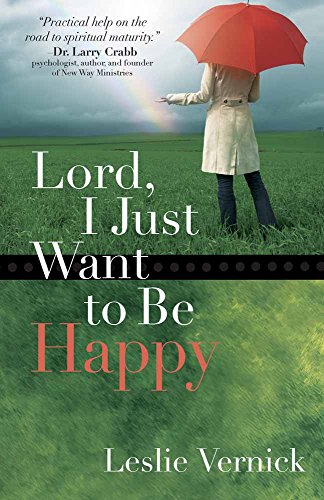 Lord, I Just Want to Be Happy
by Leslie Vernick
Counselor and author Leslie Vernick has discovered that many people pray, "Lord, I just want to be happy!" With candor, Leslie reveals that readers don't need new circumstances but a new perspective to discover true happiness. With biblical insight, Leslie guides readers to take simple steps as they…
recognize and change habits that, day by day, keep them from experiencing happiness
make good choices and learn from mistakes without beating themselves up
develop the skills that enable them to let go of negative and painful emotions more quickly
transform difficult circumstances so they can live with gratitude, joy, and purpose
Application questions help readers work godly thinking, as well as healthy skills and habits, into their lives and hearts. They'll discover that, even if nothing changes in their circumstances, their inner chains can be broken and they can go free…into a new path of real hope and happiness.
Two winners will be selected in our next newsletter! (Giveaway only available to U.S. residents)
If you would like to enter to win, you can click here to provide name and email address.
The winners of "How to Find Selfless Joy in a Me-First World" by Leslie Vernick are Diane Y. and Monica W.
Upcoming
Events

Want to have Leslie speak at your event? Click here to find out more information.
AACC
September 8th – 10th
Dallas, TX
Center for Christian Counseling
Date TBA
Madison, WI
Help, I'm discouraged. What can I do?
By Leslie Vernick

Question: I am trying hard to follow God, I really am, but I feel like everything I do backfires. My husband's been indifferent to me our whole marriage. My kids aren't really following God and seem to side with him on just about everything. My pastor doesn't feel I have grounds to leave and doesn't want to get involved and I just can't help but feel discouraged over my life, my family, and my faith. How do I keep from sinking into despair and trust God when everything is so hard and is going so wrong?

Answer: You are not abnormal or weak or bad for feeling your feelings. Discouragement and disappointment are normal emotions we all experience even as Christians, but I'm so glad you are asking how you can make sure those debilitating emotions don't get the best of you.
First, let me share four different reasons why we get discouraged and disappointed.
What People Are Saying About Leslie's Moving Beyond People Pleasing Online Course
I have realized that my husband had the God spot in my life. This has helped me to see that I am not sinning in making my own worship choices, despite what he tells me. This has taken a huge burden off my heart.
I am no longer feeling like I have to make everything okay, especially after none of his tirades. I now get that his unhappiness resides in him and it is not my job to fix it.
My confidence is small but growing. I love the reinforcement that I am doing what is right. Without Leslie and my course sisters, it's all too easy to go back to believing the lies I am told every day. So thankful for this course
LESLIE WELCOMES YOUR QUESTIONS

Leslie wants to help you grow in your personal and relational effectiveness. Please submit your questions by clicking here.
Then, visit Leslie's Blog as she posts her responses to one question per week.
Note: Due to the volume of questions that Leslie receives, she is unable to respond to every question.