Save Your Seat: I am doing a free training on February 17th. You can pick between two live options. I will be covering "Four (4) Christian Beliefs that make Women in Destructive Relationships Feel Crazy and Powerless, and What You Can Do to Challenge Them." You can save your seat at leslievernick.com/joinwebinar
Ten Questions that Can Change Your Life
Leslie Vernick

"So teach us to number our days, that we may get a heart of wisdom." Psalm 90:12
I just got word that a dear colleague of mine passed away suddenly. He woke up like any other day. But after lunch, he laid down to take a nap and at 57, went to meet God.
It made me think about my life and yours. Many of us sleep-walk through life. We live by the clock and the calendar instead of having an internal compass that directs our steps.
Take a minute and honestly answer these ten (10) questions! You will get to know yourself better. You'll discover what really matters to you and what you need to stop doing right now in order to free up your time and energy to become all that God has called you to be.
What if…..?
10 Questions that Can Change Your Life
1. What if you inherited a bundle of money, how would you spend it?
2. What if you inherited a bundle of money and did not need to continue working for a living, what would you change about what you do with your time and energy?
3. What if everything was the same for question #2 except you knew you only had 10 more years to live. What would you now do differently with the rest of your life?
4. What if everything was the same for question # 2 but now you only had one year to live. What would you immediately stop doing? What would you start doing differently?
5. What if you lived more often from your best self, what change would other's most notice about you?
6. What if you could do yesterday over again, what would you do differently?
7. What if you truly believed (trusted) God loved you, forgave you and was for you, how would you feel differently?
8. What if you truly believed (trusted) God's version of reality, that this life is temporal. That there really is a heaven and really is a hell. What impact would it have on the way you lived today?
9. What if you measured your life by only one standard, not by how much you got done or how much money you made, but how well you loved God and loved others? How would you score?
10. What if you took some of the insights gained from honestly answering these questions and made changes to your life right now? What would they be? How would you feel?
Don't wait. You can start today to live differently.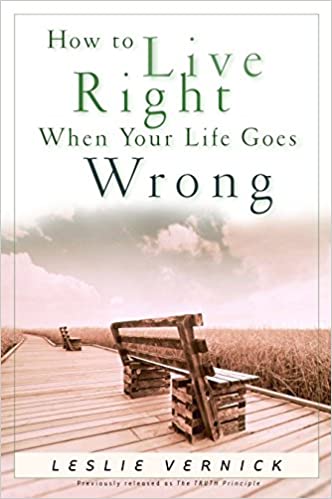 How to Live Right When Your Life Goes Wrong
by Leslie Vernick
Despite the abundant availability of both self-help books and Bible study materials, many of us find it difficult to apply what we learn, to make that long head-to-heart journey of change. When we are faced with life's daily trials, our responses often lack the Christian maturity we desire–showing us clearly just how far we have to go. Is it possible to achieve a deeper, more permanent change of heart?
Discover the Principle that Could Transform Your Life.
Now, through one practical, simple-to-understand and easy-to-remember model, you can:
• Gain a new perspective on the troubles God allows in your life.
• Come to better understand your response to those trials.
• Discover the underlying idols that hamper your efforts to change.
• Learn how to discern the truth of God's Word.
• Develop the heart response that will draw you closer to God.
Come on a journey of personal growth and spiritual discovery as your heart is drawn back to a central tenet of the Gospel: Truth isn't something you learn, but Someone you know. And the Truth will set you free.
Two winners will be selected in our next newsletter! (Giveaway only available to U.S. residents)
If you would like to enter to win, you can click here to provide name and email address.
The winners of "The Life-Saving Divorce: Hope for People Leaving Destructive Relationships" by Gretchen Baskerville are Celena O. and Madeleine O.
Upcoming
Events

Want to have Leslie speak at your event? Click here to find out more information.
Center for Christian Counseling
Date TBA
Madison, WI
How Do I Unhook Myself From Getting Upset Over False Accusations And Criticism?
By Leslie Vernick

Question: How can I unhook myself from getting offended by others' abusive words and false accusations?
Answer: What a great question. Instead of asking "How can I get someone to stop falsely accusing me" or "How can I get someone to speak more respectfully or honestly" or even "Why are they treating me this way?" you asked the only question that you have any control over.
The answer is simple and yet difficult to put into practice. Simply, you have to stop caring so much about what other people say or think about you. When you stop over-caring, becoming indifferent to other people's opinions, words, or thoughts, you will no longer get hooked. For most Christian women, this is a hard pill to swallow.
Women are natural connectors. God made us that way. We want people to like us, believe us, and validate us. We care about what they say and think, especially the people in our life who we call family and friends. When we are maligned, attacked, blamed, accused, invalidated, unheard, disregarded, and ignored it hurts our heart (and our ego). But even when these behaviors are done by strangers (such as internet trolls) we can feel offended, get anxious, lose sleep and start defending ourselves. I know. I have fallen into caring too much about what other people think.
You asked a how question. How do you get yourself unhooked so that you stop caring (too much) what other people say and think about you? Here are a few things I have found helpful.
What People Are Saying About Leslie's Walking In CORE Strength Group
"I have learned to stop pretending. I still do at times but that is growing less and less as I grow stronger and stronger. I don't pretend I can do everything and I ask for help. I don't pretend to have feelings I do not have. I don't pretend I want what my husband wants.
I am learning to stop lying to myself and I can do that because in these groups I have found a safe emotional place where I can be genuine without fear of being shamed.
Thank you so much!"
~ Mary Beth F.

LESLIE WELCOMES YOUR QUESTIONS

Leslie wants to help you grow in your personal and relational effectiveness. Please submit your questions by clicking here.
Then, visit Leslie's Blog as she posts her responses to one question per week.
Note: Due to the volume of questions that Leslie receives, she is unable to respond to every question.