What's New:
Conquer Workshop: Our free Conquer Workshop is NEXT Tuesday, April 14th. The topic I will be discussing is "How long should you keep hoping for your destructive spouse to change and how will you know his change is real?​​​​​​​". You can still claim your seat at leslievernick.com/joinwebinar

Ten Great Choices You Can Make Today

"Every moment is a new moment for the right choice."
By Leslie Vernick
In this season of global panic, uncertainty, and fear, I want to remind you that you still have choices to make.
The Bible gives us plenty of examples of individuals who made good and bad choices. We can learn to be wiser from their examples.
Eve chose to believe the serpent's lie rather than believe God. She only looked at the moment (it looked good to eat and she wanted it), but the consequences of her choice affected the entire human race (Genesis 3:1-6). "Moses chose to be mistreated along with the people of God rather than enjoy the pleasures of sin for a short time. He regarded disgrace for the sake of Christ as of greater value than the treasures of Egypt, because he was looking ahead to his reward" (Hebrews 11:25,26). Noah chose to believe God and built an ark, suffering the ridicule of his entire community for a season, but saving his family in the long run (Genesis 6-8). Abram chose to believe God and it was counted unto him as righteousness (Genesis 15:6).
Esau chose to sell his inheritance for a pot of stew. He was living for the moment and made his decision on a temporary felt need—hunger. (Genesis 25:29-34). The Israelites chose to believe the eight spies that feared the giants rather than Joshua and Caleb who trusted God. The Israelites made their choice based on their feelings of fear and consequently forfeited the opportunity to go into the Promised Land. Instead, they wandered in the desert for forty years (Numbers 13). David chose to honor his commitment and loyalty as a subject of King Saul, even though Saul sought to kill him. When David had the chance to kill Saul, he chose not to, instead trusting God to deliver him and protect him. (1 Samuel 18-24).
Queen Vashti chose to say no to her drunken husband, King Xerxes when he commanded her to come to the palace to parade her beauty before the people and nobles (Esther 1). As a result she lost her position, but she kept her dignity. Abigail chose to do the right thing and overruled her foolish husband's orders when he refused to feed David's men. She saved her family from disaster and David from sinning (1 Samuel 25). Esther chose to risk her life to speak to the King for the welfare of her people, the Jews (Esther).
John the Baptist chose to stand for the truth rather than compromise with sin and lost his head (Mark 6:17-29). Yet, Jesus says of John that no human being has ever been greater than he (Matthew 11:11). Judas chose to wallow in self-hatred instead of choosing to repent after betraying Christ. He felt so badly he went out and hung himself (Matthew 27:3-5). Jesus, the very son of God, chose to leave his heavenly kingdom and live among us. He wanted to show us who God was and what he was like. He chose to suffer and die on the cross so that one day we might live forever with him.
Here are ten choices you can make today: You can…
CHOOSE TO LOVE……………………………… rather than hate.
CHOOSE TO SMILE……………………………. rather than frown.
CHOOSE TO BUILD……………………………. rather than destroy.
CHOOSE TO PERSEVERE…………………… rather than quit.
CHOOSE TO PRAISE…………………………… rather than complain.
CHOOSE TO HEAL……………………………… rather than wound.
CHOOSE TO GIVE………………………………. rather than grasp.
CHOOSE TO ACT……………………………….. rather than delay.
CHOOSE TO FORGIVE……………………….. rather than curse.
CHOOSE TO PRAY……………………………… rather than despair.
Moses encourages the people of God with these words, "Now choose life, so that you and your children may live..(Deut. 31:8).
Excerpted from Chapter 6 of How to Act Right When Your Spouse Acts Wrong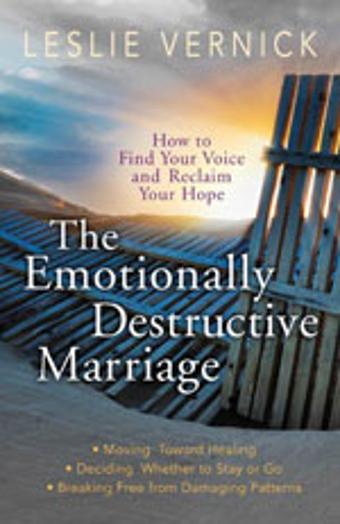 The Emotionally Destructive Marriage
by Leslie Vernick


You can't put it into words, but something is happening to you. Your stomach churns, your heart aches, and the tension in your marriage is making you feel weary and a little crazy. The constant criticism, disrespect, cruelty, deceit, and gross indifference are eroding your confidence and breaking your spirit.
For any woman caught in an emotionally destructive marriage, Leslie Vernick offers a personalized path forward. Based on decades of counseling experience, her intensely practical, biblical advice will show you how to establish boundaries and break free from emotional abuse.
Learn to:
Identify damaging behaviors
Gain the skills to respond wisely
Promote healthy change
Stay safe
Understand when, why, and even how to leave
Recognize that God sees and hates what is happening to you
Trying harder to be a perfect fantasy wife won't help fix what's wrong your marriage. Discover instead how you can initiate effective changes to stop the cycle of destruction and restore hope for the future.

Two winners will be selected in our next newsletter! (Giveaway only available to U.S. residents)
If you would like to enter to win, you can click here to provide name and email address.
The winners of "How to Find Selfless Joy in a Me-First World" by Leslie Vernick are Kay B. and Julie M.
Upcoming Events

Want to have Leslie speak at your event? Click here to find out more information.
Center for Christian Counseling
July 24th and 25th 2020
Madison, WI
GT Church
August 16th and 17th 2020
West Lawn, PA
New Hope Church
November 6th and 7th 2020
East Lansing, MI
The Village Church
December 3rd, 2020
Flowermound, TX

How To Find And Keep Good Friends
Question: I notice that in your book on depression, you encourage women to find a support group or trusted people to talk to. Here is my problem. I have issues trusting people with my feelings and thoughts. I don't really even have any female friends to speak of. How do I overcome this in order to find help and support?
Answer: Female friendships are very important and the older I get the more I realize how important they are. Even the best man/husband doesn't understand us the way our girlfriends do. Plus, statistics show that most women will outlive their husbands and research overwhelmingly confirms that having a supportive group of loving friends is crucial in one's ability to handle life's stressors.
That said, relationships take work and finding and maintaining good friendships is not always easy. Just as in marriage, we can get in some pretty unhealthy and even destructive relationships with our female friends. In addition, some women have been burned, hurt or wounded so deeply that their ability to trust others has been impacted and find themselves shutting down or pushing potential new friends away.
But I want you to know there is hope. Whether you've been discouraged or hurt in your past friendships with women, don't give up. God knows our need for friends. Even in a perfect world, God told Adam that it was not good that he was alone, void of human companionship. In addition to making us physical and spiritual beings, God also made you a relational being and you will not function well isolated from connection with others. He knows we need relationships to thrive as human beings.
Here is What People are Saying About Leslie's Conquer Support Group.
I can't thank you guys enough for all this ministry has given me. I have finally escaped my abusive husband after many attempts and empty promises of change. I don't think I could have ever had the strength and courage to do it without Leslie and the Conquer program. Now that I'm living independently, however, without any financial assistance from my husband, I am having to cut several things from my budget to make ends meet, pay attorney fees for the divorce, medical bills, etc. I am medically disabled so I'm on a fixed income. If my financial situation improves in the future, I definitely plan to join again. Thank you again for all you do and please extend my heartfelt gratitude to Leslie as well.

~Dana Lee.

LESLIE WELCOMES YOUR QUESTIONS

Leslie wants to help you grow in your personal and relational effectiveness. Please submit your questions by clicking here.
Then, visit Leslie's Blog as she posts her responses to one question per week.
Note: Due to the volume of questions that Leslie receives, she is unable to respond to every question.