Walking In Core Strength: Our classes started this week – BUT there is still room in our Thursday classes. So if you have been waiting until the last minute – this is your final call. All the details are found at leslievernick.com/groupcoaching

Our New Quickstart Guide: If you wonder whether or not you're in a destructive marriage or just a difficult one, please check out our new Quick Start Guide to find out.
Ten (10) Truths Every Christian
Needs to Know About Marriage
By: Leslie Vernick

1. God designed marriage to be a loving and respectful partnership, not a slave/master dictatorship where one person dominates and controls the other. When one spouse seeks to gain power and control over the other and bullies or intimidates using words, finances, physical force, or the Scriptures, he or she is not only sinning against their spouse but also against God's plan for marriage.
2. Every healthy adult relationship requires three essential ingredients to thrive. They are mutuality, reciprocity, and freedom. Mutuality means that each person brings into the relationship honesty, compassion, and respect. Reciprocity involves a give and take, where both people in the relationship share power and both people in the relationship share responsibility. Lastly, a healthy marriage needs freedom to express one's thoughts, feelings and needs without fear as well as freedom to respectfully challenge someone's behavior or ideas. When any of these three ingredients are missing, we may be in a relationship with someone, but it is often difficult, unhealthy, and sometimes destructive.
3. All marriages experience angst, disagreement, and struggle. When a conflict arises mature people engage in conversations where they discuss, negotiate compromise, as well as respect one another's differences, feelings and desires. They work on problem solving, not attacking one another.
4. When a person is seriously sinned against, Jesus understands it fractures relationships. He provides instructions for relationship repair in Matthew 18. First, we are to go to the person who has sinned against us and speak to them about it. However, when that conversation does not result in repentance, no reconciliation of the relationship can take place, even if one-sided forgiveness is granted. Relationships are damaged by sin and are not repaired without repentance and restitution. Joseph forgave his brothers long before he saw them again when they came looking for food in Egypt, but he did not trust them or reconcile with them until he saw their hearts were changed (Genesis 44,45).
5. When a person or spouse respectfully speaks up against injustice and oppression in a marriage (or anywhere else for that matter), God is with them. When a spouse speaks up against the abuse and injustice in her marriage, Christians need to come alongside her, hear her, and provide church support and help. In practicing Matthew 18, she is seeking true reconciliation and is attempting biblical peacemaking. The church must not pressure her reconcile without any evidence of repentance or to be a peace at any price peacekeeper.
God does not care more about the institution of marriage than the safety and sanity of the people in it.
6. If the abuser refuses to listen, refuses to repent or change, the blessings of a close marriage are impossible. Unconditional love does not equal unconditional relationship. God loves humankind unconditionally but does not offer unconditional relationship to everyone. Our sin separates us from God and repeated unacknowledged and unrepentant sin also separates us from one another. Marital intimacy, trust, fellowship, and warmth cannot exist where there is fear, threats, intimidation, bullying and disrespect of one's thoughts, feelings, body, or personhood. A marriage with no boundaries or conditions It is not psychologically healthy, nor is it spiritually sound
7. One person in a difficult/destructive marriage can make the relationship better by not reacting sinfully to mistreatment, not retaliating and not repaying evil for evil, but one person in a difficult marriage cannot make a bad marriage good all by herself. It takes both people working together. Sometimes people helpers place an inordinately heavy burden on one spouse to somehow maintain fellowship and intimacy in a relationship while they are repeatedly being sinned against.
8. If the couple desires biblical change, Christian people helpers (pastors, Christian counselors, well meaning friends) must not attempt to heal the couple's serious marital wounds superficially by pushing premature reconciliation or promising peace when there is no true peace (Jeremiah 6:14) A Biblical peacemaker knows there is no quick fix to these difficult situations and walk this couple through the counseling stages of safety, sanity, and stability, until they reach security. There is no mutual counseling possible without first establishing some history of safety, not only physically, but emotionally and financially.
9. When trust in a marriage is broken (through deceit, infidelity, abuse, or unfaithfulness in various ways), the marriage is seriously damaged. The gift of consequences[1] can be a painful but potent reminder that the wrong-doer will not reap the benefits of a good marriage when they continue to sow discord, sin and selfishness. Consequences may include legal ramifications, church discipline, and/or loss of relationship through separation when warranted.
10. Church and pastoral support and accountability are critical for a couple to heal from a destructive relationship pattern. Secrets destroy. An atmosphere of loving accountability and support along with zero tolerance for manipulation, abuse, or power and control over another individual, is the optimal environment for biblical peacemaking and relationship repair to take place.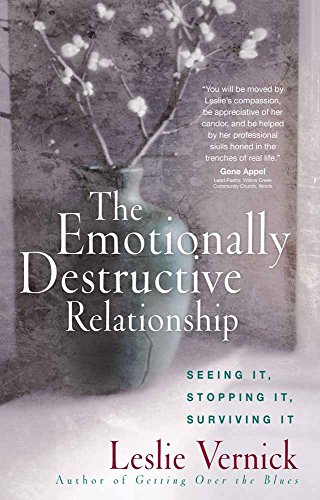 The Emotionally Destructive Relationship
by Leslie Vernick
Leslie Vernick, counselor and social worker, has witnessed the devastating effects of emotional abuse. Many, including many in the church, have not addressed this form of destruction in families and relationships because it is difficult to talk about. With godly guidance and practical experience, Vernick offers an empathetic approach to recognizing an emotionally destructive relationship and addresses the symptoms and the damage with biblical tools. Readers will understand how to:
Reveal behaviors that are meant to control, punish, and hurt
Confront and speak truth when the timing is right
Determine when to keep trying, when to get out
Get safe and stay safe
Build an identity in Christ
This practical and thorough resource will help countless individuals, families, and churches view abuse from God's perspective and understand how vital it is for victims to embrace His freedom from the physical, emotional, spiritual, and generational effects of emotionally destructive relationships.
Two winners will be selected in our next newsletter! (Giveaway only available to U.S. residents)
If you would like to enter to win, you can click here to provide name and email address.
The winners of "The Emotionally Destructive Relationship" by Leslie Vernick are Verniter M. and Veronica B.
How Do I Heal from the Guilt and Shame of My Verbal Abuse?

By Susan King

Question: How do I heal from the guilt and shame I feel for my reactions to my husband's abuse? I endured his infidelity, lies, stonewalling, gaslighting, etc. My reactions were outrageous and verbally abusive. I feel like I became just as bad as him in our interactions.
Answer: I appreciate your vulnerability in asking this question and your willingness to look at your own behavior. It may help you to process your feelings better once you have gained a better understanding of what causes victims to react in ways that may seem outrageous and verbally abusive on the surface. I hope you can show yourself some compassion as the victim of abuse and get the support you need to heal. For you and the other readers, it is important to recognize the difference between reactive self-protection and abuse.
Months, years, or decades of cumulative trauma from coercive control and abuse can lead to immense frustration and a reaction of self-defense from the victim. No matter if the victim has experienced fear from physical, emotional, or sexual mistreatment, their body goes on high alert to detect danger and stay safe. Over time the victim becomes so desperate to stop the abuse that continues to happen to them, they react with some of the same harsh behaviors themself. These behaviors, atypical of their normal ways of interacting, often surprise the victim more than the abuser.
What People Are Saying About Leslie's book "The Emotionally Destructive Marriage"
"Heart-to-heart reality checkup. Destructive myths and assumptions exposed. Marriages advanced. Women valued. Hopeful steps for real change. That's how Leslie Vernick writes to women who are under attack in marriage. She provides fresh God-honoring solutions as she speaks life-changing truth for women. Her honesty and mandates for frustrated or failed marriage relationships are invigorating, incredible, practical, and based on the Bible."
– ROGER BALL, senior pastor of First Baptist of Tempe
LESLIE WELCOMES YOUR QUESTIONS

Leslie wants to help you grow in your personal and relational effectiveness. Please submit your questions by clicking here.
Then, visit Leslie's Blog as she posts her responses to one question per week.
Note: Due to the volume of questions that Leslie receives, she is unable to respond to every question.