Podcast Interview: It was a pleasure to be a guest in the The Savvy Sauce podcast. Laura and I talked about change and identifying abuse. We also talked about rewriting your story. You can listen here.

Ten (10) Truths Every Christian Needs to Know About Marriage

by Leslie Vernick
1. God designed marriage to be a loving and respectful partnership, not a slave/master dictatorship where one person dominates and controls the other. When one spouse seeks to gain power and control over the other and bullies or intimidates using words, finances, physical force, or the Scriptures, he or she is not only sinning against their spouse but also against God's plan for marriage.
2. Every healthy adult relationship requires three essential ingredients to thrive. They are mutuality, reciprocity, and freedom. Mutuality means that each person brings into the relationship honesty, compassion, and respect. Reciprocity involves a give and take, where both people in the relationship share power and both people in the relationship share responsibility. Lastly, a healthy marriage needs freedom to express one's thoughts, feelings and needs without fear as well as freedom to respectfully challenge someone's behavior or ideas. When any of these three ingredients are missing we may be in a relationship with someone, but it is often difficult, unhealthy, and sometimes destructive.
3. All marriages experience angst, disagreement, and struggle. When a conflict arises mature people engage in conversations where they discuss, negotiate compromise, as well as respect one another's differences, feelings and desires. They work on problem solving, not attacking one another.
4. When a person is seriously sinned against, Jesus understands it fractures relationships. He provides instructions for relationship repair in Matthew 18. First, we are to go to the person who has sinned against us and speak to them about it. However, when that conversation does not result in repentance, no reconciliation of the relationship can take place, even if one-sided forgiveness is granted. Relationships are damaged by sin and are not repaired without repentance and restitution. Joseph forgave his brothers long before he saw them again when they came looking for food in Egypt, but he did not trust them or reconcile with them until he saw their hearts were changed (Genesis 44,45).
5. When a person or spouse respectfully speaks up against injustice and oppression in a marriage (or anywhere else for that matter), God is with them. When a spouse speaks up against the abuse and injustice in her marriage, Christians need to come alongside her, hear her, and provide church support and help. In practicing Matthew 18, she is seeking true reconciliation and is attempting biblical peacemaking. The church must not pressure her to reconcile without any evidence of repentance or to be a peace at any price peacekeeper.
God does not care more about the institution of marriage than the safety and sanity of the people in it. .
6. If the abuser refuses to listen, refuses to repent or change, the blessings of a close marriage are impossible. Unconditional love does not equal unconditional relationship. God loves humankind unconditionally but does not offer unconditional relationship to everyone. Our sin separates us from God and repeated unacknowledged and unrepentant sin also separates us from one another. Marital intimacy, trust, fellowship, and warmth cannot exist where there is fear, threats, intimidation, bullying and disrespect of one's thoughts, feelings, body, or personhood. A marriage with no boundaries or conditions It is not psychologically healthy, nor is it spiritually sound
7. One person in a difficult/destructive marriage can make the relationship better by not reacting sinfully to mistreatment, not retaliating and not repaying evil for evil, but one person in a difficult marriage cannot make a bad marriage good all by herself. It takes both people working together. Sometimes people helpers place an inordinately heavy burden on one spouse to somehow maintain fellowship and intimacy in a relationship while they are repeatedly being sinned against.
8. If the couple desires biblical change, Christian people helpers (pastors, Christian counselors, well meaning friends) must not attempt to heal the couple's serious marital wounds superficially by pushing premature reconciliation or promising peace when there is no true peace (Jeremiah 6:14) A Biblical peacemaker knows there is no quick fix to these difficult situations and walk this couple through the counseling stages of safety, sanity, and stability, until they reach security. There is no mutual counseling possible without first establishing some history of safety, not only physically, but emotionally and financially.
9. When trust in a marriage is broken (through deceit, infidelity, abuse, or unfaithfulness in various ways), the marriage is seriously damaged. The gift of consequences[1] can be a painful but potent reminder that the wrong-doer will not reap the benefits of a good marriage when they continue to sow discord, sin and selfishness. Consequences may include legal ramifications, church discipline, and/or loss of relationship through separation when warranted.
10. Church and pastoral support and accountability are critical for a couple to heal from a destructive relationship pattern. Secrets destroy. An atmosphere of loving accountability and support along with zero tolerance for manipulation, abuse, or power and control over another individual, is the optimal environment for biblical peacemaking and relationship repair to take place.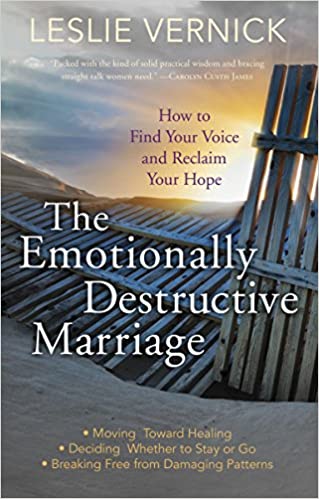 The Emotionally Destructive Marriage
by Leslie Vernick
You can't put it into words, but something is happening to you. Your stomach churns, your heart aches, and the tension in your marriage is making you feel weary and a little crazy. The constant criticism, disrespect, cruelty, deceit, and gross indifference are eroding your confidence and breaking your spirit.
For any woman caught in an emotionally destructive marriage, Leslie Vernick offers a personalized path forward. Based on decades of counseling experience, her intensely practical, biblical advice will show you how to establish boundaries and break free from emotional abuse. Learn to: ·
identify damaging behaviors·
gain the skills to respond wisely·
promote healthy change·
stay safe·
understand when, why, and even how to leave·
recognize that God sees and hates what is happening to you
Trying harder to be a perfect fantasy wife won't help fix what's wrong your marriage. Discover instead how you can initiate effective changes to stop the cycle of destruction and restore hope for the future.
Two winners will be selected in our next newsletter! One winner for each book (Giveaway only available to U.S. residents)
If you would like to enter to win, you can click here to provide name and email address.
The winners of "Lord, I Just Want to Be Happy" by Leslie Vernick is Alicia S. and Ginny H.
Upcoming
Events

Want to have Leslie speak at your event? Click here to find out more information.
RESCHEDULED FOR 2021
The Village Church
December 3rd
Flowermound, TX
Lighthouse Christian Church
Date TBA
Rosemount, Minnesota
Center for Christian Counseling
Date TBA
Madison, WI
Speak Up And Set Boundaries
Question: What if the emotional and verbal abuse isn't from your husband, but his family instead? What if he doesn't know how to handle his family to protect his wife and kids from the abuse, but thinks he does?
Answer: I'm sorry that you are going through this. In a healthy relationship when something bothers you and you say "ouch", "stop", "I don't like that" or "that hurts me" the other person listens, reflects and usually stops doing what caused you pain. In unhealthy relationships when you speak up for yourself, you get blamed, accused or attacked. Or you might get punished by the withdrawal, silence, and disapproval from the person you were hoping would hear your complaint.
You say your husband's family is emotionally and verbally abusive towards you and your children and your husband isn't stepping up the way you'd like him to in order to protect you and the kids. He thinks he's doing something but from your perspective he's failed or he's not doing what you would do or would like him to do.
Perhaps he's already learned that trying to talk with his family about things is like spitting in the wind. It usually comes right back and hits you in the face. Or maybe what they do doesn't bother him like it bothers you so he wants you to just ignore it and "tolerate their behavior and turn the other cheek."
Let me ask you a question.
What People Are Saying About Leslie's Moving Beyond People Pleasing Class
"I found Leslie at the beginning of our separation after 30 years of marriage. Within 18 months we'd had our 3 children marry, then my husband sold his company and decided to retire at age 52. We were alone at home together and in great distress as we experienced continued conflict without ever experiencing reconciliation. I was in a great state of confusion, because I couldn't understand what our problem was.
Leslie wasn't the first author I read on abuse, but she's the only Christian author that made sense to me and used a Christian perspective to deal with my own issues. Her class especially helped me identify specifically the changes I needed to make. I learned I could move toward my husband with empathy and support for my husband without feeling like I have to FIX him. With repeated practice this has helped me overcome MY problem of owning HIS issues and taking responsibility for my husband's happiness. In the process of owning my problem, it also helped me take ownership of releasing my anger and bitterness because I was choosing not to be a victim of my husband's unhealthy expectations and demands."
LESLIE WELCOMES YOUR QUESTIONS

Leslie wants to help you grow in your personal and relational effectiveness. Please submit your questions by clicking here.
Then, visit Leslie's Blog as she posts her responses to one question per week.
Note: Due to the volume of questions that Leslie receives, she is unable to respond to every question.