We have just a few more spots: Our Moving Beyond People Pleasing Group started this week. You can still join one of our Wednesday and Thursday groups. Find all the open spots at leslievernick.com/peoplepleasingcourse
Our New Quickstart Guide: If you wonder whether or not you're in a destructive marriage or just a difficult one, please check out our new Quick Start Guide to find out.
Submission Doesn't Mean Being a Doormat
By: Leslie Vernick

As Christian women, we may feel trapped in relationships where our needs, desires, and even our safety are not being respected or valued. We may have been taught that submission to our husbands is our primary responsibility, even if it means sacrificing our own well-being and that of our children. But is this really what God intends for us?
Let's start by acknowledging that marriage can be challenging even under the best of circumstances. It requires sacrifice, compromise, and hard work from both partners. However, when a marriage becomes destructive, it's essential to seek help and support. This can be especially difficult for Christian women who may feel ashamed or guilty for not being able to make their marriages work.
The Bible never says that submission is only a wife's responsibility, nor does it give husbands the final say in all decisions. This has been misunderstood and misinterpreted, causing harm to men, women, and children and thwarting God's plan for loving family relationships. We must reject any teaching that condones abusive or controlling behavior and instead seek God's truth on the matter.
As wives, we are called to be our husband's helpmates, but this goes beyond mere submission. Our role is to encourage and support our spouses to grow and mature in their relationship with God and to love them as Christ loved the Church. This means you may have to confront sin, implement boundaries, and, yes, consequences…for his good. We must also learn to love ourselves and our children enough to protect them from harm.
Biblical headship is not about wielding power or demanding obedience. Jesus demonstrated headship through sacrificial servanthood, modeling humility, compassion, and love. Husbands are called to love their wives as Christ loved the Church, giving themselves up for her. This means that husbands should initiate and model servanthood, showing the way and going first in putting the needs of their family above their own.
Likewise, biblical submission is not about being a doormat or allowing yourself to be mistreated. Submission cannot be forced or coerced but must come from a heart that desires to please God and serve others.
If you find yourself in a destructive marriage, it may be difficult to imagine a way out. You may feel trapped and hopeless. But please know that God is with you, and He desires for you to be safe and whole. He sees your pain and your struggles, and He truly cares. God loves you and values your safety and sanity. Please know you are not alone, and there are many resources available for you at www.leslievernick.com.
Many people, including pastors, misunderstand the idea of marital headship and submission. We won't change everyone's mind on the subject. But, as long as you are clear about what God expects – and what he doesn't – you can be confident in how to be safe and sane, even if that means creating some boundaries for yourself.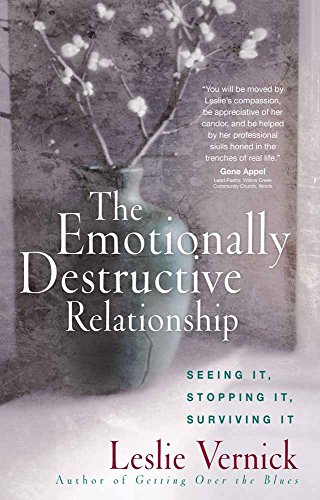 The Emotionally Destructive Relationship
by Leslie Vernick
Leslie Vernick, counselor and social worker, has witnessed the devastating effects of emotional abuse. Many, including many in the church, have not addressed this form of destruction in families and relationships because it is difficult to talk about. With godly guidance and practical experience, Vernick offers an empathetic approach to recognizing an emotionally destructive relationship and addresses the symptoms and the damage with biblical tools. Readers will understand how to:
Reveal behaviors that are meant to control, punish, and hurt
Confront and speak truth when the timing is right
Determine when to keep trying, when to get out
Get safe and stay safe
Build an identity in Christ
This practical and thorough resource will help countless individuals, families, and churches view abuse from God's perspective and understand how vital it is for victims to embrace His freedom from the physical, emotional, spiritual, and generational effects of emotionally destructive relationships.
Two winners will be selected in our next newsletter! (Giveaway only available to U.S. residents)
If you would like to enter to win, you can click here to provide name and email address.
The winners of "The Emotionally Destructive Relationship" by Leslie Vernick are Sandy F. and Amy P.
I Can't Say Anything Right. Help

By Leslie Vernick

Question: The reoccurring theme over the last 3 years in my marriage has been that I have failed to communicate in a proper way or have been misunderstood, to the point where my husband's anger gets the best of him.
I'm not allowed to ask if we can take a step back when I realize that the conversation is getting too out of hand, because I am told that I am focused too much on his reaction and not enough on what he is saying I am doing wrong. I feel with each passing day the patience he has for me and my communication is diminishing. It feels as though he is already annoyed at me before I even open my mouth because he instantly assumes that every conversation will turn into a fight.
However, to me, it seems as though he gets annoyed every time I open my mouth. Even when I try to be calm and civil and don't react to his anger, trying to communicate in a better way, it is almost like I am not even being heard.
I'm treated more like a child than a wife, and I'm not sure what I can do. I don't exactly know where to go from here. I am really struggling and keep praying that I could just change my communication so the issues in my marriage would just get better, but things feel like they are just getting worse at this point. I really just need some guidance.
Answer: I'm sure you are more than confused and frustrated by all of this. Let's take a step backward and look at the larger picture of your marital history which may lend some clarity to what's happening in the present.
You said this has been happening over the last 3 years of your marriage. How long have you been married? How was your marriage different before these past 3 years? Was it better? Worse? What happened over the last three years that changed for you? For him? Or has this been the pattern in your marriage, and you've been married just 3 years?
What People Are Saying About Leslie's Moving Beyond Challenge
You can't go wrong and will only be helped! We all know healing is a process, physical and emotional. This course will help begin to move you into a new level of emotional awareness and healing. The presence of the other women in the group will help you to realize you are not alone. Their courage and stories will help encourage and strengthen you. I loved this group!
– Group participant
LESLIE WELCOMES YOUR QUESTIONS

Leslie wants to help you grow in your personal and relational effectiveness. Please submit your questions by clicking here.
Then, visit Leslie's Blog as she posts her responses to one question per week.
Note: Due to the volume of questions that Leslie receives, she is unable to respond to every question.