Doors Are Open: Our Conquer Support Group is open! But only until Tuesday, 10/17. We only open our doors twice a year. Learn all the details at leslievernick.com/conquersignup
October is Domestic Violence Awareness Month: Many Christian counselors, pastors, and lay leaders are still woefully ill-equipped to handle this very important issue despite 1 in 4 Christian women reporting being in a destructive marriage. I invite you to visit my website, which I've designed to educate and equip pastors, counselors and church leaders on this very important topic. Please check out www.leslievernick.com/counselors
Strong Women
By: Kim Caloca

My name is Kim, and I first worked with Leslie back in 2014 after leaving my own destructive marriage.
After some twists and turns, I found myself back on the Leslie Vernick & Co. team in 2020. It's truly an honor and a privilege to support the women in this community.
Leslie is currently traveling and feeling a bit overwhelmed with the number of commitments she has over this short period of time, so I wanted to see if I could lighten her load by writing something to share in the newsletter for this week.
What inspired me most to want to do so is the strength and resilience I see in the women in our community.
Since October is Domestic Violence Awareness month, I feel it's important to consider the impact domestic violence has within our communities. So often that impact is hidden behind what can appear on a Sunday to be a normal relationship.
I still remember feeling confused and despairing at how my then husband could be viscerally angry with me one moment, and once we pulled into the church parking lot, suddenly acting as if everything was fine.
I was scolded if I ever shared too much about what was happening in my marriage with our small group or a church leader.
Even after I asked him to move out of our shared home, my pastor couldn't wrap his mind around the dynamic in our home. I would try to describe a situation that I now know was covertly abusive, and he would look at me quizzically – seemingly unable to grasp the destructive nature of what was happening to me.
Now, after years of therapy, coaching, and doing the work to remember where my strength comes from, so much has changed. I feel strong. I know how to set (and keep) boundaries. I don't feel afraid of what will happen if I speak my truth, because I know that a destructive person's response to my sharing is just information. I no longer feel responsible for making someone else feel sad / angry / defensive.
Oftentimes, when we think of a woman in a destructive relationship, we have been subconsciously trained to perceive her as weak.
But these women are anything but weak.
These women are strong. These women are brave.
This is a community of women who understand first hand what Paul meant in 2 Corinthians 12:9-10, "But he said to me, "My grace is sufficient for you, for my power is made perfect in weakness." Therefore I will boast all the more gladly about my weaknesses, so that Christ's power may rest on me. That is why, for Christ's sake, I delight in weaknesses, in insults, in hardships, in persecutions, in difficulties. For when I am weak, then I am strong."
The work we do here, whether it's in Conquer (our monthly membership community), or one of our small group coaching programs, or in our 1-1 private coaching, is all about doing whatever it takes to navigate a difficult situation well, in a way that is honorable and dignified.
I hope that next time you think of a woman who is fighting for, or extracting herself from, a destructive marriage, you remember that it takes strength and courage to make these kinds of moves.
Speaking up and asking for help from a pastor, counselor, deacon, or friend takes courage.
Creating boundaries around her living arrangements with her own spouse takes fortitude.
Choosing to leave a relationship, and risk facing scorn from her community and alienating family in the process, takes strength.
If you are a woman on this path, I hope that you are able to remember this truth when you need it most.
If you are in a position to help any women on this path, I hope that you will bear this reminder for them. I hope that you will give them compassion, and any other support they may need as they traverse this valley.
No woman ever wants to find herself in this situation. No woman wants to be a victim, whether it be of deceit, domestic violence, or emotional abuse. No woman who I've encountered left her marriage simply because she wanted to.
These women want better. They want to be treated with kindness and respect. They want their children to be safe and to see a positive example of love in action. They want their husbands to act in ways that are good and decent.
These women deserve that. And these women are so strong they will do anything in their power to make it happen.
Let us be encouragers. Let us seek to truly see these women and their situations, to be the witness and reminder they need that they deserve loving and healthy relationships.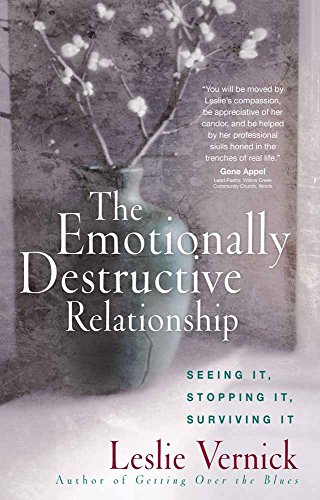 The Emotionally Destructive Relationship
by Leslie Vernick
Leslie Vernick, counselor and social worker, has witnessed the devastating effects of emotional abuse. Many, including many in the church, have not addressed this form of destruction in families and relationships because it is difficult to talk about. With godly guidance and practical experience, Vernick offers an empathetic approach to recognizing an emotionally destructive relationship and addresses the symptoms and the damage with biblical tools. Readers will understand how to:
Reveal behaviors that are meant to control, punish, and hurt
Confront and speak truth when the timing is right
Determine when to keep trying, when to get out
Get safe and stay safe
Build an identity in Christ
This practical and thorough resource will help countless individuals, families, and churches view abuse from God's perspective and understand how vital it is for victims to embrace His freedom from the physical, emotional, spiritual, and generational effects of emotionally destructive relationships.
Two winners will be selected in our next newsletter! (Giveaway only available to U.S. residents)
If you would like to enter to win, you can click here to provide name and email address.
The winners of "The Emotionally Destructive Relationship" by Leslie Vernick are Roberta W. and Lora K.
What Does it Mean to Respect Your Husband?

By Susan King

Question: What are your thoughts on a spouse keeping divorce on the table if he feels disrespected?
Answer: Thank you for asking this question as I believe it brings up a tricky topic. R.E.S.P.E.C.T; Aretha sang about it. Books have been written about it. What does it mean?
I have done some deep exploration to collect my thoughts about the word respect and I challenge you to do the same. I believe God will meet you when you seek Him and His desires for your life.
You have not provided details to your question, which leaves me wondering what is happening in the relationship to cause your husband to feel disrespected. I have many years of experience with couples and individuals who are dealing with relationship conflict, and therefore I have some guesses…
What People Are Saying About Leslie's Conquer Support Group
"I can't thank you guys enough for all this ministry has given me. I have finally escaped my abusive husband after many attempts and empty promises of change. I don't think I could have ever had the strength and courage to do it without Leslie and the Conquer program. Thank you again for all you do and please extend my heartfelt gratitude to Leslie as well."
— Dana Lee
LESLIE WELCOMES YOUR QUESTIONS

Leslie wants to help you grow in your personal and relational effectiveness. Please submit your questions by clicking here.
Then, visit Leslie's Blog as she posts her responses to one question per week.
Note: Due to the volume of questions that Leslie receives, she is unable to respond to every question.