What's New:
Save The Date: I will be doing a free webinar training on August 11th. More details to come soon!
Resisting Evil in a Fallen World
by Gary Thomas
The conversation gave me chills. By God's discernment, I finally realized what was going on. The man I was talking to didn't want to keep his marriage going in order to enjoy a healthy, mutually-uplifting relationship. Instead, he was terrified he would lose a platform from which he could cruelly abuse his wife. It was beyond my comprehension that a man could enjoy evil to the extent that he would try to use the church to preserve his platform for evil, but that's what was going on.
As one who has written on marriage and family life and sees the beauty of God's creation, including the joy two people, united in God, can be to each other and the world, it was heartbreaking for me to see someone take such a good creation of God—marriage—and turn it into a toxic force for evil.
Toxic people can feast on naïve pastors, counselors, and friends. How do we avoid this?
There are three elements of Scripture that we constantly need to keep in mind, but today's evangelicals have a tendency to emphasize just two of them. These three are all essential: creation, fall, and redemption.
Everything God creates is good and holy, but then we're warned about the second element, the fall, through which a fierce opponent of God's good world, evil, is unleashed. God's answer to this fall, this evil, is redemption. Eventually, God will set everything right. Because of the death and resurrection of Christ, evil has been dealt a serious blow and in fact is dying but it's not dead yet, and there's the rub. Sometimes, enamored with creation and redemption, we act as if evil is no longer present.
Wise Christians recognize the profound and real presence of evil and sin, never forgetting that we have to be on the lookout for evil and confront evil as we wait for our ultimate redemption. The wise Christian thinks of the world as God created it as good, but also radically fallen.
Picturing creation (marriage, parenting, friendship, business, government and church life) without evil is to be half blind. God created marriage. God created parental authority. God thought up the idea of his followers gathering in churches. Through his word he endorses government. But evil seeks to penetrate, spoil and destroy every creational design. A good creation (nuclear energy) can be turned to nefarious purposes (a nuclear bomb). The good institution of marriage can become cover for evil abuse. Parental authority, though blessed by God, can become malicious and evil, twisted and abused to harm instead of to nurture.
We mustn't look at anything in this world—even the institutions God has created and designed—as untouched by evil. When we talk about their maintenance and purpose as if we go straight from creation to redemption, we risk leaving people unprotected and unnoticed in the havoc unleashed by evil between creation and redemption. As teachers and friends, it's our job to help people understand not only God's creation (and thus the need to respect proper authority even when it's difficult to do so) but also the effects of the fall (and thus the need to break from toxic people). If we speak only of "authority" without how it has been marred by the fall, we risk enabling evil rather than confronting it.
Shrewd in the Face of Evil
Both Jesus and Paul commend wisdom when dealing with evil.
Jesus: "I am sending you out like sheep among wolves. Therefore be as shrewd as snakes and as innocent as doves. Be on your guard" (Matt. 10:16-17). When sending his disciples out to "seek first his kingdom" (Matt. 6:33), Jesus also warns them about evil people they'll encounter along the way: "Do not give dogs what is sacred; do not throw your pearls to pigs. If you do, they may trample them under their feet, and turn and tear you to pieces" (Matt. 7:6).
Paul likewise warned his followers about toxic people: "Keep away from them. For such people are not serving our Lord Christ, but their own appetites. By smooth talk and flattery they deceive the minds of naive people" (Romans 16:18).
Walking in the footsteps of Jesus and listening to the instruction of Paul means we don't have to pretend evil doesn't exist. Instead, we must learn how to address it—always with the hope of redemption, but never with the defenselessness of naivety. The notion that we can go from creation to redemption while skipping over evil or not being harmed by evil isn't just naïve, it's unbiblical. We hurt the people being hurt if we can't call evil evil or toxicity toxic.
The Only Absolute Authority
The Bible clearly upholds authority as essential to his world, but the only absolute authority is God's. Though we are called to obey the government (Romans 13:1), there are clear teachings about when it's necessary to disobey the government (Acts 5:29; Exodus 1:15-17). Though many debate what the word "submit" truly means, Paul seems to suggest there is some kind of "authority" in marriage: "Wives, submit yourselves to your husbands, as is fitting in the Lord," but then he hastens to add, "Husbands, love your wives and do not be harsh with them" (Colossians 3:17-18). He tells children to obey their parents "Children, obey your parents in everything, for this pleases the Lord" and then immediately counters, "Fathers, do not embitter your children, or they will become discouraged" (Colossians 3:19-20). He tells early church members to honor church elders (1 Tim. 5:17) but also to publicly rebuke the ones who govern sinfully (1 Tim. 5:20).
What does this tell us? Authority matters to God, but human authority is always vulnerable to being abused and perverted. Paul never forgets that what God creates as good can be used for bad. If a father uses his authority to beat a child or starve a child, that authority can be revoked. Government should be obeyed, but if the government tells us to dishonor God, we no longer recognize its' authority. The marriage covenant should be respected, but when one partner turns every hour into a toxic stew, squelching the life and service out of the other, just like we should remove the child from the home or the citizen from the state, the spouse can remove himself/herself from the marriage.
In practical terms, this means that while every war is caused by evil, not every war is evil. While every divorce is caused by sin, not every divorce is sinful. Sin is behind every act of a child being removed from its parents, but it is not always sinful to remove a child from abusive parents.
Family, church, and government are all good institutions but when they are used for evil the Christian stands with God, the only absolute authority. We respect authority but resist evil. This is a world where good things can go bad; when read in context, the Bible clearly doesn't shy away from making provision in such situations.
As a people who know God will eventually set everything right, we must be willing to look evil in the face and protect each other from its assault. Let us revere creation and look forward to redemption, but let us not forget the reality of the fall. Otherwise, we'll be easily manipulated by toxic people who want to use God's good creation for evil purposes.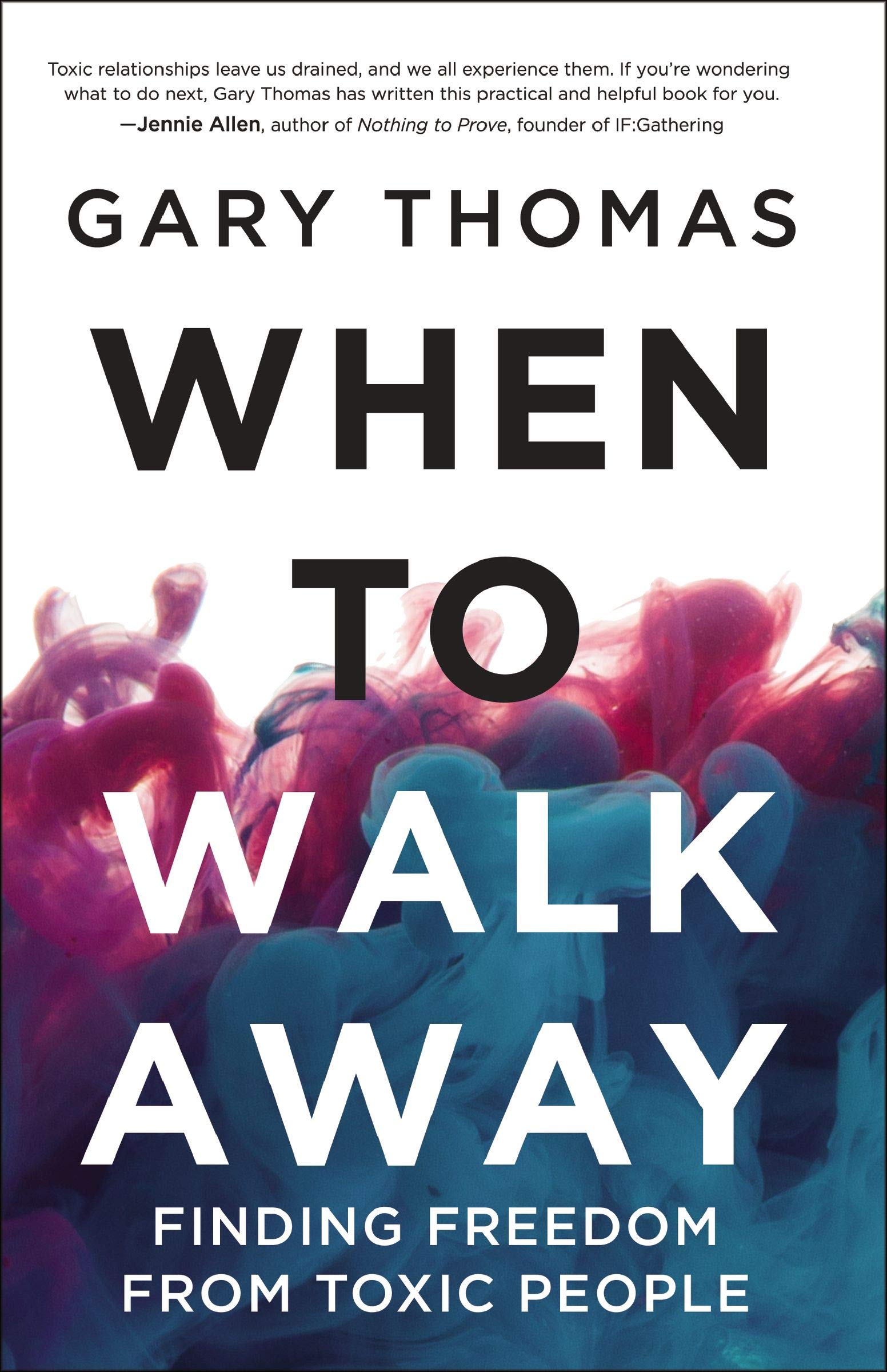 When to Walk Away
by Gary Thomas


Your life's calling is too important to let toxic people take it away. When to Walk Away draws from biblical and modern stories to equip you to handle toxic people in your life and live true to your God-given purpose.
Instead of attempting the impossible task of mollifying toxic people, it's time we dedicate our energy to the only worthwhile effort: completing the work God has given us by investing in reliable people. It's only when we learn to say no to bad patterns that we can say yes to the good work God has planned for us.
Drawing from years serving as a pastor, Gary Thomas (bestselling author of Sacred Marriage) looks at biblical examples from the lives of Jesus, Paul, and Nehemiah to give you insightful, biblical takeaways that you can apply right away. You'll discover how to:
Learn the difference between difficult people and toxic people
Find refuge in God when you feel under attack
Discern when to walk away from a toxic situation
Keep a tender heart even in unhealthy relationships
Grow your inner strength and invest in reliable people
We can't let others steal our joy or our mission. It's time to strengthen our defense, learn to set healthy boundaries, and focus on our God-given purpose. It's time to know When to Walk Away.
Two winners will be selected in our next newsletter! (Giveaway only available to U.S. residents)
If you would like to enter to win, you can click here to provide name and email address.
The winners of "Free Looks Good on You: Healing the Soul Wounds of Toxic Love" by Christy Johnson are Christina A. and Tonia M.
Upcoming
Events

Want to have Leslie speak at your event? Click here to find out more information.
GT Church
Video Message by Leslie
August 16th
West Lawn, PA
New Hope Church
November 6th and 7th
East Lansing, MI
Center for Christian Counseling
November 20th and 21st
Madison, WI

The Village Church
December 3rd
Flowermound, TX

Using Words Not Anger To Have Good Boundaries
Question: My husband's brother and wife have severely wronged my family. I am filled with so much resentment toward them. I can't stand to be in their presence. But sometimes I have to be. I know I need to let go of my hatred and resentment, but I don't want them just to think everything is okay between us. How can I be present at required family gatherings without being a hypocrite?
Answer: I think the most significant emotional wounds come from those we thought were friends. King David struggled with this kind of pain in Psalm 55 when he cried out, "It is not an enemy who taunts me – I could bear that. It is not my foes who so arrogantly insult me – I could have hidden from them. Instead, it is you – my equal, my companion and close friend."
Let me break up your question into two parts. The first part is to look at what this sin against you is doing to you. The apostle Paul encourages us: "Do not be overcome with evil but overcome evil with good" (Romans 12:21). Evil was done TO you. But don't allow your feelings of anger over what happened to fester. If you do, it will infect you with its poison, and you will become full of bitterness, resentment, and hatred. You may feel entirely justified feeling what you feel, but when you get stuck here, you've allowed Satan a foothold into your life and heart (Ephesians 4:27).
Overcome is not passive. It's a fighting word. It is active, something we must do so that we will never be eternally injured by evil despite being wounded by it. Satan may have gotten hold of your brother-in-law and his wife, but don't let him get a hold of you.
I'd encourage you to journal and pray to God (as David often did in the Psalms) when your angry, bitter feelings overwhelm you. I'd also encourage you to choose to forgive, rather than waiting on your feelings to feel like it. Choose to forgive even if those who sinned against you never ask for forgiveness. Why?
What People Are Saying About Leslie's Walking In CORE Strength Class
I decided to trust God for my finances and join the group. From the beginning of the course, I was starting to see life and my perspectives differently. I feel this group gets what I am going through and knows how to help me to become my best self as I rediscover who I am God's way. All new beginnings start with walking courageously, Leslie and her coaches not only guide me in this new way but they are helping me to see that it's never too late to want a better life than the one you may be living or just having a better way of living each day. If you know that a change is needed in your life, now is the time to make that move. This class will walk you through the process encouraging and teaching you step by step.
LESLIE WELCOMES YOUR QUESTIONS

Leslie wants to help you grow in your personal and relational effectiveness. Please submit your questions by clicking here.
Then, visit Leslie's Blog as she posts her responses to one question per week.
Note: Due to the volume of questions that Leslie receives, she is unable to respond to every question.