Ready to Move Beyond?: Our popular summertime challenge is back! We kick off our Moving Beyond Challenge June 20th – June 24th. You can learn all the details at leslievernick.com/joinchallenge
Recognizing Your Part In The Dance
Leslie Vernick

A bad relationship, for many women, is like a bad habit. They find themselves being hurt over and over and over again, as if they were a career victim. Too many of these women find themselves decades into the relationship with a lifetime of bad memories and baggage.
If you find yourself being a repeat victim, at some point it's crucial that you ask yourself, "What is my part in this?" Because an emotionally healthy person doesn't allow themselves to be continually abused. An emotionally healthy person will usually end a destructive relationship fairly quickly.
Asking, "What's my part," isn't about beating yourself over the head for past decisions. It's about taking a very honest look at beliefs and behaviors that brought you to this place.
Ask yourself:
Why have I allowed myself to be treated this way?
Why was I attracted to a destructive person?
As you learn to look at yourself in truth and get healthier, your relationship has an opportunity to get healthier as well. Think about it this way: if you're dancing with someone and your feet hurt, the only way to change the dance is to change your own steps.
Here are some practical ways to change your dance steps:
1. You have to speak up!
Start to say, "Ouch. Stop. I don't like that." And don't feel guilty about making your feelings known. God encourages people to speak up when someone is sinning against them. (Matthew 18:15-17) This may be a challenge for the woman who wants to avoid confrontation. The woman who prides herself in being "nice" all the time. But, remember, "nice" is not a fruit of the spirit.
2. Set boundaries.
If someone in your life doesn't respect or care about your feelings, it's a pretty good clue that this isn't a healthy relationship. This is where too many women get stuck trying to change the other person. You can't. You can only control yourself. So, come up with a game plan. "If you don't stop this, I will ……." If you're married to this person, maybe that means going somewhere for a night or it may mean a separation. Regardless, you are putting a boundary on yourself: "I will not allow myself to be treated this way any longer." You can't put a boundary on another person. You can put a boundary on yourself. "If this happens, then I will…. "
Be prepared, friend. Changing the dance means things ARE going to change. There's no guarantee your the other person will wake up and be a changed person. It could actually be the opposite. His bad behavior could get worse. He may try to escalate in order to force you back into the old dance. Don't fall for it.
The very act of changing the dance may precipitate a crisis. Hear me, friend. That's okay! It's not fun. It's not easy. But if you're in a destructive relationship, that needs to change.
Maybe it seems easier to just keep doing what you've always done. Maybe you think you can deal with it. But how are your kids doing? We all have a different threshold of pain. And, even if the abuse isn't directed at your children they're still feeling it.
God tells us not to hang around with angry people. Because it changes who we are. Relationships are incredibly powerful and they change us, for better or for worse.
Changing the dance doesn't mean you file for divorce the first time your husband won't listen. It means if this is a destructive pattern, you may have to step back from the relationship in order to keep yourself (and your kids) safe. But, depending on your situation, you can do this while continuing to invite him into a healthy relationship.
You can be married and yet not in a close, intimate relationship while you work on yourself. In other words, it's possible to step back without closing the door. Then you'll be ready for reconciliation if and when he chooses to work on himself and get healthy as well. Only then do you have hope of a truly healthy relationship.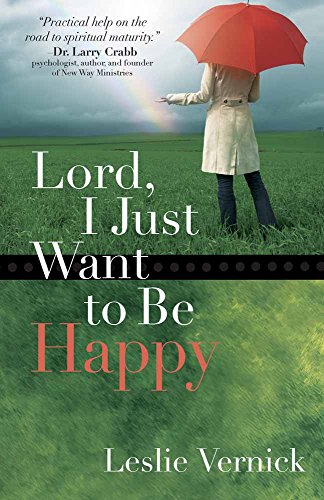 Lord, I Just Want to Be Happy
by Leslie Vernick
Counselor and author Leslie Vernick has discovered that many people pray, "Lord, I just want to be happy!" With candor, Leslie reveals that readers don't need new circumstances but a new perspective to discover true happiness. With biblical insight, Leslie guides readers to take simple steps as they…
recognize and change habits that, day by day, keep them from experiencing happiness
make good choices and learn from mistakes without beating themselves up
develop the skills that enable them to let go of negative and painful emotions more quickly
transform difficult circumstances so they can live with gratitude, joy, and purpose
Application questions help readers work godly thinking, as well as healthy skills and habits, into their lives and hearts. They'll discover that, even if nothing changes in their circumstances, their inner chains can be broken and they can go free…into a new path of real hope and happiness.
Two winners will be selected in our next newsletter! (Giveaway only available to U.S. residents)
If you would like to enter to win, you can click here to provide name and email address.
The winners of "Forging a Strong Mother-Daughter Bond" by Leslie Vernick are Brandi D. and Ellen V.
Upcoming
Events

Want to have Leslie speak at your event? Click here to find out more information.
AACC
September 8th – 10th
Dallas, TX
Center for Christian Counseling
Date TBA
Madison, WI
Are You Willing To Suffer In An Abusive Relationship?
By Leslie Vernick

Recently, The Roys Report exposed some wrong teaching from Dr. John Street, the head of the counseling department at Master's Seminary (founded by John MacArthur). Dr. Street seems to glorify suffering and defines self-stewardship or caring for one's body (by separating from an abusive spouse) as selfish and worldly-mindedness.
This teaching is dangerous and misapplication of Scripture. The Bible does tell us that God uses our suffering to mature us. (See for example Romans 5:3 and James 1:2,3). But it also tells us that we are to steward our body as God's holy temple (Romans 12:2) and that when a wise person sees danger ahead, he or she takes appropriate steps for his or her own safety (Proverbs 27:12). David did this when fleeing King Saul (1 Samuel 21-23), and Joseph and Mary did this with baby Jesus when fleeing Herod's soldiers (Matthew 2:13-23). Jesus himself did this when the religious leaders were plotting to harm him (John 8:59; 10; 39; 11;8).
When a pastor or teacher glorifies voluntary suffering and advises a wife that this path is more noble, more godly, and more Christ-like than leaving the situation, this pastor is wrong. He or she does not understand the whole counsel of God nor the character of God. God's heart is always for the oppressed. He mandates his shepherds to care for the oppressed, not to enable the oppressor (see Ezekiel 33; Psalm 5:4-6,11; Psalm 9:9, 12; Psalm 10).
What People Are Saying About Leslie's Moving Beyond Challenge
The Moving Beyond Challenge has been a game changer for me! These are huge messages that I am imprinting in my brain. I grew up feeling like I had to perfect, but now I am changing and accepting myself better. Thank you!

– Denise L.
LESLIE WELCOMES YOUR QUESTIONS

Leslie wants to help you grow in your personal and relational effectiveness. Please submit your questions by clicking here.
Then, visit Leslie's Blog as she posts her responses to one question per week.
Note: Due to the volume of questions that Leslie receives, she is unable to respond to every question.