Our New Quickstart Guide: If you wonder whether or not you're in a destructive marriage or just a difficult one, please go to our new Quick Start Guide to find out. You will find it on our homepage here.
My Relationship With God
Has Grown Stale … Now What?
Leslie Vernick

Sometimes my spiritual life feels boring. I go through the motions but I'm not really growing. My heart doesn't love God more nor am I really thinking about His glory or His will throughout the day. My learning is informational truth but fails to become transformational truth.
When I get into those slumps (as I'm sure you do too) it's time to make a switch. Here are five changes I make (at different times) that help me recharge and refresh my time with God.
1. Read the Scriptures out loud, or listen to it audibly on CD. Sometimes when we read the same Bible verses over and over again they start to get stale and fail to grab our heart in fresh ways. By listening to God's word out loud you will hear things differently and will fall more deeply in love with who God is.
2. Memorize a portion of Scripture that has an action step. For example, James 1:19 says, "Be quick to hear, slow to speak, slow to anger."
3. Slow Down. Sometimes when I read my Bible, I'm rushing to get a certain amount read each day. Although I loved reaching my goal of finishing the entire Bible last year in 90 days, sometimes I am none the wiser because of it. Slow down your reading. Focus your attention on a few words, or a single phrase. Psalm 139 is a wonderful Psalm to savor. Begin with the first line, "O Lord, you have searched me and known me." What does that mean to you? Can you trust that God completely knows you and that you never have to fear the loss of his love?
4. Meditate. Meditation focuses our intellect, reason, imagination and will on a particular topic, story, verse, or image, allowing God to speak to our heart in specific ways. The Psalmist says, "I meditate on your precepts and consider your ways. I delight in your decrees; I will not neglect your word" (Psalm 119:15,16).
Once I was struck by the story of those who brought their friends to Jesus for healing (Matthew 15:29-31). I imagined people bringing their sick friends before Jesus filled with hope about this miracle man who healed people.
Maybe their sick friends didn't want to come, maybe they were skeptical, yet it was the arms and legs of their friends that carried them to Jesus when they could not, or would not bring themselves. I asked myself, how could I do this for my friends? How could I carry those that I knew were sick, crippled with fear or blind with unbelief to Jesus? Praying for my friends now became more than words, it became dynamic action.
5. Go silent. What would it be like for you to spend a day or weekend with no cell phone, computer, television or talking? To be alone with God? We live in a world that bombards our senses. Rarely do we take time out of our demanding lives for quiet and solitude. Yet God says, "Be still and know that I am God" (Psalm 46:10). It's often in those quiet times where God shows up. Practicing silence even for five or ten minutes at first can be quite unnerving.
Yet, by carving out periods of time whereby we are quiet, both our inner life and our outer life become renewed. It is in this space that we not only come to understand our own thoughts better, but to begin to grasp the mind of God.
Learning without application isn't real learning. It's head knowledge, not heart change. The Lord asks, "For who is he who will devote himself to be close to me" (Jeremiah 30:21)? Will you?
Martin Luther wrote:
"This life therefore,
is not righteousness but growth in righteousness,
not health but healing,
not being but becoming,
not rest but exercise.
We are not yet what we shall be,
but we are growing toward it;
the process is not yet finished but it is going on'
this is not the end but it is the road.
All does not yet gleam in glory but all is being purified."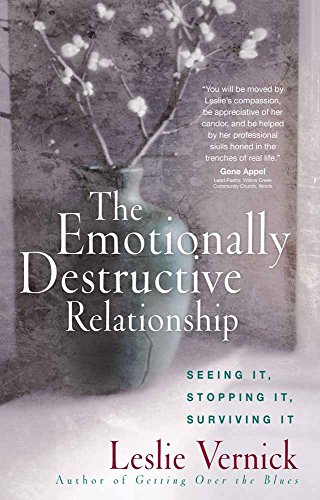 The Emotionally Destructive Relationship
by Leslie Vernick
Leslie Vernick, counselor and social worker, has witnessed the devastating effects of emotional abuse. Many, including many in the church, have not addressed this form of destruction in families and relationships because it is difficult to talk about. With godly guidance and practical experience, Vernick offers an empathetic approach to recognizing an emotionally destructive relationship and addresses the symptoms and the damage with biblical tools. Readers will understand how to:
Reveal behaviors that are meant to control, punish, and hurt
Confront and speak truth when the timing is right
Determine when to keep trying, when to get out
Get safe and stay safe
Build an identity in Christ
This practical and thorough resource will help countless individuals, families, and churches view abuse from God's perspective and understand how vital it is for victims to embrace His freedom from the physical, emotional, spiritual, and generational effects of emotionally destructive relationships.
Two winners will be selected in our next newsletter! (Giveaway only available to U.S. residents)
If you would like to enter to win, you can click here to provide name and email address.
The winners of "The Emotionally Destructive Relationship" by Leslie Vernick are Joan G. and Toni W.
How Do I Have a Relationship with Someone Who Lies to Me?
By Susan King

Question: How do I stay well in my marriage when my husband continues to lie to me? Our marriage is riddled with emotional abuse and I am learning to separate myself from the destructive blame shifting and gaslighting behavior, but I don't know how to separate myself from the lies and dishonesty. My husband repeatedly tells me he wants me to trust him and he isn't hiding anything from me, yet repeatedly I find that he actually is lying. The greatest example of this is when my husband took a promotion at work and intentionally hid it from me because he had previously told me he would NOT take the promotion (because it would create hardship for our family).
My counselor tells me it is impossible to have a relationship without trust. How do I have a relationship with my husband if he continues to lie and hide things? When confronted, he says he knows it's wrong but he then gives reasons for lying because of his brokenness from his childhood.
I don't want a divorce, yet I find myself in this continual cycle of thinking "maybe now he won't lie anymore"….but the deception keeps happening. I don't know how to have a relationship with him.
Thank you for your help!
Answer: I honor your desire to stay well in your destructive marriage. That is a challenging endeavor and you will need ongoing support. I am happy to read that you are meeting with a counselor. Even more so, I pray the Holy Spirit will guide you and direct you on your path.
The way you might stay well in a marriage, while you are perpetually lied to, is the same way you might stay well when there is blame shifting, gaslighting and other emotional abuse. All of these patterns of behavior are dishonest and destructive to the relationship. When staying well in a destructive marriage, you must take your focus off of your husband's problem and focus on your problem and your wellbeing.
Let's clearly state your problem given the information you have provided. You are married to a man who has repeatedly lied to you. So what can you do to help yourself with your problem?
What People Are Saying About Leslie's book "The Emotionally Destructive Marriage"
This book was very good. A friend recommended me to read this. I would recommend this book also. I like how Leslie doesn't just say "Oh the woman is provoking her to have her man to anger." I also appreciate that she looks at the whole picture of a relationship and not just here and there type of thing.
~ Amanda
LESLIE WELCOMES YOUR QUESTIONS

Leslie wants to help you grow in your personal and relational effectiveness. Please submit your questions by clicking here.
Then, visit Leslie's Blog as she posts her responses to one question per week.
Note: Due to the volume of questions that Leslie receives, she is unable to respond to every question.