My friend Anne Nelson is hosting a free Marriage Mastery Forum. I will be one of the speakers on November 21st. If you are interested you can learn more here.

SAVE THE DATE: I am doing a free training on December 3rd called "3 ways to move past victim mindset" you can save your spot at leslievernick.com/joinwebinar

More is Never Enough
by Leslie Vernick
Walking through the store I heard a young girl about nine years old, whining loudly. She was following her mom from aisle to aisle, big crocodile tears flowing down her face. "Mom, I want it. Why won't you buy it? Mom, pleeeease."
As the mother went about shopping, ignoring her pleas, the daughter's strategy escalated. Now sobbing, she howled, "Mom, I want it. I WANT IT NOW."
The mother valiantly tried not to lose her temper. Finally, she turned to her daughter and said in a firm voice, "Stop it! You are not getting anything today. You did not behave."
My heart sank. Although this mother may have been correct in not rewarding her daughter's misbehavior with a special treat from the store, she missed a larger opportunity to teach her child an important truth. More things will not make you happy.
We live in a culture of "I want more" and believe "If only I had more, I would be happier."
Even as adults we've bought into this lie. Who hasn't said to herself, "If only I had more ___________ then I'd be happy."
If only you had more money, more time, a bigger house, a different spouse, a newer car, then you'd feel happier? Right? Not really.
Research shows that even lottery winners don't experience lasting happiness after their big win. No matter what we get, it will never be enough because as soon as one longing is satisfied, three more will replace it.
This little girl is growing up in a culture where we not only want more, we think we need more, must have more, and deserve more. Every television commercial reminds us that we should have more because we're worth it.
Entitlement thinking deforms our personhood as we become more and more self-centered and self-absorbed. More diminishes our spirit and poisons the soul. Instead of feeling happy and grateful for what we do have, like the child at the store we feel deprived. We grumble and complain because another person or God is not giving us more of what we think we need and deserve.
But more isn't better because more never satisfies. More just fuels our hunger for more.
How do we break free from the mindset of more? The apostle Paul tells us that we must retrain our minds to think in new ways. (Romans 12:2). We have to realize that the world's way of thinking is not only incorrect, it leads to death.
Paul shares with us a secret that he learned that helped him reject the tyranny of more. He learned how to be content in every situation (Philippians 4:11).
We too can learn this lesson but it takes some practice. Here are two disciplines you can begin, as well as teach your children in order to learn contentment.
1. Gratitude: The Bible says, "It is good to give thanks to the Lord (Psalm 92:1). Gratitude counters our entitlement mindset and helps us appreciate the things we do have instead of constantly longing for more. On the way home from the store, this mom could have invited her daughter to think of five things she is thankful for. As she turned her attention toward her blessings, her daughter's grumbling attitude may have changed.
Even when it's hard to see the good in a particular situation, God calls us to give thanks in all things even if we can't give thanks for all things. (1 Thessalonians 5:18). Mom might have been tempted to grumble internally about her daughter's misbehavior and immaturity but retraining her own mind would have reminded her instead to give thanks. Although aggravating, that teachable moment was a gift from God to help her and her daughter see things in a new way. They don't need more in order to be happy. God has given them many blessings already.
2. Practice Simplicity: When our entitlement mindset looms large, consciously turn your heart away from more and turn it toward God in praise. Praise thanks God for who he is and what he has given us. As we faithfully practice praising and thanking God, we learn to trust his character and his plan for our life even when we don't understand or like it.
The apostle Paul learned these lessons while sitting in a prison cell. Often it is in the hardest places where we are most teachable.
In this season of Thanksgiving and holiday shopping, when you are tempted to grumble and complain or just want more, press PAUSE.
Turn your heart and mind toward all that you have and all God has done. See what a difference this small shift in the way you think makes in your daily sense of well-being. When Jesus says that he has come to give us an abundant life, he didn't mean a more prosperous life, but a more meaningful one.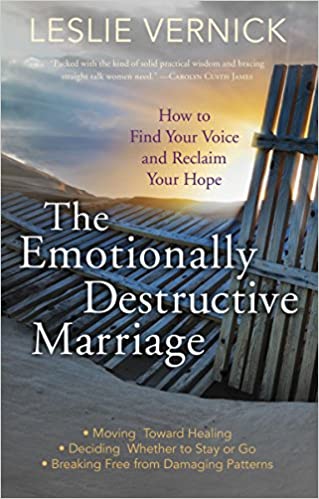 The Emotionally Destructive Marriage
by Leslie Vernick
You can't put it into words, but something is happening to you. Your stomach churns, your heart aches, and the tension in your marriage is making you feel weary and a little crazy. The constant criticism, disrespect, cruelty, deceit, and gross indifference are eroding your confidence and breaking your spirit.
For any woman caught in an emotionally destructive marriage, Leslie Vernick offers a personalized path forward. Based on decades of counseling experience, her intensely practical, biblical advice will show you how to establish boundaries and break free from emotional abuse. Learn to:
identify damaging behaviors
gain the skills to respond wisely
promote healthy change
stay safe
understand when, why, and even how to leave
recognize that God sees and hates what is happening to you
Trying harder to be a perfect fantasy wife won't help fix what's wrong your marriage. Discover instead how you can initiate effective changes to stop the cycle of destruction and restore hope for the future.

Two winners will be selected in our next newsletter! (Giveaway only available to U.S. residents)
If you would like to enter to win, you can click here to provide name and email address.
The winners of "The Emotionally Destructive Relationship" by Leslie Vernick are Diana S. and Merrie W.
Upcoming
Events

Want to have Leslie speak at your event? Click here to find out more information.
RESCHEDULED FOR 2021
New Hope Church
November 6th and 7th
East Lansing, MI
Lighthouse Christian Church
April 30th, 2021
Rosemount, Minnesota

Center for Christian Counseling
May 2021
Madison, WI
Call to Peace Ministry Retreat
May 13 – 16th. 2021
Asheville, NC
https://www.calledtopeace.org/events/retreat/
RESCHEDULED FOR 2021
The Village Church
December 3rd
Flowermound, TX
How Do I Live With A Perfectionist?
Question: My husband is a perfectionist. We have 14 years of marriage and I always thought it normal to be treated the way I have been by my husband. I grew up in a physically and emotionally abusive home so I knew nothing different.
How can I heal? What steps do I need to take? How can I help my husband? How can I talk to him without hurting him, cause that is not my intent, but something needs to change or I'll have to leave to keep me alive.

Answer: Your letter is very familiar. So many women will recognize themselves in your pain. You've been beaten down and beaten down and beaten down until you don't recognize yourself anymore. You said, "I resent him and I love him, but you added, "I hate me."
I want to focus there because the only person you can change is you. You not only have an external persecutor (husband), but also an internal one (you).
Psychological negativity via constant criticism, whether it is done by someone outside or whether it comes from our own internal voice has very real consequences on your mental, emotional, spiritual, and physical health.
The Bible warns us that life and death are in the power of the tongue (Proverbs 18:21). Words have the power to heal, and words have the power to destroy.
What People Are Saying About Leslie's Empowered To Change Group
"During the past 11 months the group has shared that FB page, it's turned into a little community we can bop in and out of when time permits. (Even the ones who dropped out seem to stop in every once in a while…) Although other 'real-time' support groups are important, there's something about an online place to go that's really helpful after being isolated for so long– especially when it requires writing in order to communicate."
~ E2C Participant
LESLIE WELCOMES YOUR QUESTIONS

Leslie wants to help you grow in your personal and relational effectiveness. Please submit your questions by clicking here.
Then, visit Leslie's Blog as she posts her responses to one question per week.
Note: Due to the volume of questions that Leslie receives, she is unable to respond to every question.