margin-left: auto;}}
That's A Wrap: We had an amazing turn out for our Moving Beyond People Pleasing challenge. Thank you to everyone who participated. We look forward to our next challenge in summer 2022.
Managing Your Negative Emotions
by Leslie Vernick
Jesus asked a man who had been paralyzed for a very long time, "Do you want to be healed?" (Read John 5 for the story).
Sounds like a crazy question. Who wouldn't want to be whole? But Jesus knew that healing this man would not fix his entire life. It would only fix his legs. In fact, healing him would bring new challenges and life changes that this man had never faced. For example, he would no longer be able to beg for his support. He would now need to find some sort of work. He would now have to make new relationships where he wasn't the needy dependent one. How would that impact him? Would he find a woman to love? Would he get married? Have children? Contribute to society and learn to give back to others less fortunate than he was?
Being willing for God to heal us is something most of us want, but we expect the next steps to be easy, which they often are not. For example, we want God to heal our marriage, heal our hurts, or take away our bitterness, but once we're healed, then what is or want to do many things, such as lose weight, save money, run a marathon, or become healthier, but if we don't learn how to do these things and practice doing them, we will not achieve the things we want to do. Proverbs tells us to apply what God is showing us to our daily life. (Proverbs 23:12).
This is where self-control and self-discipline come in. Without these skills, life becomes a mess.
This happens with our physical bodies and our inner life, as well as our relationships with others. For example, when we fail to control our eating, we gain weight or get sick. If we recklessly wound others with a tongue that is out of control we hurt others and ruin relationships.
For example, learning self-control over my body means I choose (my will) to do physical exercise because it is consistent with wanting to be healthy and in reasonably good shape (my thoughts/beliefs/desires). Rarely do I feel like it (temporary feelings). I want to be healthy (my thoughts, feelings and will are involved with this desire), but, I always feel like eating junk food, especially chocolate (bodily cravings due to ingrained bad habits).
I chose (my will, exercising self-control) not to give in to my temporary emotional states or fleshly appetites (most of the time), because they are inconsistent with the person I want to be and become. The benefit is that as I get healthier and stronger physically, I feel better and like myself more. The Bible warns us that the consequences of an undisciplined life is self-hatred (Proverbs 15:32).
Learning to deny ourselves what we want isn't meant to make us more miserable. It is always a means to gain something better. No one gets it to have it all. Therefore, we often must be willing to give up something we like for something we want.
For example, I choose to give up eating everything I want in order to stay at a reasonable weight. I let go of my tendency toward self-pity in order to take responsibility for my life and get mentally and emotionally stronger. To have a happy marriage, I need to give up my selfish ways.
Jesus tells us that when we are willing to give up our lives for him, we end up finding our life (Matthew 10:39).
The miracle that occurs is as I deny myself these small things, I gain so much more. I gain more health, more love, more virtue, more purpose to my life, more depth of character, more self-respect, more self-control and discipline and greater self-esteem. Not a bad trade.
Understand this crucial truth. We are always in the process of becoming. We are either becoming better or worse, healthier or not, more godly or more sinful, more willing or more willful. We get to choose which direction we will walk in.
God gives us the path to greater growth, mental, emotional, and relational health. Do you allow his words to be the final say in your life? Are you willing to allow God's word, his truth, to heal and transform your heart – which are your thoughts, your emotions, desires, and your will?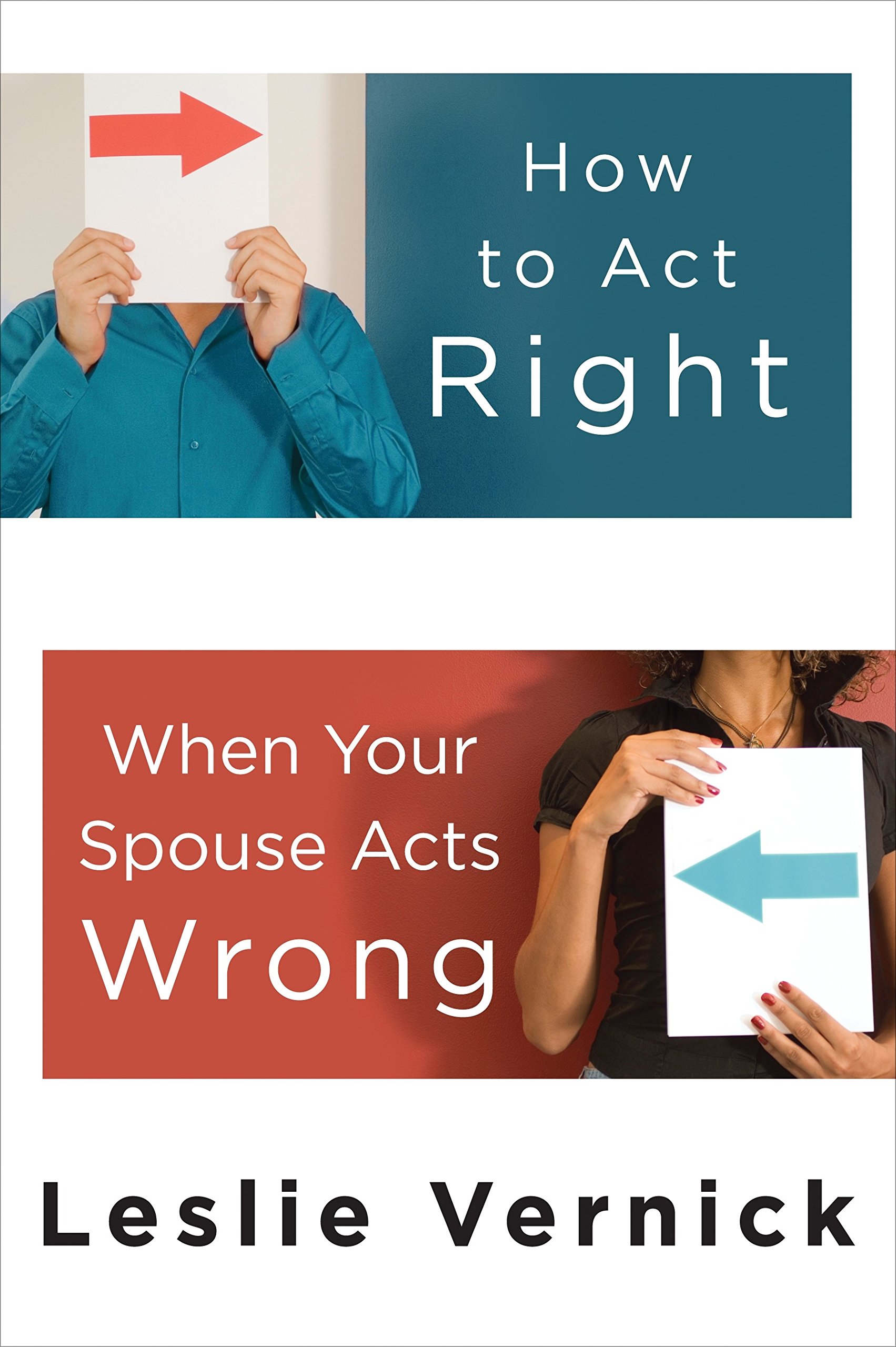 How to Act Right When Your Spouse Acts Wrong
by Leslie Vernick
Experience the Blessings of an Imperfect Marriage. We all–at one time or another–have the opportunity to act right when our spouse acts wrong. There are no perfect marriages or perfect spouses. We know that having a good marriage requires effort and hard work. Yet we often don't know how to continue to love when we are angry, hurt, scared, or just plain irritated. Nor are we sure what that kind of love is supposed to look like. Should we be patient? Forgive and forget? Do something else entirely?
Acting right when your spouse acts wrong will not necessarily guarantee a more satisfying marital relationship, nor will it automatically make your spouse change his or her ways–although both could occur. It will, however, help you see how God is stretching you in the midst of your marital difficulties, teach you to respond wisely when wronged, and lead you into a deeper relationship with Christ as you yield your will to his plan for your life and learn to be more like him.

Two winners will be selected in our next newsletter! (Giveaway only available to U.S. residents)
If you would like to enter to win, you can click here to provide name and email address.
The winners of "Lord, I Just Want to be Happy" by Leslie Vernick are Kristine C. and Delia B.
Upcoming
Events

Want to have Leslie speak at your event? Click here to find out more information.
AACC
September 12th – 18th
Orlando, FL
Lighthouse Christian Church
October 22nd and 23rd
Rosemount, Minnesota
The Village Church
December 3rd
Flowermound, TX
Center for Christian Counseling
Date TBA
Madison, WI
He Won't Let The Affair Go.
Question: Twenty-three years ago (after being married 5), I had an emotional affair at work. The church advised me to quit my job. I did and immediately got pregnant with our first. I separated for a while because he was so mean to me, but the church said I needed to be with my husband for protection (nobody ever questioned my husband. He was the victim of an adulterous wife).
After the birth of our son, I divorced him. I made him an even bigger victim within the church. Women felt led to focus on me and get me back into my marriage. Four years later we remarried. Submitting to my husband, I found myself constantly trying to please him (I have a bookcase full of books on how to be a good wife), which resulted in a bad case of people-pleasing.
Not realizing how easily I was being manipulated, I allowed myself into a situation three years ago, that resulted in gross sexual imposition, which I am being blamed for because I was told I wanted it. I feel like a fool!!!! I am stupid trusting! I had to tell my husband to call this man to leave me alone. I had given him my number before he tried to rape me thinking he was a nice older man in the military taking care of a military wife on her way to visit her husband out of the country.
Sometimes I feel like I blame my husband for my situation, but that isn't right either. I made the choice because I chose to marry a man that cares nothing for me, but just that his meals, laundry, and home are run from top to bottom. I am a slave. The slave who strayed and now I am being punished. I want to be free of this chain. With God, I am forgiven. With my husband, I am not. What do I do and how should I react to him?
Answer: First, I'm so sorry for all the pain you're going through. Marriage, even good marriage is hard work and over time exposes our own issues – jealousies, insecurities, immature coping mechanisms, wrong thinking patterns, etc. We can blame marriage for exposing them, but they were in us. Your husband's jealousy, entitlement thinking, and selfishness were in him before you had the emotional affair at work. Your people-pleasing and naivety were in you before your husband treated you so poorly.
But that's not all. You also have strengths. You separated after your first baby was born because of your husband's mistreatment of you. You sought counsel from those you believed had godly wisdom, even though they too were naïve and idealistic about how a destructive marriage is reconciled. You were an eager learner, reading a lot of books on how to make your marriage work. You care for two special needs children. You took what you read in Boundaries and applied it to many areas of your life and your relationship with God grew stronger and more secure than ever.
Currently, you are telling yourself that you must stay married for financial support. Yet you recoil at the thought of being just a slave who does his meals, laundry and takes care of the home. No one who is married wants to be "Just a paycheck" or "Just a maid". Your question is where do you go from here?
What People Are Saying About Leslie's Walking in CORE Strength Class
"My favorite part was just getting to hear directly from Leslie on the subject. I actually found that I have started attempting to operate from my CORE without even knowing it. I definitely need work in some areas, but the validation that I am headed in the right direction was great! The affirmation and encouragement from her. Knowing that I'm not the only one out there trying to do as God would have me, but still feeling stuck and alone at times."
LESLIE WELCOMES YOUR QUESTIONS

Leslie wants to help you grow in your personal and relational effectiveness. Please submit your questions by clicking here.
Then, visit Leslie's Blog as she posts her responses to one question per week.
Note: Due to the volume of questions that Leslie receives, she is unable to respond to every question.