That's A Wrap: We had an amazing turn out for our Moving Beyond People Pleasing challenge. Thank you to everyone who participated. We look forward to our next challenge in summer 2023
Can I Trust You?
Leslie Vernick

Sometimes the burden to trust again has been unfairly placed upon the shoulders of the betrayed person and linked with forgiveness. The thinking goes like this: if you forgive me, then what happened between us is in the past. We don't need to discuss this anymore and trust should be automatically restored.
But that's not true. We can genuinely forgive someone and still not trust him (or her). Forgiveness is something we do because God calls us to do it, not necessarily because someone is sorry, repentant, or is genuinely interested in rebuilding trust. However, reconciliation of the relationship, including trusting again, requires forgiveness but not just forgiveness. It also requires the one who broke trust to show genuine repentance as well as make efforts to rebuild broken trust.
Typically we think of broken trust, especially in marriage, only in the sexual realm. However below are three additional areas where trust can be broken and must be rebuilt if a relationship is to be restored.
1. Authenticity: People immediately mistrust someone who feels false. When you are married to someone, work with someone, or are close to someone who has one persona in public and another in private, you intuitively do not trust him, even when you have no specific reason not to. You don't trust his public persona (i.e. great guy), because you also bear witness to his or her hypocrisy elsewhere. This person's core self is not authentic and therefore he cannot or should not be trusted.
To rebuild trust with someone who has been inauthentic requires him or her to acknowledge his or her false image and learn to be more real. In most instances a person who has a double self will not acknowledge it nor do they typically change. When confronted, they just get more devious.
2. Reliability: When we are in a relationship with someone, personal or professional, we want to know whether we can count on that person to do what he says he will do. Or, likewise, can I trust that he will stop doing the things that he says he will stop doing?
In rebuilding broken trust with someone who has a track record of unreliability, we must look at what the person does, not what the person says that he or she will do. For example, does he say he will put filters on his computer but never does? Does she say she will stop drinking, or spending money on the credit card but does nothing? Does he say he wants restoration of the marriage but won't go to counseling or do any work towards that end? Does she tell you she will make more efforts to call you and reach out to you in order to have a more mutual relationship but her promises don't turn into real phone calls?
Proverbs 25:19 says, "Putting confidence in an unreliable person in times of trouble is like chewing with a broken tooth or walking on a lame foot." It's foolish.
John Mark was someone who was not reliable and as a result, lost the apostle Paul's trust (See Acts 15). Later on we see that trust was restored, not because Paul gave him trust, but because John Mark proved he was reliable and Paul's trust was restored (2 Timothy 4). In the same way, building consistent reliability into our character rebuilds broken trust, not empty promises.
3. Care: In our closest relationships we ask ourselves: can I trust that you care for my good? My well-being? When I share my thoughts and feelings do you hear me? Value me? Protect me? Or is there mocking, contempt, avoidance, or indifference? Proverbs 31:11,12 says, "The heart of her husband trusts in her." Why? Because, "He trusts her to do him good not harm all the days of his life."
One of the foundations of relational trust is that love does not intentionally harm the other (Romans 13:10). And, if in weakness and sin there is harm, every effort is made to make amends and not repeat that harm.
A destructive person does not want to hear the other person's grievances against him. It's true; it does hurt our feelings (and pride) to hear how we have hurt someone. It takes effort to listen and care about the other person's feelings when you have broken her trust. Yet without consistent compassion, empathy, and care for the other, rebuilding trust is not possible. And if we don't trust that someone cares for our well being, a close relationship with that person is not possible.
Rebuilding broken trust takes time and specific evidence of change, not merely words or promises of change.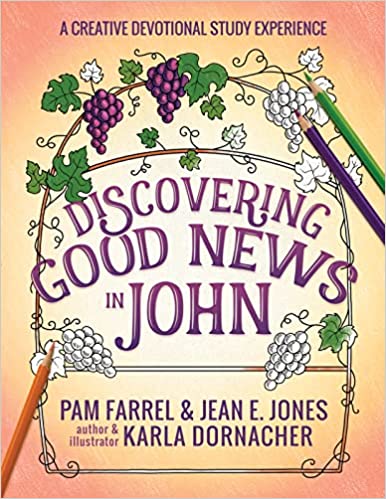 Discovering Good News in John
by Pam Farrel, Jean E. Jones, Karla Dornacher
Whether you're a new or longtime believer, you'll gain a wealth of wisdom when you study the Gospels! In Discovering Good News in John, authors Pam Farrel, Jean E. Jones, and Karla Dornacher encourage you to revisit the story of Jesus's life—and be transformed along the way.
This 10-week Bible guide illuminates John's unique account of Jesus's mission, ministry, and resurrection, calling you to pause and ponder each verse. You'll be uplifted by
fresh insights into the incredible book of John
enlightening contexts, including the culture, celebrations, and community of Jesus's era
new applications from the Good News for your daily life
motivating devotions followed by affirmational prayers
creative coloring pages featuring hope-filled, worship-inspiring Bible verses
Immerse your heart, mind, and soul in the life-giving truths of this Gospel! This new installment in the Discovering the Bible series will give you brand-new eyes that let you savor and cherish each detail John reveals about Jesus's time on earth.
Two winners will be selected in our next newsletter! (Giveaway only available to U.S. residents)
If you would like to enter to win, you can click here to provide name and email address.
The winners of "Lord, I Just Want to Be Happy" by Leslie Vernick are Maru C. and Sharrie M.
Upcoming
Events

Want to have Leslie speak at your event? Click here to find out more information.
AACC
September 8th – 10th
Dallas, TX
Center for Christian Counseling
Date TBA
Madison, WI
The Difference Between Letting
Go And Giving Up
By Leslie Vernick

Question: My husband has been "working on himself" for years without really changing. He's had multiple affairs, attended recovery groups, and inpatient facilities and he still lies and cheats. I know God can do anything, but I don't see God working. I'm afraid to give up hope because I'll be giving up on what God can do.

How do I live with the hope that he might change, but still live in truth?
Answer: Your dilemma is fairly common. When working with women in destructive marriages I often see a lot of Biblical confusion because of their misunderstanding of God's will and letting go of unrealistic hope for their spouse to repent and change.
They usually say something like this: "I know God's will is for our marriage to be restored. He can change my spouse and God hates divorce, so if I wait, and pray and have faith, can I hope that my spouse will change?"
What People Are Saying About Leslie's Moving Beyond People Pleasing Group Coaching Groups
I have loved coaching with the LV coaches! My confidence is small but growing. I love the reinforcement that I am doing what is right. Without my coach and my course sisters, it's all too easy to go back to believing the lies I am told every day. So thankful for this course.
-Maryah H.

LESLIE WELCOMES YOUR QUESTIONS

Leslie wants to help you grow in your personal and relational effectiveness. Please submit your questions by clicking here.
Then, visit Leslie's Blog as she posts her responses to one question per week.
Note: Due to the volume of questions that Leslie receives, she is unable to respond to every question.