TODAY: I go live today at noon for one of your favorite workshops and I only do it ONCE a year. Ready to learn the 3 Shifts from Victim To Owner Mentality? You can still join us – but you must register at leslievernick.com/joinworkshop
Jehosheba: God's Faithful Shero
by Kelly Yazzie

Is there a shero within you? If you have faith in God, you have the crux that gives courage to do hard. "Faith" is so much more than a gold-plated script hung on an elegant chain or calligraphy on the family room wall. Faith is unquestioning belief in God's goodness that does not require circumstantial proof. This faith commits to the things of God, regardless the cost. Daughter of the Most High, this faith is yours for the asking. So, when you are in that dark alley of hard, or even the impossible, and your heart beats wildly, remember, trust! No matter the outcome, He is always good. God will never stop loving you or forsake His sovereignty over you.
This faith is found in a shero of the Old Testament, Jehosheba. Referenced in 2 Kings 11:2 and 2 Chronicles 22: 11, Jehosheba courageously trusted God, going against family conformity, against evil, and risking her life to save her nephew, Israel's future king.
Jehosheba was raised in a grossly evil line of narcissistic family royalty, the granddaughter of King Ahab and Queen Jezebel. Yet, through an alliance, was also the granddaughter of the faithful king, Jehoshaphat. Her mother, Athalia, was even more evil than Ahab and Jezabel, putting control of the throne above any human decency. Jehosheba's father, Jehoram, (Jehoshaphat's son), was killed, and she became surrounded by the evil influence of her mother, Athalia. Her "golden child" brother, Ahaziah, was also killed. Since he was the king, and his mother's safeguard to controlling the throne, Athalia went on a rampage to kill any family member left who could possibly take the throne from her, killing her own grandbabies!
Despite the danger if she was discovered, Jehosheba stole and hid her baby nephew, Joash. And the rest is history! As we know, Joash is the boy who became king at age seven, part of God's plan to fulfill His promise to David, of a kingdom and throne that would be established forever. For six years, Jehosheba risked her life, hiding Joash in the temple and saving him from her evil mother's annihilation.
We can be encouraged; first, that women have been and are called to stand against conformity, against evil or injustice, and be God's warrior sheros! And second, we have an opportunity to change the course of our outcome and be the shero of our own story! Ask God for faith and courage to face the hard in front of you right now. What is it in your dark alley? What's causing your heart to beat wildly? Remember, trust! No matter the outcome, He is always good. God will never stop loving you or forsake His sovereignty over you.
Keep reaching out, boldly interceding, and courageously following Christ! You play an integral part in God's plan! Joash not only carried out David's line of kings, but was the bloodline of Jesus, our Savior and King who sits on the throne forever! I am not sure which side of heaven, but one day we will each see how our faithfulness and bravery played a part of His greater plan! Yes, sweet daughter of the Most High, there is a shero within you!
"Be strong and courageous, do not be afraid or tremble at them, for the Lord your God is the one who goes with you. He will not fail you or forsake you." – Deuteronomy 31:6.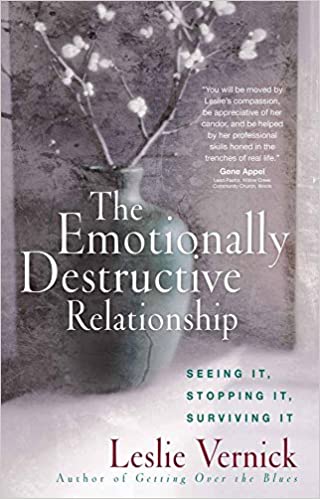 The Emotionally Destructive Relationship
by Leslie Vernick
Leslie Vernick has witnessed the devastating effects of emotional abuse. Many, including many in the church, have not addressed this form of destruction in families and relationships because it is difficult to talk about. With godly guidance and practical experience, Vernick offers an empathetic approach to recognizing an emotionally destructive relationship and addresses the symptoms and the damage with biblical tools. Readers will understand how to:
Reveal behaviors that are meant to control, punish, and hurt
Confront and speak truth when the timing is right
Determine when to keep trying, when to get out
Get safe and stay safe
Build an identity in Christ
This practical and thorough resource will help countless individuals, families, and churches view abuse from God's perspective and understand how vital it is for victims to embrace His freedom from the physical, emotional, spiritual, and generational effects of emotionally destructive relationships.
Two winners will be selected in our next newsletter! (Giveaway only available to U.S. residents)
If you would like to enter to win, you can click here to provide name and email address.
The winners of "The Emotionally Destructive Relationship" by Leslie Vernick are Tammy N. and Trina J.
Upcoming
Events

Want to have Leslie speak at your event? Click here to find out more information.
World Women's Wholeness Summit
March 3-5, 2022
Raleigh, NC
Information Here.

Center for Christian Counseling
Date TBA
Madison, WI
What Makes A Person An "Abuser"?
By Leslie Vernick

Question: My husband was abusive in all ways (physical, emotional, financial, etc.). I learned in counseling & support groups that abusers use the same tactics (e.g. injuring themselves before the police arrive, grooming, physical abuse without leaving marks, character assassination, isolation, gaslighting). Other than generational, how do abusers learn these tactics?
Answer: Let me begin by telling a true story. When my granddaughter was about 2 ½ years old, I was taking care of her and her baby sister. She was very drawn to her daddy's computer which sat open on his desk. I knew he did not want her playing on it and she knew she was not to climb on his desk chair to pound on the keyboard. Yet when my back was turned, she climbed up on his chair, stood over the keyboard, pounding away.
When I "caught" her in the act, and said, "Maya, what are you doing?" She looked at me, big tears rolling down her eyes, threw her hands up in the air, and cried, "I didn't know. I didn't know."
That wasn't true. She did know she was not supposed to be up on that chair or playing with the keyboard. But where did she learn to lie and manipulate her Nana with her tears? Who taught her those tactics?
What People Are Saying About Leslie's Empowered To Change Group
"After 36 very rocky years of marriage, I believe I "left well" and have no plans to reunite. I do want to grow to the place where I can participate in family gatherings and be at ease with my husband's presence. I joined E2C to become stronger in my CORE, so that I'm healthier in all my relationships. I have focused waaaaay more on others' problems, rather than seeing my problem with their problem. I avoided doing my own work by "working" on their problems. It IS empowering to stop throwing away so much energy on efforts to change others, rather than exerting the productive energy of changing myself! I love connection and community, and in my delight of serving others I am growing more and more loyal to Jesus so that others are not idols to me, that I let control me. I definitely tend to be passive aggressive in conflict, but am gradually seeing how very FRUSTRATING that is for others who are in a relationship with me. Having a literal script to practice before having hard conversations was VERY helpful. I love the wheel of emotions :). I am also so thankful for my wise coach who was there every step of the way."
~ Valerie

LESLIE WELCOMES YOUR QUESTIONS

Leslie wants to help you grow in your personal and relational effectiveness. Please submit your questions by clicking here.
Then, visit Leslie's Blog as she posts her responses to one question per week.
Note: Due to the volume of questions that Leslie receives, she is unable to respond to every question.