Two more days: I am doing a free training this Thursday (February 17th). You can pick between two live options. I will be covering "Four (4) Christian Beliefs that make Women in Destructive Relationships Feel Crazy and Powerless, and What You Can Do to Challenge Them." You can save your seat at leslievernick.com/joinwebinar
Is He Really As Nice As He Seems?
Leslie Vernick

Appearances can be so deceiving, can't they? That guy at church who has his arm around his wife, checks the kids into their classes, is the life of the party at life group…such a great guy, right?
Maybe so. But many of you are married to "that guy" and it isn't so happy at home. Mr. Nice Guy also yells when things don't go his way. Cabinets and doors get slammed and he has a list of demeaning adjectives for describing you. But, as long as you're keeping the house clean, the kids from being overly demanding, and giving him enough sex, according to him, it's the "perfect marriage."
Often, a woman in this situation tells herself that every marriage has ups and downs. Nobody's perfect. And, she's right. No man or woman is perfect and there might even be an occasion where his – or even your – behavior would be considered abusive. But there is a crucial distinction that must be made; a question only you can answer:
Is this abuse a one-time incident or is it a cycle that regularly repeats itself?
If this is a cycle and you find yourself regularly walking on eggshells to avoid an adult tantrum, don't fool yourself. The truth is you are in a destructive marriage. Your husband doesn't see nor does he take responsibility for the damage he is causing to your family. Here is another question that only you can answer:
What am I going to do about it?
You absolutely can not change him. (Trust me. Countless women have tried coercing their husbands to change … not one has ever succeeded.) But you can stop being a victim. You can decide what you will and will not allow in your life. You can decide to stop walking on eggshells and respond calmly but very differently to his tantrums. You can learn whether to stay well or how to leave well.
One thing that's especially hard about being married to "Mr. Nice Guy" is that people don't see the truth. And, usually, he isn't exactly forthcoming with who he really is at home. So, when you stand up for yourself (and for your children) you're often seen as the problem by mutual friends, churchgoers, your pastor, and even your family. Letting go of the need for people to understand and be on "your side" is going to be key to keeping your emotional well-being.
Too many Christians define being a good wife as someone who placates and keeps the peace. But how is this doing good for your husband? And is this really keeping the peace?
Your community of friends and family may not understand the choices you make, but please understand, you do have choices to make. My prayer is that you will begin to make healthy ones for yourself and for your children.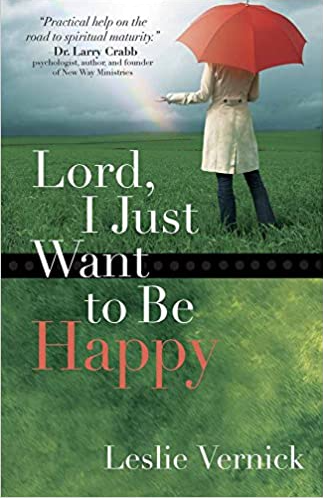 Lord, I Just Want to Be Happy
by Leslie Vernick
Counselor and author Leslie Vernick has discovered that many people pray, "Lord, I just want to be happy!" With candor, Leslie reveals that readers don't need new circumstances but a new perspective to discover true happiness. With biblical insight, Leslie guides readers to take simple steps as they…
recognize and change habits that, day by day, keep them from experiencing happiness
make good choices and learn from mistakes without beating themselves up
develop the skills that enable them to let go of negative and painful emotions more quickly
transform difficult circumstances so they can live with gratitude, joy, and purpose
Application questions help readers work godly thinking, as well as healthy skills and habits, into their lives and hearts. They'll discover that, even if nothing changes in their circumstances, their inner chains can be broken and they can go free…into a new path of real hope and happiness.
Two winners will be selected in our next newsletter! (Giveaway only available to U.S. residents)
If you would like to enter to win, you can click here to provide name and email address.
The winners of "How To Live Right When Your Life Goes Wrong" by Leslie Vernick are Jamie L. and Dawn B.
Upcoming
Events

Want to have Leslie speak at your event? Click here to find out more information.
Center for Christian Counseling
Date TBA
Madison, WI
Blame Versus Responsibility.
What's The Difference?
By Leslie Vernick

I'm going to do something a little different today. Instead of answering a question, I'm going to respond to a comment from someone who believed I was shaming and blaming a victim for being a victim. This is what she wrote in response to my blog regarding a husband treating his wife like a child.
"Stopped reading after you said that she is responsible for the way she has allowed herself to be treated. Yikes!! Really really awful."
Response: This reader's comment didn't surprise me. I see it often. When I tell a woman she has to take responsibility, it's interpreted that she has to take the blame for what happened to her. That's not true, nor is that what I mean by taking responsibility.
Let me give you an example. When I was a child, in a fit of rage, my mother threw me to the ground and I chipped my two front teeth. She never got appropriate dental care and my two front teeth looked awful throughout my childhood. That was not my fault even though I probably was doing something wrong that provoked her. It was her responsibility as my mom to discipline me appropriately and get me dental and medical care when I needed it. She was the adult, I was the child.
But when I became an adult and she still treated me harshly, whose responsibility is it now to take care of me? Mine. I'm not to blame for the way she treats me, but I am responsible to steward my body, my mind, and my health. And if she's harming me, what am I going to do to get safe, stay healthy, and live in peace?
What People Are Saying About Leslie's Walking In CORE Strength Group
"Walking in CORE strength was a game changer for me!
Walking in CORE strength allowed me to become aware of my own choices, feelings, and thoughts. I began to see God and his truth with more clarity. In this class, I realized that because my people's pleasing addiction affected my ability to establish healthy boundaries in my life.
The result was that I had given other people control. I didn't know how to take it back and sit in the driver seat of my life.
My life has changed drastically! Yes, I am single and I'm ok with that. I have much better relationships with my teenagers. I am successfully setting boundaries! My kids give me daily opportunities to exercise that muscle!
And best of all – because Jesus has freed me to walk in CORE, I am clothed in strength and dignity….. and I smile (HOPE) in what the future holds. Is it scary some days? YES! But today I can confidently say that I can look fear in the face and smile. Praise the Lord!!!"
LESLIE WELCOMES YOUR QUESTIONS

Leslie wants to help you grow in your personal and relational effectiveness. Please submit your questions by clicking here.
Then, visit Leslie's Blog as she posts her responses to one question per week.
Note: Due to the volume of questions that Leslie receives, she is unable to respond to every question.