Small-Group Coaching: We just opened our doors to our small Moving Beyond People Pleasing group coaching. If you missed our Moving Beyond Challenge – this is the perfect opportunity to get a taste of our small coaching groups. Classes start the week of July 12th. If this isn't the right time for group coaching for you, you can still get the stand-alone self-paced video course for $100 off, but only until July 2. Learn more about both options at leslievernick.com/peoplepleasingcourse
How to Handle Toxic and Critical People
by Leslie Vernick LCSW
We all have encounters with difficult people who leave us rattled and shaken. A co-worker undermines us in front of our boss; our friend puts us down and says she was "just kidding"; our spouse rages at us and then turns everything around to make us think that it's our fault.
Most of us would prefer to minimize our contact with people like this, but sometimes it's just not possible. We may work with them, be married to them, or have some other connection that keeps us in regular contact with toxic individuals. For a long time Christians have been taught to forbear and forgive. While biblical in essence, most of us aren't exactly sure how to live it out in real life.
We know that Jesus tells us that we're to love our enemies and pray for those who mistreat us, but actually doing it is much more challenging. The apostle Paul counsels us in these instances not to be overcome with evil, but instead to overcome evil with good (Romans 12:21). Sometimes it feels like evil is stronger, and we struggle not to let it get the best of us.
I'd like to share with you some specific ways I have found helpful to put these Biblical truths into practice when dealing with a toxic or destructive person.
1. Press Pause: As soon as you feel that poisonous dart, take a deep breath and pray for God's help. The words or behaviors of another person have just knocked you off balance and will infect you with its toxic effects if you don't quickly apply an antidote.
2. Don't panic and overreact or be passive and underreact. Stay calm and don't fall for their bait. Try not to take what they have done or said personally (which is very tempting to do). Remember, the way someone treats you, whether it be good or bad, really has nothing to do with you. It is a statement about who they are.
3. Ask yourself this question: What in this present moment do I need to learn (or change) in order to become the person I want to become? Here are a few things I have found I needed when I asked myself this question:
Courage
Humility
Generosity
To speak the truth in love
To set firmer boundaries
Patience
Not to worry so much what others think of me
Let go of my desire to make everyone happy
Not to let this person get the best of me or to make me act crazy
Believe me, it is very tempting in the moment to defend yourself, let yourself be blamed for the problem, be totally intimidated and overcome, or strike back with your own attack. None of those ways will help you move forward with a toxic person. However, God does promise to use these painful moments for our good. Therefore, learn what you can from the painful moment and let go of the rest.
1. Teach yourself to respond out of the person you want to be rather than how you feel in the moment. We do this all the time by being responsible and getting out of bed to go to work even when we want to sleep in or getting up in the middle of the night with a sick child even if we don't feel like it. If you must respond in the moment, speak calmly, truthfully and firmly, especially when you have to set a limit or say "no". Refuse to engage in arguing, defending yourself, or circular conversations that go nowhere.
2. Practice (and this takes a lot of work) looking at this difficult/destructive person in a different way than you have in the past. Instead of meditating on his or her faults or sin, look for her goodness, his humanness, or his/her woundedness. When we can see a person in this new way, it's much easier to allow God to fill us with His love and compassion for this pitiful person who would be so blind as to treat us (or anyone) in such a sinful way.
Having this change in perspective doesn't excuse the toxic person or give him or her license to continue to do damage, but it does help us not to judge and empowers us to forgive him/her, even if we can't reconcile the relationship. We can honestly pray God's best for this person and leave him/her in His capable hands.
As believers, we will surely encounter evil, but by practicing these five steps, we can learn to overcome evil's toxic effects in us with good. If you are interested in small coaching group to address handling toxic relationships – please go to leslievernick.com/peoplepleasingcourse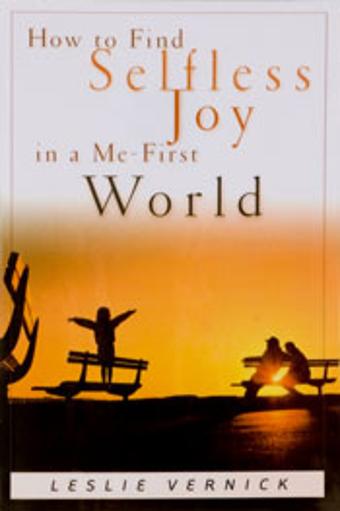 How to Find Selfless Joy in a Me-First World
by Leslie Vernick
Do You Need Greater Self-Esteem–Or Something Else Entirely? Western culture increasingly emphasizes the importance of self-love and self-esteem. Many of us believe we must "find" ourselves–and feel good about what we see–before we can experience significant spiritual growth. Focusing so much on ourselves, however, distracts us from pursuing the only source of true fulfillment.
Do we, as God's people, really need to love ourselves more? Or is there a wiser, biblical path that can lead us to joy that is not self-centered and fleeting, but God-focused and lasting? Challenging the current fascination with self esteem,
Leslie Vernick answers these questions and others that trip up Christians today. Offering surprising insights and practical helps that can make a real difference in your life, she shows how you can experience greater personal, relational, and spiritual growth while humbly adoring and glorifying your God.
Two winners will be selected in our next newsletter! One winner for each book (Giveaway only available to U.S. residents)
If you would like to enter to win, you can click here to provide name and email address.
The winners of "How to Live Right When Your Life Goes Wrong" by Leslie Vernick is Gail M. and Julie M.
Upcoming
Events

Want to have Leslie speak at your event? Click here to find out more information.
AACC
September 12th – 18th
Orlando, FL
Lighthouse Christian Church
October 22nd and 23rd
Rosemount, Minnesota
The Village Church
December 3rd
Flowermound, TX
Center for Christian Counseling
Date TBA
Madison, WI
Overfunctioning Doesn't Fix Things
Question: My husband and I have been separated for 6 weeks due to emotional abuse and immoral activity on the computer. I called our pastor for counseling and left a message and I did not hear back from him so I called him again.
I spoke to him and he said that he would call and visit me the following week. That never happened and it's been 6 weeks. I'm very discouraged and disappointed that I do not have my church helping my husband and I. Should I make a third attempt to call this pastor and ask for help again? It almost feels like the church is as negligent as my husband and I don't like the idea of begging them for help.
I am still searching for a good Christian counselor that accepts my insurance in my area. I hope to find one soon but in the meantime should I reach out to another church for help? My husband is not being held accountable by any Spiritual Authority. And he has still not contacted the counselor that I found for him. What should my response be? Currently I'm just working on myself.
Answer: I am sorry for your pastor's negligence. To give him the benefit of doubt, there may be a crisis in his own life or other issues brewing in the church that has kept him from following up with you. But he could have at least e-mailed, texted, or called you to tell you he was unable to help you at this time and given you some other resources. This reminds me how imperfectly human we all are, including those who shepherd us as pastors.
To answer your question whether you should you reach out again, I'd say no. He's already shown himself unreliable and unfaithful to you so why would you trust him to help you through this crisis? However, you may want to write him a short note expressing your hurt and disappointment. Hopefully he will learn by it and do better next time with someone else.
The bigger problem you face is not with your pastor's lack of follow through but your husband's. You separated from him six weeks ago due to some serious sin on his part. You provided the name of a counselor whom he could contact. Six weeks have gone by and he has not reached out to the counselor. What does that tell you?
What People Are Saying About Leslie's Moving Beyond People Pleasing Class
"This course has been amazing! Thank you so much for opening my eyes to the work I need to do. It is an ongoing process, and I look forward to a future being closer to the person God created me to be."
-Pam
LESLIE WELCOMES YOUR QUESTIONS

Leslie wants to help you grow in your personal and relational effectiveness. Please submit your questions by clicking here.
Then, visit Leslie's Blog as she posts her responses to one question per week.
Note: Due to the volume of questions that Leslie receives, she is unable to respond to every question.