Our New Quickstart Guide: If you wonder whether or not you're in a destructive marriage or just a difficult one, please check out our new Quick Start Guide to find out.
How do I Stay Well in a Toxic Marriage?
By: Leslie Vernick

Sometimes there are legitimate reasons for choosing to stay for a season in a destructive marriage. Perhaps you have small children, and you don't feel safe with them in his care. You may have some health issues that require your current medical insurance for care. And for some, as long as you don't complain, don't ask for anything, or expect him to show you any care, you can live superficially at peace as roommates.
But if you choose to stay, it's vital that you learn to stay well. Staying well doesn't mean your marriage improves. It means you don't deteriorate further. Let's talk practically about how to do that.
First, take care of yourself. Make sleep a priority. Too many negative consequences come from sleep deprivation, even in a good home situation. If you want to keep your sanity, you need to give your body and mind a chance to reboot, and that happens when you're sleeping, ideally for a good 8 hours each and every night.
Rebooting also happens through exercise. Living in a stressful environment necessitates physical activity just to shake off all that cortisol in your body. You can't be there for your kids if you're not prioritizing yourself so, please do that.
Second, stop isolating. This is a huge tactic of an abuser. What happens when you're isolated is you only hear his point of view. His voice gets louder, and you start to believe what you're hearing, however toxic or untrue it might be.
Get out of the house. Join a church, a Bible study, go to the gym, meet your neighbors. At the very least, read good books. Get online. Listen to podcasts, to godly, healthy opinions and teaching. Study about abusers and their abusive tactics in order to recognize what's happening in your home and not fall prey to false beliefs.
A third key to staying well is to guard your heart. Proverbs says to do this "above all else." (Proverbs 4:23). Why? Your heart is the wellspring of life. It is your innermost being…your values, virtues, desires…the person you want to be. When someone constantly trashes your heart, it takes a toll. It damages your health, your mind, and your spirit. You begin to feel worthless and unimportant. You can easily fall into depression. Start to retaliate. Live against your core values. Don't let your spouse diminish your light because it threatens or displeases him.
Guarding your heart also means managing your emotions. You have every right to be angry but don't let it cause you to sin. (Ephesians 4:26) Feelings are great informers but not the best decision-makers.
Part of guarding your heart means you consciously practice J.A.D.E. The acronym stands for:
J – No longer Justify why you want something or why you said something, or why you don't want something.
A – No longer Argue.
D – No longer Defend yourself.
E – No longer Explain yourself.
At first glance, that strategy may not make sense.
In a normal relationship, when you have a conversation with someone, you might explain yourself, you might argue a bit, you might defend or explain yourself. But when you do this with a toxic person, you get into a "crazy-making dance." There is no healthy conversation…where one talks and the other tries to understand.
Instead, when you try to explain or defend, they blame, attack, accuse, deny, and shame. Around and around you go, constantly on the defensive, feeling like you will never be understood. If you catch yourself beginning to J.A.D.E., guard your heart and leave the conversation.
Fourth, renew your mind. Just like your body needs a reboot, so does your mind. Take every thought captive to the obedience of Christ. (2 Corinthians 10:15) Listen to what you tell yourself. Is it true? Good? Right? Don't just listen to yourself. Talk to yourself. Affirm yourself with who God says you are. Remind yourself of who you want to be, even if your behavior doesn't always line up perfectly with that person. Tell yourself, "I am a decent human being. I am a worthy person because I am created in God's image." These truths you can tell yourself any time you need to.
Finally, give up trying to change your man and work on you. At the very least, prepare yourself to feel and live as a fully functioning adult. A healthy adult is someone capable of caring for themselves emotionally, mentally, physically, spiritually, and financially. As Christian women, sometimes we have allowed ourselves to become too dependent on a spouse, friend, or even counselor/pastor to think for us, to fix our lives or to solve our problems. When we live like that, we place ourselves in a vulnerable position. When your marriage is toxic, you feel helpless and stuck because you aren't prepared. Preparation gives you the confidence that you can figure things out and are able to take action and support yourself and your children if you need to.
There are valid reasons for staying in a toxic marriage. If you make that choice, make sure you learn to stay well.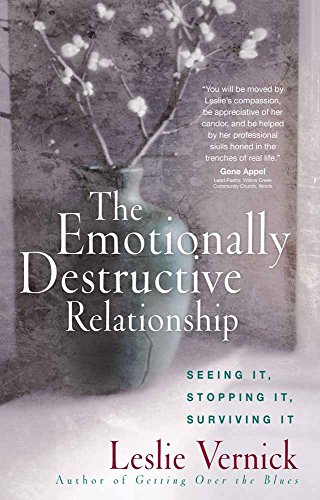 The Emotionally Destructive Relationship
by Leslie Vernick
Leslie Vernick, counselor and social worker, has witnessed the devastating effects of emotional abuse. Many, including many in the church, have not addressed this form of destruction in families and relationships because it is difficult to talk about. With godly guidance and practical experience, Vernick offers an empathetic approach to recognizing an emotionally destructive relationship and addresses the symptoms and the damage with biblical tools. Readers will understand how to:
Reveal behaviors that are meant to control, punish, and hurt
Confront and speak truth when the timing is right
Determine when to keep trying, when to get out
Get safe and stay safe
Build an identity in Christ
This practical and thorough resource will help countless individuals, families, and churches view abuse from God's perspective and understand how vital it is for victims to embrace His freedom from the physical, emotional, spiritual, and generational effects of emotionally destructive relationships.
Two winners will be selected in our next newsletter! (Giveaway only available to U.S. residents)
If you would like to enter to win, you can click here to provide name and email address.
The winners of "The Emotionally Destructive Relationship" by Leslie Vernick are Jen B. and Leedya D.
Did I Enable Sexual Abuse?

By Leslie Vernick

Question: My husband sexually assaulted me over a year ago. He thought that I was leaving him and felt it necessary to 'demonstrate' to me how good we were together.
I was fearful and gave in to him, as often saying no to him meant he would tell me I wasn't normal. My family became aware of the situation and went to the police who later called me and asked if I would like to talk with them.
I realized that things were quickly spinning and I declined to talk with the police saying that I needed to first talk to a counselor to make sure I wasn't going crazy.
I was blinded by disbelief and could not grasp this as being abusive. His calling me not normal had become so repetitive through the years and I believed it. I never did follow up with the police. My husband found out about their involvement and has accused my family of being crazy. He told me that a police report like that would make him lose his job and that would hurt our family because we wouldn't have money.
He also said that children's aid would get involved and our children would be taken away. In the subsequent year, my husband denied doing anything wrong. He has told family and friends that I am mentally ill and even satanic.
My question is, did I enable his behavior because I didn't stick up for myself and ultimately shielded him from the law because of the fear he instilled in me with regard to money and my children?
I struggle with this daily and welcome your comments.
Answer: First I am sorry for what you've been through. Your story is not the first one told on this blog of sexual abuse in marriage but it always breaks my heart to hear it.
It's curious to me how the one who does the wrong so easily twists things to look like you are the cause of the disastrous consequences (job loss, money problems, perhaps jail time, Child Services being involved) if you simply tell the truth about what happened. Obviously, he knew he crossed the line when he violated you, not to mention he knew he broke the law or he wouldn't have been so worried about you talking to the police. That said, your question is really about your part. Did you enable it?
I've talked before about fear, how it can capture us, muzzle us, and beat us silly with its lies. Here are some of the lies I hear you falling for…
What People Are Saying About Leslie's Moving Beyond People Pleasing Coaching Groups
I have loved coaching with the LV coaches! My confidence is small but growing. I love the reinforcement that I am doing what is right. Without my coach and my course sisters, it's all too easy to go back to believing the lies I am told every day. So thankful for this group!
– Maryah H.
LESLIE WELCOMES YOUR QUESTIONS

Leslie wants to help you grow in your personal and relational effectiveness. Please submit your questions by clicking here.
Then, visit Leslie's Blog as she posts her responses to one question per week.
Note: Due to the volume of questions that Leslie receives, she is unable to respond to every question.