Join Conquer: Our Conquer Support Group doors are open – but only until Friday. This is the final time that we will offer Conquer at the current cost. After April 9th, we will raise the price. Learn all the details at leslievernick.com/conquersignup
How Did Jesus Treat Women?
by Eric Schumacher (modified from Elyse Fitzpatrick and Eric Schumacher, Worthy: Celebrating the Value of Women)
When we read the Gospels looking at how Jesus treated women, what do we see?
Jesus noticed women. On one occasion, Jesus sat down in the Court of Women and watched people offer gifts (Mark 12:41–44; Luke 21:1–4). He noticed a poor widow. Not only did he notice her, but he also called others to see her, praising her example as being greater than all the others.
Jesus dignified women as fully human. As Jesus taught in the synagogue, he noticed a woman suffering under demonic affliction (Luke 13:10–17). Jesus called her to himself, touched her, and healed her. When the ruler of the synagogue objected, Jesus rebuked him, "You hypocrites! Does not each of you on the Sabbath untie his ox or his donkey from the manger and lead it away to water it? And ought not this woman, a daughter of Abraham whom Satan bound for eighteen years, be loosed from this bond on the Sabbath day?"
Notice how Jesus dignifies this woman. He sees her, speaks to her, touches her. He defends her value as a human being and a member of God's family—"this woman, a daughter of Abraham." He has no patience for a man who values an animal more than a woman.
Jesus enjoyed the company of women. Women were counted as his acquaintances and traveling companions from his earliest moments of public ministry to the foot of the cross (John 2:12; Luke 23:49). These "many" women ranged on the social scale from Mary Magdalene (out of whom Jesus exorcised seven demons) to Joanna to the wife of Herod's household manager (Luke 8:1–3).
Jesus did not shrink from spending time alone with women—even scandalous women. While passing through Samaria, Jesus sat down at a well, wearied and thirsty. His disciples had gone into town to fetch food, leaving Jesus alone. A Samaritan woman approached, whom he immediately engaged in conversation. When his disciples returned, "they marveled that he was talking with a woman" (John 4:27).
Jesus was ministered to by women. In Mark's gospel, one woman and angels ministered to Jesus (1:13; 15:41). In Luke and Acts, Luke highlighted how women served Jesus (Luke 1:5–80; 2:36–38; 8:1–3; 23:49, 55; Acts 9:36–42; 12:12–17; 18:24–28; 21:9).
The women who continually followed Jesus are the only recorded source of income for Jesus' itinerant ministry, providing for him "out of their means" (Luke 8:1–3). They "took care of him" (Mark 15:40–41 CSB) and "looked after him" (Matthew 27:55–56 CSB), as other women did on several occasions (Matthew 8:15; Mark 1:31; Luke 4:39). Jesus even received the hospitality of a female homeowner when "a woman named Martha welcomed him into her house" (Luke 10:38–42).
Jesus touched and was touched by women. Jesus allowed women to touch him without rebuke, sometimes quite scandalously (Matthew 8:14–15; 9:18–26; Mark 1:29–31; 5:21–43; Luke 8:40–56). Once, he allowed a woman to weep on his and kiss his feet (Luke 7:36–50). On another occasion, his friend Mary did something similar (John 12:1–8; see also Matthew 26:6–13; Mark 14:3–9). Jesus is not concerned about how receiving this woman's touch may appear to outsiders, may stimulate gossip, or may "ruin his witness." He cares about these women.
Jesus was always appropriate with women—gentle, gracious, and compassionate, though never condescending. Though culturally scandalous, Jesus showed no impropriety with the woman at the well or those who washed his feet.
Jesus showed compassion to women in their suffering. He healed sick women (Matthew 8:14–15; Mark 1:29–31; Luke 4:38–39). When the Lord saw a widow mourning her only son, "he had compassion for her" (Luke 7:11–17). When a woman fell at his knees, fearful and trembling at being found out for touching his garment, he offered gentle reassurance—"Take heart, daughter; your faith has made you well" (Matthew 9:18–26; Mark 5:21–43; Luke 8:40–56). Observing a demon-afflicted woman in the synagogue, Jesus called, touched, and healed her (Luke 13:10–17). When a Canaanite woman begged for mercy, Jesus delivered her daughter and praised her faith (Matthew 15:21–28). He wept with Mary over the death of her brother Lazarus (John 11:1–44). When speaking of the last days, he spoke with awareness of and compassion for the demands on pregnant women and nursing mothers (Matthew 24:19; Mark 13:17; Luke 21:23).
Jesus had time, touch, and tears for women.
Jesus rebuked, disagreed with, corrected, and forgave individual women. Jesus' gentleness with women should not be mistaken for condescension. He did not treat his female friends with disdain. Jesus challenged his own mother (John 2:4). He disagreed with and corrected the Samaritan woman's theology (John 4:1–26). The Lord addressed Martha's anxiety and corrected her choices (Luke 10:38–42).
Jesus also forgave women. He said to the sinful woman who anointed his feet, "Your sins are forgiven" (Luke 7:47–48). Her standing with God was not determined by her connection to a man, whether a husband or a father (or the men who used her). She was fully human, standing before God as her own person—once a sinner, now forgiven.
Jesus used his platform to protect and dignify women, opposing misogyny and sexism. The Lord forbids treating women as physical objects to lust after. In fact, he condemns the objectification of women as an evil worthy of hell (Matthew 5:27–30). He condemns the neglect of mothers (Matthew 15:4–6; Mark 7:8–13). He protects women from unjust divorce (Matthew 5:31–32; 19:3–12; Mark 10:11–12; Luke 16:18).
Jesus taught, discipled, and dialogued with women. Jesus did not shrink from engaging women in theological discussions (see John 4:1–26; 11:1–44). He interacted with women as intelligent, rational, intellectual people.
When Luke notes that Mary "sat at the Lord's feet and listened to his teaching," he communicates something more than her seating location (Luke 10:39). In Acts 22:3, Luke records Paul testifying that he was "educated at the feet of Gamaliel." Mary takes the posture of a disciple being educated. Jesus invited to be his disciples.
This discipleship extended to meaningful ministry, such as the task of proclaiming his resurrection to others (Matthew 28:10).
What we see in the life of Jesus—his teachings, actions, and attitudes—is what true humanity is supposed to look like. It is what God and his kingdom look like.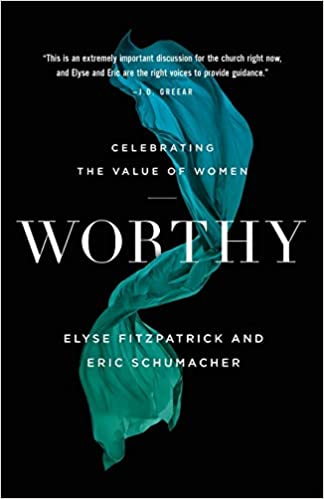 Worthy: Celebrating the Value of Women
by Elyse Fitzpatrick, Eric Schumacher
What does the Bible say about the value of women? Does the Bible teach that women are as valuable as men or does it portray them as somehow more flawed, more suspect, or weak and easily deceived?
Beginning from Genesis and working all the way through the storyline of the Bible, Worthy demonstrates the significant and yes, even surprising, ways that God has used women to accomplish His kingdom goals. Because, like men, they are created in His image, their lives reflect and declare His worth. Worthy will enable and encourage both men and women to embrace this true and lofty vision of God's creation, plan, and their value in His eyes.
Two winners will be selected in our next newsletter! One winner for each book (Giveaway only available to U.S. residents)
If you would like to enter to win, you can click here to provide name and email address.
The winners of "From Shame to Glory: Your Pathway to Freedom" by Kathryn W. Chamberlin is Cynthia S. and Konni N.
Upcoming
Events

Want to have Leslie speak at your event? Click here to find out more information.
Call to Peace Ministry Retreat
May 13 – 16th. 2021
Asheville, NC
https://www.calledtopeace.org/events/retreat/
AACC Conference
September 16th – 19th
Orlando, Florida
RESCHEDULED FOR 2021
The Village Church
December 3rd
Flowermound, TX
Lighthouse Christian Church
Date TBA
Rosemount, Minnesota
Center for Christian Counseling
Date TBA
Madison, WI
My Husband is Stuck in Victim Mindset and is Draining Me
Question: My husband is chronically complaining and often in a bad mood. He finds something wrong with everything and frequently has a pity party for himself. I don't know how to help him or even how to live with him in a godly way. I don't want him to ruin our family life for our children. What can I do?
Answer: It is extremely difficult to live with a negative person. I call it victim mindset. People with victim mindset aren't necessarily victims of anything horrible, (although they can be) but habitually blame everything but themselves for how they feel and the actions they take or don't take.
Often men who are negative are clinically depressed have this tendency, and I hope you have checked out that possibility with a professional. However, some folks are just habitually negative and don't understand how miserable they make themselves as well as the toxic effect they have on others. Bad moods and negative attitudes are contagious like COVID and you will need to do some things to protect yourself and your children from catching it.
But you asked if there is something you can do to help him? The answer is yes and no.
What People Are Saying About Leslie's Conquer Support Group
Conquer has been amazing for my confidence to stand up for myself. I've learned I can make it on my own if I have to and can make choices and feel good even if my husband disapproves. His disapproval no longer defines me. I feel peace, I feel loved and I feel strong through God.
~Joyce
LESLIE WELCOMES YOUR QUESTIONS

Leslie wants to help you grow in your personal and relational effectiveness. Please submit your questions by clicking here.
Then, visit Leslie's Blog as she posts her responses to one question per week.
Note: Due to the volume of questions that Leslie receives, she is unable to respond to every question.