How Dangerous Does it Have to Get?
Leslie Vernick

Physical abuse. It's one of the two "big sins" where the church usually says divorce is acceptable (the other being infidelity).
But, physical abuse is on a continuum so how bad does it need to get before you can go? Do you need to show up at church with two black eyes and a cast on your arm? What if he's only threatened harm you but never actually laid a hand on you?
There are a lot of women who are brutally beaten and even murdered by their boyfriends or husbands.Those kinds of attacks don't just happen. Almost always there is a "honeymoon" phase in the relationship where things are wonderful. There may be anger at times but the outbursts are mainly threats. Name-calling. Maybe a hole in the wall or a chair thrown.
Friend, if those battered women I mentioned were speaking to you, I guarantee they would have the same advice: "Don't wait until he hits you." Proverbs 27:12 says, "The prudent see danger and take refuge."
If you or someone you know is trying to make a decision regarding the danger they may be in, use the following "DANGEROUS" acronym to help discern what action is warranted.
D – Divorce or separation: If you plan to leave your spouse your level of danger may actually increase. Therefore, please develop a good exit strategy and safety plan. You can get some additional help from your local domestic violence shelter. Their toll free number is 1-800 SAFE.
A – Alcohol Or Drugs: Alcohol or drug use does not make someone abuse others however, it does lower internal controls and restraints. If your spouse has been abusive and threatening or has those tendencies and also is using drugs and alcohol, it increases the degree of your danger.
N – Narcissistic Tendencies: Someone who lacks empathy, objectifies and uses people and has little regard for their feelings and sometimes even their lives.
G – Guns Or Weapons: Are there guns in your home? Are they locked up? Are they loaded? Having weapons easily accessible greatly increases your danger levels
E – Emotional Instability: Does your spouse or his family have a history of mental illness? If so it increases your danger levels.
R – Rebellious Towards Authority: Does your spouse have other people who he is accountable to? Does he submit? If he is rebellious toward authority, this indicates a higher risk level of danger for you.
O – Other Violent Behaviors: Does he have a history of other abusive behavior? Has he harmed pets or animals? If so, that increases your danger.
U – Unpredictable Dr. Jeckyl / Mr Hyde: Does he have a secret separate life that only you see? Is he one person in public and another at home? If yes, that makes your danger levels increase.
S – Suicidal And Homicidal Threats: Anytime your spouse threatens to take his own life or someone else's life, take it seriously.
Friend, don't close your eyes to the information in front of you. If you have experienced one or more of these danger warnings, take heed. God is warning you just like warned Joseph that baby Jesus was in danger from King Herod.
Please know that it is never selfish or wrong to protect yourself or your children from harm. Don't ignore these warning signs. God gave you your one precious life. Guard it well.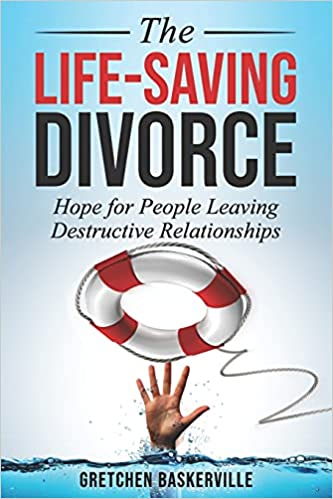 The Life-Saving Divorce: Hope for People Leaving Destructive Relationships
by Gretchen Baskerville
Are you in a destructive marriage? One of emotional, physical, or verbal abuse? Infidelity? Neglect?
If yes, you know you need to escape, but you're probably worried about going against God's will. I have good news for you. You might need to divorce to save your life and sanity. And God is right beside you.
In The Life-Saving Divorce You'll Learn:
– How to know if you should stay or if you should go.- The four key Bible verses that support divorce for infidelity, neglect, and physical and/or emotional abuse.- Twenty-seven myths about divorce that aren't true for many Christians.- Why a divorce is likely the absolute best thing for your children.- How to deal with friends and family who disapprove of divorce.- How to find safe friends and churches after a divorce.
If you need a Life-Saving Divorce, there is hope for you, your faith, and your kids!
Two winners will be selected in our next newsletter! (Giveaway only available to U.S. residents)
If you would like to enter to win, you can click here to provide name and email address.
The winners of "How To Live Right When Your Life Goes Wrong" by Leslie Vernick are Lorraine S. and Meg D.
Upcoming
Events

Want to have Leslie speak at your event? Click here to find out more information.
Center for Christian Counseling
Date TBA
Madison, WI
How Do I Get Past My Guilt Over Marrying the Wrong Man
By Leslie Vernick

Question: I married a man I knew I shouldn't have married, but I was just too chicken to call it off. My parents paid a lot of money for the wedding and I thought I was having pre-wedding jitters. I'm now married 22 years, have three kids that are wonderful, but I have this nagging feeling that I disobeyed God and missed His perfect will for my life. Our marriage isn't horrible, but I know I could have done better had I waited. How do I resolve this guilt that I missed God's best?
Answer: One of the areas I find that many people agonize over is the thought that they have made a terrible mistake and as a result, have forfeited God's best for their lives. Perhaps like you, they think they should have married someone else, or not married the person they did.
Maybe they wish they had chosen a different career path or a different location to live. Now they feel trapped, wishing they could go back, do it over and make different decisions. Over the years, some of us may have made bad choices, ones that directly contradicted God's word. Other times we have tried hard to discern God's will, but still end up unsure, questioning in hindsight whether we made the right decision.
What People Are Saying About Leslie's Walking In CORE Strength Group
"I have learned to stop pretending. I still do at times but that is growing less and less as I grow stronger and stronger. I don't pretend I can do everything and I ask for help. I don't pretend to have feelings I do not have. I don't pretend I want what my husband wants. I am learning to stop lying to myself and I can do that because in these groups I have found a safe emotional place where I can be genuine without fear of being shamed. Thank you so much!
My head knows I am loved by God, my heart even knew that as it comforted me through many hard times but now I am able to carry that through to its intended end…that I roll my shoulders back, hold my head up and stand before others as someone who knows how deeply loved she is. Being loved means that I can love and being loved means I can love for the good of the other not for keeping myself safe and protected."
~ Jennifer

LESLIE WELCOMES YOUR QUESTIONS

Leslie wants to help you grow in your personal and relational effectiveness. Please submit your questions by clicking here.
Then, visit Leslie's Blog as she posts her responses to one question per week.
Note: Due to the volume of questions that Leslie receives, she is unable to respond to every question.