What's New:
Office Closure: Our office will be closed on Friday, July 3rd in observance of Independence Day Holiday.
2020 Conquer Conference Registration will be opening soon. If you want to be notified right away for early bird registration, get on our waitlist.
How Can I Get My Husband To Change?
by Leslie Vernick
Women in destructive marriages are pretty clear on one thing: "If my husband could just see his sin and repent, everything would be better."
And so they'll spend all their time and energy to that end… talking, pleading, buying books, finding counselors. And, when nothing changes, they try harder. Sometimes they get angry. Blow up. And start becoming destructive themselves.
So, how do you get your spouse down the road of repentance and change?
Friend, please hear me: You. Can't. You can't!
It is not yours or even your counselor's job to get your husband to take the steps of true repentance. It is only the job of the Holy Spirit to convict someone. Then it is up to them whether they will respond to that conviction and repent.
Not even Jesus coerced people into repentance. For example, in John 13, at the Last Supper, Jesus showed all of his disciples the full extent of his love. He knew Judas was about to betray him. He even told Judas he knew it. But Judas didn't repent. Jesus didn't go chasing after him, begging, waving a book in his face or dragging a counselor along to talk sense into him. No. Judas had the freedom to choose.
Now, Zacchaeus, in Luke 19, is an example of someone who did choose to repent. He was the chief tax collector and money was his god. He was very rich from extorting money from his fellow Jews.
But something changed in Zacchaeus' heart when Jesus came to his house. We know because he told Jesus, "I will give half my wealth to the poor and if I've cheated people on their taxes, I will give them back four times as much." He now loved Jesus more than money and he was willing to make restitution for his sin.
True repentance cannot be coerced or taught. You can implement consequences or boundaries that God can use to wake him up. But the real "heart work" of genuine repentance only comes from the Holy Spirit.
So how do you know if your husband is genuinely repentant and not just full of empty words?
Paul talks about this in Ephesians 4. He says, "throw off your old sinful nature and former way of life. Instead, let the Spirit renew your thoughts and attitudes. Put on your new nature, created to be like God – truly righteous and holy." Then he gives specific situations. For example,
If you're a thief, quit stealing. That is the first evidence of a change. The sin hurting you and the relationship STOPS.
Second, Paul says, "Use your hands for good, hard work." This demonstrates the thief is now taking responsibility for meeting his own needs.
And, then, Paul adds something else. He says, "Then, give generously to others in need." This deals with inward character. The heart. The thief is transformed inwardly from a taker to a giver.
Apply this to your husband:
You first want to see sinful behavior stopped. Then, he needs to take responsibility for himself – his feelings and actions, and, finally, you want to see an inner heart transformation as he begins to develop new outward behaviors and attitudes. He's doing this to honor God, not to get back home.
Now, this won't happen overnight. It's a process. But this could be evidence that it's happening:
First, your husband grows in self-awareness. He starts owning his sin instead of blaming others for it.
Second, he's willing to receive feedback from others, especially when he's slipping back into old behaviors… and that will happen from time to time.
Third, he's willing to be accountable to a small group of trusted men… men who will do the work of holding him accountable. Major life change never happens without accountability and support.
There is no exact list but you do want to see this kind of progression both internally and externally so that you are seeing the FRUIT of genuine repentance.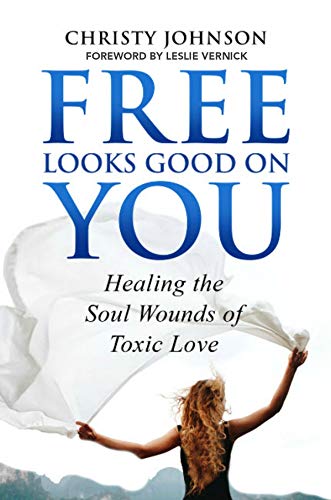 Free Looks Good on You: Healing the Soul Wounds of Toxic Love
by Christy Johnson


It's time to destroy the sting of toxic love and find you again.Through the book's Freedom Blueprint you'll discover 8 soul-strengthening secrets that will empower you to redefine who you are and be transformed into the strong and fearless woman you were created to be.

You'll learn how to put a stop to manipulation and control, set effective boundaries so men can't take advantage of you and invite God's presence to help you heal.
You'll also learn:
What bitterness does to your body
How to identify mental handicaps that make you vulnerable to toxic relationships
Why you should trust your gut•how to spot yellow flags in relationships (they always come before red flags)
How to change the way you talk to yourself
How to communicate effective boundary statements so he takes you seriously
How to find God's strength in the midst of conflict•how to renew your mind and rewrite your life script
Armed with truth and effective tools to apply God's word to your life, you'll be able to lay down your offenses and walk into your future with the intoxicating power of confidence and forgiveness. Whether he deserves it or not, you deserve to be free!
Two winners will be selected in our next newsletter! (Giveaway only available to U.S. residents)
If you would like to enter to win, you can click here to provide name and email address.
The winners of "How to Act Right When Your Spouse Acts Wrong" by Leslie Vernick are Becky T. and Emily F.
Upcoming
Events

Want to have Leslie speak at your event? Click here to find out more information.
GT Church
Video Message by Leslie
August 16th
West Lawn, PA
New Hope Church
November 6th and 7th
East Lansing, MI
Center for Christian Counseling
November 20th and 21st
Madison, WI

The Village Church
December 3rd
Flowermound, TX

My Husband's Wonderful And Toxic. What Do I Do?
Question: I'm married to a wonderful man who is a great provider and all the things anyone could ever want in a husband.
He's caring, has a great job, makes a great living, thoughtful, generous, kind to me, and others both in public and behind closed doors. He's successful, smart and is a great father.
He's all of these things…..until he's not……. sometimes even wavering between being wonderful and demeaning in just a few hours!
… I'm a stay at home mom to 3 amazing children. Currently, we have 2 houses (in transition from one to the other an hour away which is a whole story within itself) and of course, have built a beautiful façade of life. I'm at a point where I can't (emotionally at least) move to the new house until I know that he will change and that I want to stay married.
I'm at a breaking point where part of me just wants to throw in the towel, talk to a lawyer, move on and learn from the past giving my children a respite from the dysfunctional way he treats me. My faith is the only thing I'm hanging on to right now. While I'm at a point where I still truly love him and can see us working it out, I'm also losing the love and desire to make it work on a daily basis. His reactions to things recently as well as my feelings as I accumulate all my journaling and research from the past are daunting and discouraging. I'm trying so hard to do the right thing for our children as to not damage the future that is possible.
Answer: I think your dilemma illustrates well that not all abusive individuals look like monsters nor do they behave poorly or abusively all of the time. Sometimes they can be very wonderful to be around…..until they're not.
I have a few questions I'd like you to ponder. Was his Jeckyl/Hyde persona present early on in your marriage or is it more recent? You wrote, "at first only sporadic but now more the norm." Domestic abuse has a progressive pattern of increasing in frequency and intensity over time. Therefore, I'd like you to answer these next four questions:
1. When was the first time this kind of behavior happened? Dating? Honeymoon? While pregnant with your first child? Only in the last half of marriage? Recently?
2. When was the last time this kind of behavior happened? Yesterday? This week? This month? Last year? A long time ago?
3. What was the worst thing that he has done to you or the children? Often times it's the most degrading or humiliating, not always the most violent or dangerous.
4. What is a typical time?
These questions were first introduced by Lenore Walker, an abuse specialist, and they help us quickly identify patterns of increasing frequency and intensity over time.
What pattern do you see when you answer these questions?
What People Are Saying Leslie's Introduction to CORE Strength Class
Before taking Intro to CORE Strength, my biggest hesitation was just thinking outside this religious box he had put me in and realizing there was more to this life as a woman then being this man's footstool. I wanted to join because I was so unhappy and felt deep down there was a better way that God would want for me.
My biggest takeaway is that I'm important and just because I'm married doesn't give him the right to treat me like a slave. God cares more about me than if I'm married, divorce, or separated. He wants me to do what he has called me to do and it's not walking on eggshells. – Sarah
LESLIE WELCOMES YOUR QUESTIONS

Leslie wants to help you grow in your personal and relational effectiveness. Please submit your questions by clicking here.
Then, visit Leslie's Blog as she posts her responses to one question per week.
Note: Due to the volume of questions that Leslie receives, she is unable to respond to every question.