Our New Quickstart Guide: If you wonder whether or not you're in a destructive marriage or just a difficult one, please go to our new Quick Start Guide to find out. You will find it on our homepage here.
Help! My Husband is a Perfectionist

Leslie Vernick

Every box in the pantry is perfectly lined up. Bottles in the refrigerator are alphabetized. Nothing is left out of place in the entire house to avoid a meltdown. Fail to keep the kids in line and there's something wrong with you…or so your perfectionist husband says.
Living with a perfectionist is exhausting, physically, mentally, and emotionally. No matter how hard you try, somehow it's never good enough. After a while, it's easy to start believing the rhetoric. Maybe there is something wrong with you.
Friend, you do need to change. But, despite what your husband might say, you don't need to change who you are. You need to change your thinking. You can't silence your external persecutor (your husband) but you can silence that internal one (you).
Life and death are in the power of the tongue (Proverbs 18:21). What words are you telling yourself? Are they true? If not, replace your damaging self-talk with the truth of God:
I am strong. Philippians 4:13 – I can do all things through Christ who strengthens me.
I am God's handiwork. Ephesians 2:10 – "For we are God's handiwork, created in Christ Jesus to do good works, which God prepared in advance for us to do."
I am a child of God. John 1:12 – But to all who did receive him, who believed in his name, he gave the right to become children of God.
I am fearfully and wonderfully made. – Psalm 139:14 I praise you, for I am fearfully and wonderfully made. Wonderful are your works; my soul knows it very well.
God is with me. Joshua 1:9 – Have I not commanded you? Be strong and courageous. Do not be afraid; do not be discouraged, for the LORD your God will be with you wherever you go."
God loves me as I am. Romans 5:8 But God showed his great love for us by sending Christ to die for us while we were still sinners.
There are so many more verses you can find about your worth and identity. When your husband calls you lazy or demeans you in any way, simply tell him the truth: "That's not true." He can argue but you don't have to engage in the argument. Know the truth. It will set you free.
God is the final authority on who you are and who you were meant to be, not your husband, not your mother, not your father, not even you. Therefore it's important to care for what God calls good … you.
Healing starts with you, not with your spouse. Value yourself because God does.
As for his perfectionism, that is his problem. Refuse to walk on eggshells. If he wants things organized perfectly, then he can organize them perfectly. But, you must have a plan in place to deal with his anger. That means boundaries.
Remember, you can't put a boundary on him. A boundary is for yourself. So, it might look like, "When you yell, I'm leaving the room." Or, maybe you leave the house. You do not have to subject yourself to verbal abuse! If he gets violent in any way, decide now that you will call the police.
Friend, things will change when you change. And, in case you think this new behavior is not being a "good" wife, it's quite the opposite. Enabling his sin is not good for anyone in the family, including your husband. Proverbs 27:6 says, "Faithful are the wounds of a friend." Exposing his sin gives him the opportunity to deal with it, even if that causes him some pain.
Ultimately, it is up to your husband to do his work. You have no control over whether he chooses to change. But you do have control over you. The best thing you can do for your marriage is to do your own work. Decide today that you will think biblically about your worth and value and that you will, in grace and truth, no longer cater to the perfectionist lifestyle in order to keep your husband's anger at bay.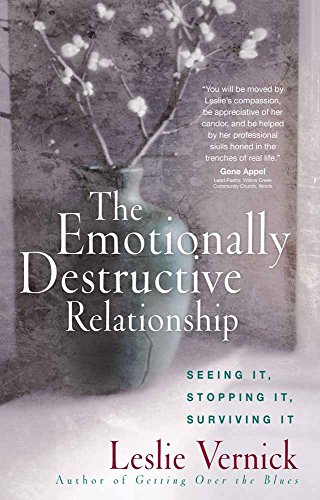 The Emotionally Destructive Relationship
by Leslie Vernick
Leslie Vernick, counselor and social worker, has witnessed the devastating effects of emotional abuse. Many, including many in the church, have not addressed this form of destruction in families and relationships because it is difficult to talk about. With godly guidance and practical experience, Vernick offers an empathetic approach to recognizing an emotionally destructive relationship and addresses the symptoms and the damage with biblical tools. Readers will understand how to:
Reveal behaviors that are meant to control, punish, and hurt
Confront and speak truth when the timing is right
Determine when to keep trying, when to get out
Get safe and stay safe
Build an identity in Christ
This practical and thorough resource will help countless individuals, families, and churches view abuse from God's perspective and understand how vital it is for victims to embrace His freedom from the physical, emotional, spiritual, and generational effects of emotionally destructive relationships.
Two winners will be selected in our next newsletter! (Giveaway only available to U.S. residents)
If you would like to enter to win, you can click here to provide name and email address.
The winners of "The Emotionally Destructive Relationship" by Leslie Vernick are Jane H. and Esther P.
Pause, Pray, Prepare, Practice and Plan
By LeAnne Parsons

Question: My husband and I live in the same house, but we sleep in different bedrooms. While I am okay with this arrangement, my husband is still adjusting to it. Our children and grandchildren are visiting soon, and I am not yet ready to share a bedroom with my husband. How can I explain to them why I no longer sleep in the same room as my husband?
Answer: Dear sister in Christ,
We receive questions like yours often, and I want to acknowledge the courage it takes to seek God's best for yourself, your husband, and your family. As a community, we understand the complexities that arise as relationships face challenges, and I hold space for you as you prepare to share a courageous conversation with your loved ones.
First and foremost, it's crucial to understand that your decision to sleep in a separate room is not a sign of weakness or lack of faith. In 1 Corinthians 6:19-20, Paul reminds us that our bodies are temples of the Holy Spirit, and we must honor God with them. When in an emotionally, sexually, or physically abusive relationship, sleeping in the same room as your spouse can cause harm to your body, mind, spirit, and soul.
What People Are Saying About Leslie's book "The Emotionally Destructive Relationship"
The Lord changed my life through this book. Leslie Vernick pointed me to a deeper relationship with Jesus and to emotionally healthy choices every step of the way. I was able to gain perspective on the reality of the emotional abuse I'd been living through for so long. Realizing the truth of my situation and reaching out for help brought me to a place of being able to make bold decisions that ultimately led to redemption between me and my husband and our family. Now I always recommend this book when I encounter others who are dealing with abusive relationships.
Sydney P.
LESLIE WELCOMES YOUR QUESTIONS

Leslie wants to help you grow in your personal and relational effectiveness. Please submit your questions by clicking here.
Then, visit Leslie's Blog as she posts her responses to one question per week.
Note: Due to the volume of questions that Leslie receives, she is unable to respond to every question.