Mark Your Calendar: My best-selling book "The Emotionally Destructive Marriage" will be on Kindle Sale on Friday, 9/29 only! All you have to do is go to Amazon, and you will see the sale price of $2.99 for Kindle Only.
Conquer Workshop: I am so excited about my brand new Conquer Workshop Topic. The Conquer Workshop will happen on Thursday, 10/05. You can save your spot and learn all the details at leslievernick.com/joinworkshop
Healing A Broken Heart
By: Leslie Vernick

I want to take a moment today to acknowledge – and hopefully offer some help for – the deep pain a destructive relationship causes. Maybe you've stayed busy doing your own work, spent plenty of time in prayer, kept the kids busy, and checked off all the boxes – spiritual and otherwise.
You've made so much progress but, if you were to be honest, your heart still feels very broken.
First, let me commend you on whatever steps you've taken (including reading this!) to get safe and sane. To acknowledge and deal with the reality of your relationship. That can be a pretty brutal first step, especially when the truth is your husband doesn't want to change or even admit he's part of the problem.
Second, it's important to realize that it's very possible to deeply love someone while not being able to have a healthy relationship. It's been said that you only hurt to the extent that you love. When someone isn't willing or able to reciprocate your love it's very painful. Whatever you do, don't fall into the trap of begging, of trying to change his mind or heart. It's crucial to continue living in truth.
So, how can you deal with the deep pain of a broken heart? To start, give yourself plenty of time. When we're dealing with major physical injury or illness, we understand it will take a while to get back to the condition you were before the injury or illness. The heart heals slowly. Be patient with your pain.
Second, allow yourself to grieve. This is similar to a death. It's allowing all those plans to change him, all the dreams of the life you envisioned with a changed man…to die. Letting go of those dreams hurts. Deeply. You will experience some or all of the stages of grief (denial, anger, bargaining, depression, and ultimately, acceptance). This is normal. Just don't allow yourself to get stuck here, because there really is a good life ahead for you.
So how do you keep from getting stuck? Support groups like Divorce Care are an excellent way to process your feelings with other people who are going through similar circumstances and feelings. Journaling is also an excellent way of working through deep emotions. Read the Psalms and see how David did this, over and over again. He was real with his feelings and pain, pouring them out to God.
Also, take care of your body. Get extra sleep when you need it. Get out and take a walk. Look at God's creation and allow it to take your mind off your circumstances. You might even find an outlet volunteering somewhere, working with others who are going through difficult times. This is also a good time to find creative outlets. Take an art class. Plant a garden. Paint pottery. Create a vision board by making a collage of words and pictures that express where you see your life a year from now.
Friend, my final – and most important – advice is to guard your heart and mind: "Above all else, guard your heart, for everything you do flows from it." Proverbs 4:23. Don't be distracted by the attention of another man or fall into negative gossip with other women, rehearsing all the wrongs done to you. Be aware if you're abusing food, alcohol, or falling into other bad habits to numb yourself from painful feelings.
It may seem hard to believe right now but, trust me. You can have a fruitful, and even happy future in spite of the truth you're facing today. Your heart is broken but it truly can heal. That is my prayer for you today.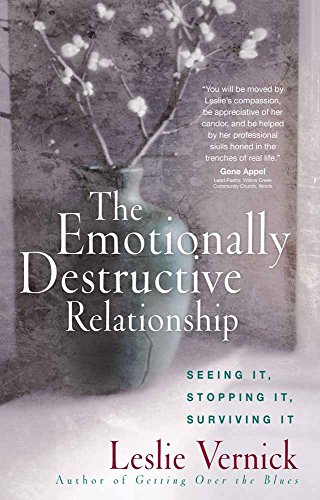 The Emotionally Destructive Relationship
by Leslie Vernick
Leslie Vernick, counselor and social worker, has witnessed the devastating effects of emotional abuse. Many, including many in the church, have not addressed this form of destruction in families and relationships because it is difficult to talk about. With godly guidance and practical experience, Vernick offers an empathetic approach to recognizing an emotionally destructive relationship and addresses the symptoms and the damage with biblical tools. Readers will understand how to:
Reveal behaviors that are meant to control, punish, and hurt
Confront and speak truth when the timing is right
Determine when to keep trying, when to get out
Get safe and stay safe
Build an identity in Christ
This practical and thorough resource will help countless individuals, families, and churches view abuse from God's perspective and understand how vital it is for victims to embrace His freedom from the physical, emotional, spiritual, and generational effects of emotionally destructive relationships.
Two winners will be selected in our next newsletter! (Giveaway only available to U.S. residents)
If you would like to enter to win, you can click here to provide name and email address.
The winners of "The Emotionally Destructive Relationship" by Leslie Vernick are Roberta W. and Lora K.
Am I Being Equally Deceptive?

By Leslie Vernick

Question: I have been in a destructive marriage for 17 years and our challenges began 3 weeks after our honeymoon when I found him looking at internet dating profiles, his response to my asking why remained "I don't know", years later he finally told me he wasn't sure he made the right choice in marrying me. We have had intermittent problems like this over the course of our marriage, for example, he will put me down or do things that are purposefully hurtful in front of friends and family, is very controlling from finances to food, we should comply with his way, he has been physically aggressive with our children (never me) but has told our oldest who has special needs that if we ever get divorced it will be his fault. He has struggled with porn, he blames the children for his behavior (he had to "get their attention"), we walk on eggshells and are constantly monitoring his body language, looks or gestures, etc.
I recently learned that I do not have access to our credit card statements because I am an authorized user, not a primary account holder. He opened a high-yield savings account that I am unable to access and moved a significant amount of money from our joint account to it. I have struggled to build this nest egg and have little to show for my efforts. Am I just as deceitful by working so hard to hide money from him?
Answer: First, I want you to know how happy it makes me to hear that you are doing your own work and growing despite things not changing in your marriage. It's very easy to stay focused on your hurt and your anger at him not changing. Or trying harder and over-functioning to fix his issues. You're learning to grow yourself as well as find things you can be thankful for in the midst of the hard things you are going through in your marriage.
To answer your question regarding your secret nest egg…
What People Are Saying About Leslie's book "The Emotionally Destructive Marriage"
"Women in an emotionally abusive marriage do not need another book on how to have a good marriage; those books rub salt in raw wounds. No, they desperately need this book so that they can diagnosis just how bad their marriage is and then, with Leslie's clear expertise, develop a plan that will either begin to turn their marriage around, strengthen them to stay and survive, or give them a wise route of escape. I was riveted from the first chapter and thanked God repeatedly for this clear manual for those who are in such need of a lifeline."
—Dee Brestin, author of Idol Lies and The Friendships of Women
LESLIE WELCOMES YOUR QUESTIONS

Leslie wants to help you grow in your personal and relational effectiveness. Please submit your questions by clicking here.
Then, visit Leslie's Blog as she posts her responses to one question per week.
Note: Due to the volume of questions that Leslie receives, she is unable to respond to every question.