World Women's Wholeness Summit: I will be one of the speakers at Dr. Barbara's summit in March 2022. She will be offering a live and a virtual option. You can find all the details here.
SAVE THE DATE: Join me on December 7th for a free class on Moving from Victim Mindset to Owner Mindset. More details coming soon, be sure to watch your inbox.
Happiness Isn't Where You Think It Is.
by Leslie Vernick

Is happiness possible? That may sound like a dumb question. Of course it's possible…if…
We all have an internal "if." How would you finish the sentence for your own life? "Happiness is possible for me if… "
Now finish this sentence: "I'm not happy because… "
Really take a few moments to answer those questions before you read on. Grab a pen and paper and write out your response.
I don't want to take away from the real pain that may be held in the way you completed those sentences. And I'm not going to ask you to sweep your feelings under the rug with the wave of a Bible verse. But I am going to ask you to open your heart and mind to what I have to say.
First, let me make a concession. Happy feelings would be a lot easier to come by if our circumstances were perfect. But, hear me. That is never going to happen. Not for anyone (no matter how it may look on Facebook or Instagram).
Here is a key truth I want you to remember: Life usually contains a yea and an ugh…at the same time. See, true inner happiness (more than just happy feelings) doesn't involve the absence of pain. And it certainly doesn't mean denying that pain is there.
Life can bring horrific pain: abuse, the loss of a loved one, financial devastation, broken trust, divorce, debilitating health issues, natural disasters, wayward children, the list is almost endless.
How can some people face excruciating life circumstances and still manage to live a fulfilling life and others, some with very little challenges, descend into depression and addiction?
Heartfelt happiness is the result of truthful thinking.
So many people think they will have happiness when they lose a certain amount of weight. But, think about it. There's a lot of skinny, miserable people in the world, right? So, while you might feel better in your own skin, losing weight doesn't equal happiness. Maybe you're thinking you could be happy if your husband changed. And, while it's true that life might be a lot easier, there's plenty of women with great husbands who still struggle with unhappiness.
Happiness isn't about feeling or looking fabulous and never feeling pain. It's about feeling whatever pain comes into your life and transforming how we look at it; transforming our suffering into purpose so we don't become crippled by it.
Lasting happiness has way more to do with your internal world than your circumstances. When your internal dialogue always has that "if," you can count on never finding happiness. Because life will never be perfect enough.
That doesn't mean you give up on goals or stop striving to make your life better. It means you stop looking at the finish line for happiness and, instead, allow happiness to be with you on the journey.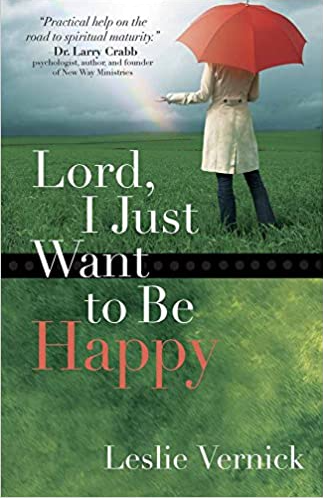 Lord I Just Want To Be Happy
by Leslie Vernick
Counselor and author Leslie Vernick has discovered that many people pray, "Lord, I just want to be happy!" With candor, Leslie reveals that readers don't need new circumstances but a new perspective to discover true happiness. With biblical insight, Leslie guides readers to take simple steps as they…
recognize and change habits that, day by day, keep them from experiencing happiness
make good choices and learn from mistakes without beating themselves up
develop the skills that enable them to let go of negative and painful emotions more quickly
transform difficult circumstances so they can live with gratitude, joy, and purpose
Application questions help readers work godly thinking, as well as healthy skills and habits, into their lives and hearts. They'll discover that, even if nothing changes in their circumstances, their inner chains can be broken and they can go free…into a new path of real hope and happiness.
Two winners will be selected in our next newsletter! (Giveaway only available to U.S. residents)
If you would like to enter to win, you can click here to provide name and email address.
The winners of "How to Find Selfless Joy in a Me-First World" by Leslie Vernick are Kim D. and Jill W.
Upcoming
Events

Want to have Leslie speak at your event? Click here to find out more information.
The Village Church
December 2nd
Flowermound, TX
Center for Christian Counseling
Date TBA
Madison, WI
He Said I Should Be Happy He Came Home To Me
By Leslie Vernick

Question: My husband says he wants to just move forward and work on our marriage, so he does not want to bring up his affair anymore, so he talks and acts like it never happened. But it is so hard when I only found out about it a month ago and it is constantly on my mind. He says he chose to be with me so he does not want to keep bringing up the affair. Should I not bring up his affair anymore to move forward and work on our marriage?
Answer: Aren't you the lucky one. He chose you instead of his mistress…. and that means you should be grateful. You should not feel hurt or angry that he's lied and cheated on you. Just forgive and forget. Get over it and quickly he tells you.
Here's a reality check. He's the one who broke his wedding vows. Broke your trust. Cheated on you with another woman and now he thinks you should be grateful because he chose you? Hello? My question for you is DO YOU STILL WANT TO CHOOSE HIM?
What People Are Saying About Leslie's Empowered To Change Group
"I GREATLY appreciate all that Leslie, Diana, and the other coaches – and YOU and the staff – do for all of us. Where would we be without your programs and your work???!!!!!!! It has been one of the greatest gifts of God in my life. Truly!"
~ Karen R.

LESLIE WELCOMES YOUR QUESTIONS

Leslie wants to help you grow in your personal and relational effectiveness. Please submit your questions by clicking here.
Then, visit Leslie's Blog as she posts her responses to one question per week.
Note: Due to the volume of questions that Leslie receives, she is unable to respond to every question.