Thank You: We wrapped up our Conquer Workshop Series last week. I heard from so many of you who loved all the teachings and Facebook Lives. If you missed any of our Facebook Lives, you can always catch up by going to our Videos tab in my Facebook Page.

Handling Messy Finances
Leslie Vernick

Today I want to talk about money. It's one of the most common areas of marriage difficulty, often because of things like mismanagement and poor communication. But,when it comes to a destructive marriage, money is often used by men to hide addictions and/or control their wives. And, because many women don't have access to money, they feel unable to leave a destructive situation.
The topic of money creates a lot of fear and fear can be paralyzing. So let's take away some of the scariness by getting clear about what's happening in your finances and what to do about it.
First, let's figure out the roles you and your husband play when it comes to family finances. What kind of husband do you have? Is he a good provider and money manager (even if he's not a great husband in other areas)? Maybe he's a good provider but holds the purse strings tightly, treating you like a child with a small allowance. Or, perhaps you're married to a man who acts like a child, financially, by overspending, drowning your family in debt, and leaving you to deal with the consequences.
Now, let's deal with the kind of person you are when it comes to the family income. Are you a passive person who prefers to let your husband handle the checkbook? Maybe you don't even know what your husband makes or when the bills are due. Or, you may be the provider and take charge of paying the bills, enabling your husband to avoid responsibility. Of course, there are a lot of possibilities between these two extremes but thinking through the financial roles you and your husband play will help you understand a lot about yourself and your particular situation.
Next, it's important for you to understand that, if you're married, all of the income and all of the debt incurred is equally your responsibility. The law does not separate his bad decisions from your good ones (or vice versa). You are considered one in the eyes of the court. For this reason, it's very important that you know what's going on when it comes to martial income and debts. Here are some practical steps for getting clear on your financial situation along with some options for dealing with what you find out.
1. Write down your household income and then list any debt you have…include interest rates, balances, minimum payments and due dates. Do a credit check on yourself and your husband. This way you will find out if there is debt you don't know about. (You can get a free credit check at www.creditkarma.com)
There are several good apps to help you document information and keep it in a safe place. Depending on your situation, this could be a scary process. But knowledge truly is power and you cannot change what you don't acknowledge. You will deal with the situation later. For now, get clear on where you stand, financially.
2.Get advice from someone who is wise in the area of finances. Dave Ramsey is a good resource and you can find local people who are affiliated with him through the Dave Ramsey website.
3. You may realize, from steps 1 & 2 that it's time to separate your finances, even while you're still married. If so, you'll need to make an appointment with a family law attorney and get advice on your next step.
4. You may also need to consider earning your own income if you don't already. While this may not be the dream you had for your life, it may be your reality. Dealing with that reality is choosing to take ownership of your situation and not live as a victim of your husband's poor choices. You may need to open an account in only your name so you can begin to have some financial safety.
After you've taken one or more of these steps it may be time to have a conversation with your husband. Simply state the facts of your situation and what you intend to do about it. (Hurling accusations and getting lost in overwhelming emotions won't solve anything.) Don't have this conversation until you are 100% committed to following through.
We would all love to be married to great providers who are also financially responsible. But, for many, that isn't reality. Your choice, then, is to acknowledge that reality and take charge of your own financial life…that choice will have a positive ripple effect on your emotional and mental life.
Bottom line? You don't have to allow another person to drive you off a financial cliff. You do have choices.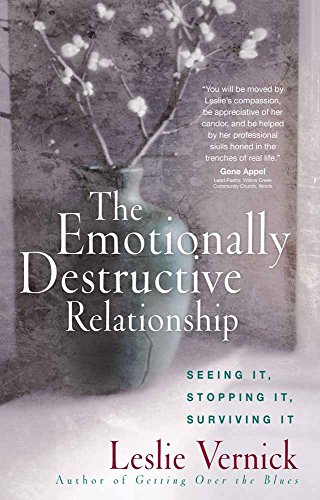 The Emotionally Destructive Relationship
by Leslie Vernick
Leslie Vernick, counselor and social worker, has witnessed the devastating effects of emotional abuse. Many, including many in the church, have not addressed this form of destruction in families and relationships because it is difficult to talk about. With godly guidance and practical experience, Vernick offers an empathetic approach to recognizing an emotionally destructive relationship and addresses the symptoms and the damage with biblical tools. Readers will understand how to:
Reveal behaviors that are meant to control, punish, and hurt
Confront and speak truth when the timing is right
Determine when to keep trying, when to get out
Get safe and stay safe
Build an identity in Christ
This practical and thorough resource will help countless individuals, families, and churches view abuse from God's perspective and understand how vital it is for victims to embrace His freedom from the physical, emotional, spiritual, and generational effects of emotionally destructive relationships.
Two winners will be selected in our next newsletter! (Giveaway only available to U.S. residents)
If you would like to enter to win, you can click here to provide name and email address.
The winners of "Lord, I Just Want to Be Happy" by Leslie Vernick are Linda C. and Darlene T.
Upcoming
Events

Want to have Leslie speak at your event? Click here to find out more information.
AACC
September 8th – 10th
Dallas, TX
Center for Christian Counseling
Date TBA
Madison, WI
3 Critical Heart Changes For Successful Reconciliation
By Leslie Vernick

Question: My husband and I have been separated for a month now. He pushed me and I fell against the door jam and bruised my shoulder and arm. He's been ugly before, but never physical. He says he's changing, but what should I be looking for before he comes back home? We have children at home so it's hard not having him here, but it's easier in that we're not fighting like we were before. My pastor thinks I shouldn't wait too long or he may lose heart. My husband says forgiveness means believing him and trying again. What are your thoughts? I'm afraid to have the same cycle repeat and I'm not sure he gets the seriousness of his actions and attitudes.
Answer: First, give yourself some peace and accept that you are incapable of knowing the future. The best you can do today is make the wisest decision based on what you know right now. Two years from now you may have different facts, but today you don't know those facts. All you know for sure is today and you know yesterday. Your marital history is important because the best predictor of future behavior is past behavior. When someone tells you to forget the past and start with a clean slate, that's nonsense.
You can forgive the past but you must not forget. Remembering your history helps you be wise in making your next right choice.
What People Are Saying About Leslie's Book – The Emotionally Destructive Relationship
Hi! I just want to say a big THANK YOU for you book, "The Emotionally Destructive Relationship"!!! I feel like it is a personal therapy session – just for me! So thank you for writing it and sharing it with those of us who desperately need to read it.
-Marny C.
LESLIE WELCOMES YOUR QUESTIONS

Leslie wants to help you grow in your personal and relational effectiveness. Please submit your questions by clicking here.
Then, visit Leslie's Blog as she posts her responses to one question per week.
Note: Due to the volume of questions that Leslie receives, she is unable to respond to every question.