Thursday: Our Conquer Workshop goes live THIS Thursday (9./29). Our topic will be "How long should you keep hoping for your destructive spouse to change and how will you know his change is real?" This is a free workshop, so save your seat at leslievernick.com/joinworkshop
For Better or Worse?
If He's Sick? Must I stay with him?
Leslie Vernick

Many women I work with are married to men who have serious mental health problems. I'm often asked if this is a reason to stay married. After all, it's not anyone's fault if he is autistic or has bipolar disorder, or if he was abused as a child, suffers from PTSD or any number of other serious issues.
We can go down a dangerous path when we excuse abusive behavior by blaming the illness. While more grace and forbearance is required in a relationship with these kinds of issues, a wife is not required to allow herself to be verbally, spiritually, mentally, sexually, financially or physically abused simply because her husband has mental or emotional challenges.
For example, let's say your husband is diagnosed with an Autism spectrum disorder. He now has the opportunity to see "what's wrong" more clearly. He has the opportunity to learn that he doesn't always perceive things correctly, or empathize normally or handle his temper in ways that don't cause harm to you as his wife and to your relationship.
Now what? The correct diagnosis is only the first step of change. The second step is accepting that diagnosis and then doing the work to get as healthy as possible.
If your spouse is diagnosed with PTSD, or Depression, or BiPolar, or even diabetes, is he willing to get help? Take appropriate medication? Open to feedback when you say "ouch" or "stop" or "you're hurting me or our kids?" Or does he deny the diagnosis? Refuse to get help? Minimize the impact it has on your family? Continue to function without helpful feedback because he doesn't think he needs it?
Jesus asked the man paralyzed for 38 years "Do you want to get well?" (John 5:5). This man had a history of making excuses for a long time. Jesus knew that healing this man's legs would not fix his entire life. But it would require this man to make significant changes in his own life. Now, he would be expected to work instead of begging. He would no longer be able to make excuses for not taking responsibility for himself nor would he be entitled to depend on other people's good will and kindness for his well-being. He would need to learn to function as an adult instead of a cripple. Jesus' underlying message to him was not just do you want your legs healed, but also do you want to get well? In other words, do you want to mature and #do your own work?"
If someone you live with refuses to take responsibility for his health, for his destructive behaviors that may be linked to low blood sugar, a past history of trauma, a mental illness or even a brain tumor, understand that his refusal to get help is not his illness. It's more true that it's his pride or stubbornness or fear of what he will have to change. His response is more a reflection of his character than his illness.
There are plenty of people in this world who have been abused in their childhood, who do not abuse others. There are plenty of people who suffer with mental illness who do not verbally, sexually, financially or physically abuse others. Precisely because they do not want to hurt those they love, they get professional help, stay accountable and do what it takes to be as healthy as possible.
It's true: when you got married, you both vowed to be there "in sickness and in health". But what does that look like when one person refuses to accept that he has a problem? Or he refuses to get the help he needs to be stable and safe and instead continues to cause serious and repetitive harm? Does God want a wife to be a poor steward of her own life and health by allowing herself to continue to be bullied and/or mistreated because her spouse is too proud or stubborn to humble himself and get the help he needs? No. That only enables his problem to escalate and grow. That does not love him well in sickness or in health.
If you find yourself in this situation here are your choices:
Choice #1: Focus on getting your husband to get the help he needs. Love cares about what's in his best interest and it's in his best interest to get help so that he can get well. I'm going to guess you've already been down this road (over and over again) and the end result is nowhere. It only leads to your personal frustration, depression, and even health problems. So there comes a time where you must move to other choices.
Choice #2: Stay in the marriage, suffering under his mistreatment and grow bitter and resentful that he doesn't change or do his own work.
Choice #3: Leave the marriage bitter and angry because he won't change or do his own work and feel guilty and spiritually shamed.
Choice #4: Accept the truth. The dream of your husband doing his own work and having a good, healthy marriage is not reality. For now, anyway, he doesn't want help and doesn't want to change. It's okay to grieve as long as you're able to emotionally accept it and take care of you and move forward.
What does moving forward look like? Here again you have some tough choices to make.
Choice #1: Stay in the marriage with zero expectations for him to change. Don't hope for emotional connection. Don't beg him to go to the doctor. Don't ask him to attend marriage counseling or forward him any more marriage advice or videos. Accept where he is and learn to create safety for yourself and find peace and contentment in building and stewarding your own life.
Choice #2: Tell him you accept that he has no interest in changing or doing the work to be a healthy person/husband. You are unwilling to pretend any longer that this is a healthy marriage. Therefore, if you are unsafe (physically, emotionally, mentally, financially, sexually and/or spiritually) it's a good choice to separate or divorce so that you can live at peace and in safety.
Friend, you cannot force another person to deal with their physical, mental, emotional, or spiritual problems. You can support someone who is willing to do their part. But, if he isn't, it's up to you to face that (truth) reality and make choices to steward your own safety and sanity.
P.S. Our doors to our Conquer membership will be open soon for two weeks. If you need a supportive community of Christian women who get this problem, please check it out when we open on Thursday, 9/29.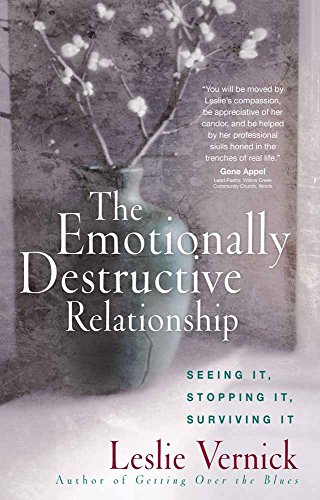 The Emotionally Destructive Relationship
by Leslie Vernick
Leslie Vernick, counselor and social worker, has witnessed the devastating effects of emotional abuse. Many, including many in the church, have not addressed this form of destruction in families and relationships because it is difficult to talk about. With godly guidance and practical experience, Vernick offers an empathetic approach to recognizing an emotionally destructive relationship and addresses the symptoms and the damage with biblical tools. Readers will understand how to:
Reveal behaviors that are meant to control, punish, and hurt
Confront and speak truth when the timing is right
Determine when to keep trying, when to get out
Get safe and stay safe
Build an identity in Christ
This practical and thorough resource will help countless individuals, families, and churches view abuse from God's perspective and understand how vital it is for victims to embrace His freedom from the physical, emotional, spiritual, and generational effects of emotionally destructive relationships.
Two winners will be selected in our next newsletter! (Giveaway only available to U.S. residents)
If you would like to enter to win, you can click here to provide name and email address.
The winners of "The Emotionally Destructive Relationship" by Leslie Vernick are Gwenn J. and Connie K.
How Do I Apply CORE Strength To Justify Boundaries?
By Leslie Vernick

Question: I just finished the CORE coaching group and am a whole new person because of it. How do I respond when I set boundaries with my husband and he calls me controlling? Example: I would not dance with him at our son's wedding because of his excessive drinking. I had him move out of our bedroom because he would come to bed angry and dump on me then I had a hard time getting to sleep. But he calls me controlling and says his behavior is a symptom of my control. How do I handle this in CORE?
Answer: I love that you have found building your own CORE strength transformative. The application of God's word IS life-changing. So often we learn Biblical principles, but we still struggle to know how to live in them out in real time.
Briefly, CORE STRENGTH teaches women to be…
What People Are Saying About Leslie's Conquer Support Group
"Thanks to Conquer, I am seeing a woman who has decided to stop being a doormat and controlled because I enabled my husband's demanding ways by trying to fulfil everything he desired. I am not meant to listen to harmful mental and emotional verbal abuse. Now rather I use my voice and actions to set healthy boundaries and stay safe. I am so thankful"
-Teresa
LESLIE WELCOMES YOUR QUESTIONS

Leslie wants to help you grow in your personal and relational effectiveness. Please submit your questions by clicking here.
Then, visit Leslie's Blog as she posts her responses to one question per week.
Note: Due to the volume of questions that Leslie receives, she is unable to respond to every question.