Doors Are Open: Our Conquer Support Group is open! But only until Friday, April 21st. We only open our doors twice a year. Learn all the details at leslievernick.com/conquersignup
Our New Quickstart Guide: If you wonder whether or not you're in a destructive marriage or just a difficult one, please go to our new Quick Start Guide to find out. You will find it on our homepage here.
Five Red Flags Your Marriage Is Destructive
Leslie Vernick

It's not always easy to determine whether a hard marriage is just pain hard or is destructive.
When Emma first met Rick, she was instantly smitten by his handsome features, strong masculine build, his take-charge personality and over the top charm. Ten months later they were married in a fairy tale wedding in front of over 200 friends and family.
Once they returned home from their honeymoon, Rick made it clear to Emma that he was the head of their home. He immediately took over the family finances, told Emma that he didn't like Cheryl, her best friend. He said Cheryl was a bad influence and he didn't want Emma hanging out with her anymore. Despite the fact that Emma worked full time as a Project Engineer, Rick found fault with everything Emma did. It was never good enough or up to his standards.
Sometimes Rick would leave for hours at a time and not tell her where he was. When she questioned where he went, he told her it was none of her business. Many nights she endured Rick's tongue lashings, telling her how incompetent, stupid, or disappointing she was. Emma tried hard to please Rick, hoping that he'd see how hard she tried to please him but somehow she always fell short. The more she tried, the more he found wrong.
Now, five years and two children later, Emma feels broken and scared. What was so wrong with her that Rick couldn't love her? Why couldn't she make her husband happy? He often called her the most foul and degrading names. Emma felt like she was dying inside. Who could she talk to? What should she do? Did anyone see or care about what was happening to her?
Emma's cries echo the despair of many Christian women who want to honor God yet find themselves in a marriage that is destructive and damaging to their emotional, spiritual, mental, financial, and physical well-being. Emotional abuse is something people don't openly talk about or even recognize yet it is real and it's pervasive.
Here are five red flags that your marriage may be emotionally destructive.
1. You feel controlled: Does your spouse regularly squash your perspective on things? Can you say no when you need to? Does he refuse to work you as a partner and share power in decision making?
2. You feel afraid: Obviously whenever there is any kind of physical or verbal abuse the marriage is destructive. Emma wasn't physically abused but she felt afraid to put her foot down and challenge Rick on anything. Her self-esteem and worth were constantly diminished by Rick's overbearing personality and she felt afraid she was losing who she was within her marriage. Does your spouse bully you, threaten you, humiliate you, intimidate you, force or coerce you to do things you don't want to do? Is there a price to pay when you refuse?
3. You often feel confused: Rick told Emma that he would take care of paying the bills once he returned home. When late payments started coming in Emma brought it to Rick's attention. Rick got angry and accused Emma of failing to remind him when they were due. Emma didn't know she was supposed to remind Rick, and when she did remind him of things, he accused her of trying to control him. Does your spouse mislead you, deny things that you know are true, lie about things or try to get you to blame yourself or other people when he messes up?
4. You feel dismissed: Your perspective, feelings, desires, and needs are regularly ignored, mocked, or minimized. Does your spouse ignore your feelings and act indifferently to you and your needs?
5. You feel objectified: Rick wanted a happy and willing wife in the bedroom but wasn't interested in Emma as a person. He never asked about her day, didn't encourage her interests and got angry when she asked him to do something for her when there was nothing in it for him.
Does your spouse act as if your sole purpose is to meet his needs and make him happy?
If you recognize these warning signs in your marriage, here are four things you can start to change.
1. Tell the truth, especially to yourself. You won't see clearly what your next steps will be until you take this first one. Many women feel terrified to admit, even to themselves, that their marriage is destructive. Instead they pretend, minimize, rationalize, and make excuses. Like Emma did, many women blame themselves for their husband's mistreatment and say, "I shouldn't have said (or done) that. It's my fault I made him mad." But healthy people live in reality not fantasy. The worst lies a person can tell are the ones you tell yourself.
You won't get or receive the help you need unless you first tell yourself the truth; your marriage is destructive.
2. Find support: Most women feel a lot of shame about being emotionally abused. It's hard to admit the ugly truth to yourself let alone share it with someone else. Isolation is a tactic used by concentration camp guards to maintain control over prisoners. Is your spouse isolating you from family and friends? The more you comply to keep peace, the more power and control he will gain over you. Educate yourself about abusive tactics and find a support group where you can share you story with other women who understand.
3. Learn to set healthy boundaries: Wise individuals already know how to do this and that's why they don't usually allow themselves to be repeat victims. When you have lost the freedom to say "No" you've been captured, muzzled, and restricted like a child. This is not healthy for you as an adult woman or a wife. Nor is it healthy for him to "rule over you." Yes, you are your husband's helpmate, but does not mean that you silently prop him up to enable his destructive behavior to continue. Instead, you learn to lovingly yet firmly speak up and set boundaries, hoping he might come to his senses, see his destructive behaviors, and be willing to change them.
4. Implement appropriate consequences: One of life's great teachers is consequences. Sadly, many women have been encouraged to mitigate negative consequences because "love covers a multitude of sins." While that's true, love does not cover all sins and sometimes your husband's sin is so grievous and chronic the only way to potentially shock him awake is to implement strong negative consequences. For example, you might refuse to get in a car with your husband if he has a habit of road rage or has consumed too much alcohol. You can't control him, but you can and must protect you and your children's well-being.
What's happening behind closed doors is not only destructive to you, it's harmful to your children and even your spouse. No man feels good about himself when he mistreats the people he's promised to love and protect. For your family's future, change needs to happen and that change begins with you, as you learn to wisely steward yourself and your children by getting safe, and becoming as strong and healthy as you can.
If you need support in a confidential setting, my Conquer Support Group is open – but only until Friday, 4/21. You can get all the details here.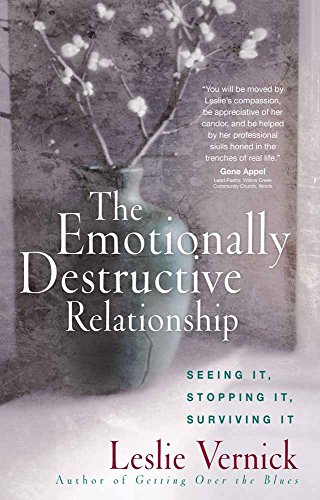 The Emotionally Destructive Relationship
by Leslie Vernick
Leslie Vernick, counselor and social worker, has witnessed the devastating effects of emotional abuse. Many, including many in the church, have not addressed this form of destruction in families and relationships because it is difficult to talk about. With godly guidance and practical experience, Vernick offers an empathetic approach to recognizing an emotionally destructive relationship and addresses the symptoms and the damage with biblical tools. Readers will understand how to:
Reveal behaviors that are meant to control, punish, and hurt
Confront and speak truth when the timing is right
Determine when to keep trying, when to get out
Get safe and stay safe
Build an identity in Christ
This practical and thorough resource will help countless individuals, families, and churches view abuse from God's perspective and understand how vital it is for victims to embrace His freedom from the physical, emotional, spiritual, and generational effects of emotionally destructive relationships.
Two winners will be selected in our next newsletter! (Giveaway only available to U.S. residents)
If you would like to enter to win, you can click here to provide name and email address.
The winners of "The Emotionally Destructive Relationship" by Leslie Vernick are Kay B. and Lynn B.
Am I Selfish for Stopping My Enabling Behaviors?
By Leslie Vernick

Question: Thank you for what you do. I have read your book and listened to many of your videos. After years of counseling, reading, and praying, I cannot shake the belief that I am being selfish.
I've been married for 25 years. All 25 years I have worked to support our family. In the beginning, this was difficult for me, but I was willing to work toward my husband's dream job. I worked while he built his business. I helped finance all his projects while he promised that he just needed another year to get going, etc. etc.
Here we are 25 years later in the same place only more expensive to accommodate his projects. Nearly all his profit goes right back into the business. There is no contribution to any household expenses. However, because the business is in the backyard, he sees it as helping with our "situation".
I have trouble seeing it this way, so I become confused. Aside from the chronic financial stuff, he is short-tempered. He acts like a schoolyard bully that teases people for their flaws. He easily becomes angry if you show hurt feelings. He is loud, crude, entitled, and cocky. He shows an "I'll hurt you before you hurt me" attitude. When he gets angry with me, he rages with insults and accusations about me, my family, my work, my hobbies, and sometimes our children. He gets angry when I spend time with my parents. Teases me if I go to church.
He tells me I'm "stepping out" when I take my mother to craft shows or go somewhere with a friend. He has disowned every member of his family. He hasn't spoken to his own daughter from a previous marriage in nearly 10 years. He sleeps late in the day. He answers to nobody, with no responsibility to anyone or anything. If he doesn't want to do something he just doesn't do it. I feel sorry for him.
He is like a child that gets so hurt that he has turned into a hateful person as a defense. He's been diagnosed with depression and OCD (intrusive thoughts), anxiety, and sleep apnea. He will go to doctors for a bit and then decide they don't know what they are doing after he's put little to no effort into treatment. He is very good at convincing me that he's doing anything different is impossible.
My question is this. If I know his behaviors are coming from past hurts and some mental issues and I leave him, does that make me a bad person?
Also, if I've enabled this behavior all these years, am I selfish and cruel to just abandon him now? I've become his parent. I'm responsible for his well-being. After all these years I feel taken advantage of, sad, defeated, and quite frankly…. Ticked. Yet, I can't get away from the feelings of selfishness and guilt.
I'm also afraid that my kids will be angry especially if he turns to them for financial help and dependence. How can I stay well, or leave well when he isn't well in either situation?
Answer: I'm so sorry for all you've had to experience in your marriage. Your husband sounds like a difficult man to live with. From what you wrote, it sounds as if you have been very compassionate towards him and have tried to understand where this might stem from. Yet, you're the one who feels responsible for his well-being, not him. I doubt if he even thinks he has much of a problem to work on.
There are a lot of different angles here but let me tackle two in this short blog…
What People Are Saying About Leslie's Conquer Support Group
"I can't thank you guys enough for all this ministry has given me. I have finally escaped my abusive husband after many attempts and empty promises of change. I don't think I could have ever had the strength and courage to do it without Leslie and the Conquer program. Thank you again for all you do and please extend my heartfelt gratitude to Leslie as well."
~ Dana Lee
LESLIE WELCOMES YOUR QUESTIONS

Leslie wants to help you grow in your personal and relational effectiveness. Please submit your questions by clicking here.
Then, visit Leslie's Blog as she posts her responses to one question per week.
Note: Due to the volume of questions that Leslie receives, she is unable to respond to every question.