What's New:
It's Here! Our Conquer Support Group is finally open. If you have been waiting for a chance to join this amazing community – this is it! Learn more at leslievernick.com/conquersignup

Fear Is Not The Boss Of You

Guest Article by Jennifer Allwood
Now more than ever before I am meeting so many women who are feeling stuck in their lives, unable to move toward the thing that they want and the thing that God calls them to and they are terrified of what the future may hold.

I get it. We are all trying to adjust to a new normal.
But adjusting is often soooooo hard because we feel stuck.
Stuck because we just won't let things go. Old ways of thinking. Old habits. Sometimes even letting go of people who were in an old season. Sometimes we stay stuck because we are continuing to CHOOSE stuck on a daily basis.
It's so important to get unstuck and yet all too often we have grown comfortable in our stuckness. We stay stuck with other stuck people and it begins to feel comfortable. We carry it around like a toddler's favorite blanket.
Because when we are terrified, it's easier to claim, "I'm stuck" than it is to gather courage and say, "I'm trying again." Or "I'm breaking free."
And now more than ever, you need to break free. Pivot. Move. Change. Get unstuck.
The thing about a woman being stuck is that it not only affects us, but everyone around us.
When I am stuck, my husband pays for it. My kids pay for it. My business suffers. I am not the kind of friend I want to be.
I have to fight staying stuck for them too.
It's so important for us to understand that we are not defined by the awful things that happened to us. The traumatic childhood, the abusive boyfriend, the cheating spouse, the friend who betrayed you . . . those experiences are not all of you. Certainly, a part of you, but not all of you.
They are not who you are.
You are a grown woman, capable of healing, capable of being whole, capable of doing hard things, capable of moving forward. God does not mark your life by one event or tragedy or a series of them, for that matter, and you should not either.
It's time to stop replaying the old tapes and the old mistakes over and over in your mind. You are not who you were back then. You aren't who you were last month. You are not even the same person you were yesterday if you did any sort of reflection, prayer, or anything to grow yourself in the last twenty-four hours.
You may have failed, but you are not a failure.
You don't have to stay stuck. It's time to break free of all that is holding you back and getting out of your own head so you can live the life you were made for.
My book "Fear Is Not The Boss of You" hit Amazon bestseller list on the first day it came out. This book is written for any woman who has ever been stuck, completely overwhelmed or terrified to make a change in her life. You can find it on Amazon, Barnes and Noble online and at www.fearisnotthebossofyou.com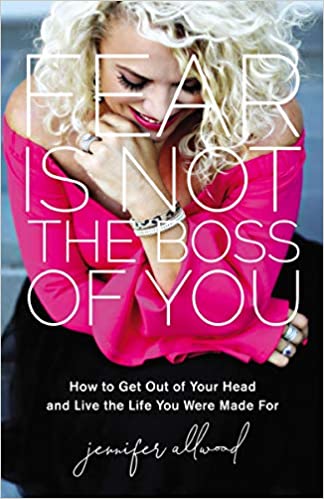 Fear Is Not the
Boss of You
by Jennifer Allwood


This book is for any woman who has ever been overwhelmed with indecision, paralyzed with fear, or just plain stuck. With no-nonsense biblical truth, Fear Is Not the Boss of You is a loving kick in the backside that will catapult you into ACTION. Successful entrepreneur, business coach, and girl next door Jennifer Allwood is your guide to show you why you can't stay stuck, teaching you how to get out of your own way and get on the road to fulfilling the life of your dreams–even if you're afraid.
Whether you're thinking of launching a new business, adopting a child, writing a book, or competing in a triathlon, Jennifer will motivate you to move from paralyzing fear into courageous obedience and action. With stories, straightforward truth, and practical tips you can apply today, Jennifer will show you how to:
Identify how and where you are stuck
Determine what's holding you back
Get out of your own way
Empower those around you
Experience the incredible joy that comes from trusting a big God to do big things in you and through you
This is your gutsy invitation to go after the big dream God has called you to . . . because fear is not the boss of you.
Two winners will be selected in our next newsletter! (Giveaway only available to U.S. residents)
If you would like to enter to win, you can click here to provide name and email address.
The winners of "The Emotionally Destructive Marriage" by Leslie Vernick are Shawna M. and Chrissy D.
Upcoming Events

Want to have Leslie speak at your event? Click here to find out more information.
Center for Christian Counseling
July 24th and 25th 2020
Madison, WI
GT Church
August 16th and 17th 2020
West Lawn, PA
New Hope Church
November 6th and 7th 2020
East Lansing, MI
The Village Church
December 3rd, 2020
Flowermound, TX

My Adult Children Treat Me Horrible.
What Can I Do?
Question: What can I do about grown children 33 and 36, who get mad at me and are verbally abusive toward me? I've always been there for them. I have helped them move numerous times. I've listened to them when they were down. I babysit their children all of the time. When they had no food in the house, I brought them necessities. I took care of them after surgery.
When one of them divorced, I made a point of inviting her out to dinner so she could get out. Not that it matters, but we are upper-middle class. We do not curse; we did not physically or verbally abuse our kids. They just lash out verbally if and when they get mad, mainly at me.
I have a neurological disease that affects my eyesight and speaking voice and ability to get my breath as well as a minor heart condition. These two children I'm talking about are my youngest daughters. We also have an older son and daughter. We have no problems with our son and our older daughter went through a "blaming" period in her life, but has matured and knows that her life is the result of decisions she has made.
What can I do about these two girls that cut my heart out with their words?
Answer: It is so painful to see our adult children express their worst selves, especially when it is against us, their parents, who would give our very lives for our children. Sadly there is nothing you can do to change your girls, that is their responsibility. But, there ARE some things that you can do about how they are treating you that may begin to influence and invite your girls to change themselves. You do not HAVE to let yourself be abused. That is not loving them or your own self.
When you are a repeat victim of mistreatment by someone you're in a relationship with, you must stop and ask yourself what is your part? Please don't misunderstand me. Taking a hard look at your part does not mean you are at fault for their mistreatment. But you must ask yourself why you have allowed yourself to continuously be mistreated and verbally abused by your own children without protest or consequence?
Here is What People are Saying About Leslie's Conquer Support Group.
I am so grateful for my sisters here..and for you Leslie who call your 'girls'. I love how much you love and care for us and these paintings all just reflect that to me ..I had no idea that such a safe place as this could exist
~Renae Hovd
Seriously…the money I've paid for CONQUER is the best money I've ever spent!!!
~Terri Fulton Sullivan

LESLIE WELCOMES YOUR QUESTIONS

Leslie wants to help you grow in your personal and relational effectiveness. Please submit your questions by clicking here.
Then, visit Leslie's Blog as she posts her responses to one question per week.
Note: Due to the volume of questions that Leslie receives, she is unable to respond to every question.