What's New:
As we enter the week before Mother's Day – it can be really tough for many of you. I want you to know that you are in my thoughts. Stay strong and remember that God sees all the silent work you do everyday.

Don't Ask The Universe To Help You

by Leslie Vernick
I don't know if your worry meter is rising these days amid Covid-19, economic shut down, social isolation, government corruption, kids at home, businesses shut down, and nowhere to go, but I have to continue to pray and look up, to keep mine in check.
As I pray I'm struck with the wonderful reality of a personal God. SomeONE who I can pray to, who gladly hears my night terrors, my worry list, my insecurities, doubts, and feelings of overwhelm.
Today we often hear people use the term "the Universe" to reference a cosmic benevolent force out there somewhere who will bring you what you need in the moment. I'm glad I don't have to pray to the Universe. I talk to my Father who is in Heaven. His name is holy.
One of the most freeing lines in the prayer Jesus taught his followers to say is, "Thy will be done, on earth as it is in Heaven" (Matthew 6:10). Frankly, most of the time I don't know how to pray. If I pray for this good thing to happen or this bad thing to go away, is that what's best? Is that what I or my loved ones need the most?
I have learned that there are just as many temptations and distractions in experiencing the good things in life as with the bad things. When life is good I'm tempted toward pride, and self-sufficiency, sluggishness in prayer and lack devotion to God. I'm distracted by pleasure and comfort and opportunity and I'm not always conscious that my heart has lost its first love.
I have also learned that there are treasures in darkness. When trials and troubles abound, I am riveted to prayer. I feel helpless and humble and small. I am very aware of my need for God's help, both in my inner life and my outer life. Even in the darkest moments he teaches me to "fear no evil" for his presence is with me. These lessons I would never learn in the light or when things are going well.
To surrender the outcome of my prayers and petitions to God's will is comforting. I don't know what's best in the moment or for the situation but he does and I can rest in his sovereignty to bring that about.
So friend, I hope you don't talk to Mr. or Ms. Universe whoever that is, but you have a personal relationship with a living, loving God who invites you to call him Abba, Daddy (Romans 8:15).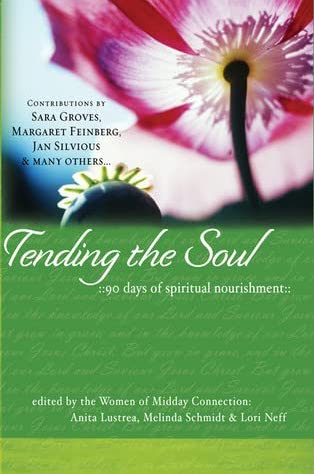 Tending the Soul: 90 Days of Spiritual Nourishment
by Anita Lustrea


Every day, tens of thousands of women turn to Midday Connection for spiritual nourishment and encouragement through the radio program and Facebook community. The hosts, Anita Lustrea, Melinda Schmidt and Lori Neff hear the heartfelt needs of these women and understand their desires to grow in body, mind, and soul.
In response, Midday Connection along with prominent authors and artists – Staci Eldridge, Shannon Ethridge, Carol Kent, Sara Groves and many others – compiled Tending the Soul: 90-days of Spiritual Nourishment.
This devotional combines transparency with biblical truth, as each reading begins with scripture, followed by a short devotional including a deeply personal prayer, and closes with an application question.
Two winners will be selected in our next newsletter! (Giveaway only available to U.S. residents)
If you would like to enter to win, you can click here to provide name and email address.
The winners of "Fear is Not the Boss of You" by Jennifer Allwood are Rachael S. and Martha W.
Upcoming
Events

Want to have Leslie speak at your event? Click here to find out more information.
GT Church
August 16th and 17th 2020
West Lawn, PA
New Hope Church
November 6th and 7th 2020
East Lansing, MI
Center for Christian Counseling
November 20th and 21st
Madison, WI

The Village Church
December 3rd, 2020
Flowermound, TX

Do I Give Him One More Chance?
Question: My husband has had several affairs. One sexual and the other emotional. After each one, I have tried to work on me and felt they occurred because I needed to fix something wrong with me. I needed to be more loveable, more appealing and easy to be with. In so many ways I have been completely humbled and broken, but despite the changes, I've made in my own life. I recently discovered he had resumed calling the woman he had been having an emotional affair with 4 years ago. In addition, he has confessed to having a sexual addiction or integrity issues involving pornography and pleasing himself sexually. Yet, even while he has been secretly doing this, I have felt loved and cared for by him most of the time.
After the last affair, it was agreed if he ever did this again it would mean automatic divorce, no more counseling, etc. When we first separated, I felt scared, but now after 5 months I'm fine and our children are fine. They say they prefer him gone and we have needed time to heal. Before, I tried so hard to rebuild my marriage that our children took a back seat. Now I'm enjoying the peace of our home instead of always being anxious that I would make a mistake that would drive him into the arms of another woman.

I'm thriving, going to a great Christian counselor and reading and trying to understand sexual addiction. However, my husband wants another chance and feels he now understands why he made so many hurtful choices. He periodically meets with a pastor from our church but has not sought counseling or a recovery group. He seems softer, has realized much and constantly says he misses me and loves me, but I have lost my desire for him. I almost would be embarrassed to put myself through this again but feel guilty or unsure if I'm disobeying God. Isn't God a God of second or fifth chances?
I have never been good at discerning when my husband was betraying me how can I ever trust him? How do I know if he is fully recovered? Am I being disobedient at not giving him another chance?
Answer: We all wish life's decisions could be black and white and that God would clearly tell us what to do. I have the same struggle of "not knowing" the future or the reliability of a person's words. Talk is cheap and insight, even good and truthful self-awareness, is still a long way off from faithful and consistent change in a person's heart and habits.
The good news is you don't have to decide just yet about whether or not to follow through with divorce. You indicate you are getting good counsel so I'm going to just give you some things to talk about with your counselor to make sure you are paying attention to what's important to pay attention to.
First, pay attention to your emotions but don't allow yourself to be ruled by them. You said you feel anxious by his anger and intimidation. Is this also true in other relationships or mainly with him?
Here is What People are Saying About Leslie's Moving Beyond People Pleasing Online Course
I was able to find greater peace about where I've been and where I'm headed due to this course. Don't doubt myself as much when my husband tries to bully me. More sure of me. Continuing with Conquer to stay connected and continue to grow. I don't have a plan laid out for my marriage's future. But it is dead, if ever a marriage were dead. I feel quite 'done'. I don't have the heart to approach him about trying counseling. I know God has a good future and plan for me and it is unfolding everyday even if I can't see around the next bend in the road. Thank you for serving God and us Leslie-you are a great blessing.
LESLIE WELCOMES YOUR QUESTIONS

Leslie wants to help you grow in your personal and relational effectiveness. Please submit your questions by clicking here.
Then, visit Leslie's Blog as she posts her responses to one question per week.
Note: Due to the volume of questions that Leslie receives, she is unable to respond to every question.