margin-left: auto;}}
Group Coaching Opportunity: We have a few openings for our spring Walking in CORE Strength coaching group. If you have ever wanted to be part of an intimate and life changing group – this is your chance! Learn all the details at leslievernick.com/groupcoaching

Does Forgiveness Mean No Consequences?
Leslie Vernick

There's been a long-standing belief in many churches that says, "If someone apologizes, as Christians, we are required to forgive and never bring it up again." Every time. The belief is based on verses like:

Matthew 18:21-22 "Then Peter came up to him and said to him, "Lord, how often will my brother sin against me, and I forgive him? As many as seven times?" Jesus said to him, "I do not say to you seven times but seventy times seven."
Colossians 3:13 "Bearing with one another and, if one has a complaint against another, forgiving each other; as the Lord has forgiven you, so you also must forgive."
Luke 17:3-4 "Pay attention to yourselves! If your brother sins, rebuke him, and if he repents, forgive him, and if he sins against you seven times in the day, and turns to you seven times, saying, 'I repent,' you must forgive him."
So, does this mean that, in order to practice New Testament grace and forgiveness you should offer your husband a clean slate every time he apologizes and never bring it up again…even if the sin happens repeatedly? That's what a lot of husbands – and pastors – believe. In fact, many churches will discipline a wife if she implements boundaries and consequences against her husband. If a man apologizes and is willing to go to counseling, that should be enough.
Friend, this is a twisted understanding of scripture. How quickly we label the victim as hard-hearted and unforgiving when she refuses to pretend anymore that her husband's repentance is real. So let's really wrestle with the hard questions:
1. Do claims of repentance immediately cancel out any negative consequences of a person's sin?
2. Does grace and forgiveness mean zero relational fallout? No broken trust?
3. Is there ever a need to prove one's repentance is real?
4. Does the New Testament teach one should make amends for sin?
Let's look at Romans 13:10. "Love does no harm…" Does that mean we are to placate and ignore habitual sin? Or, is it possible that boundaries and consequences are evidence of godly love? Proverbs 27:6 says, "Blessed are the wounds of a friend." That certainly doesn't mean we would take joy in seeing someone, even an enemy, suffer. But it does mean that sometimes the truth hurts. And, sometimes boundaries and consequences can serve as a wake-up call for someone to finally see the truth of his or her sin. (Matthew 23, Mark 7:6-12)
When a wife refuses to continue in a destructive dance she is showing biblical love. How? By acting in the best interest of her husband. Putting up with and ignoring sin is, in no way, in the best interest of your husband.
Now, let's say you've implemented a boundary. Maybe you've even separated. Your husband runs to the pastor in tears, testifying of the work God has done in his heart. In this instance, a wise pastor would look for the meaning behind those tears. Is he saying, "I'm so sorry. I've sinned against my spouse and God?" Or, is he saying, "Poor me. I'm devastated that my wife has left and I'm hurting?" One is repentance. The other is not.
To have true repentance a person must be aware of the pain he's caused. Does he show concern for the suffering he's inflicted or is he mainly aware of his own pain? Is he focused on himself and defending his actions? Genuine repentance acknowledges that serious and repetitive sin does have negative consequences on relationships. Genuine repentance accepts these consequences and works to make amends for the damage his sin has caused.
If you do not see any of these things, then it isn't genuine repentance. Sorry is just a word. Repentance is action taken over time. (Matthew 7:20, 1 Corinthians 4:20)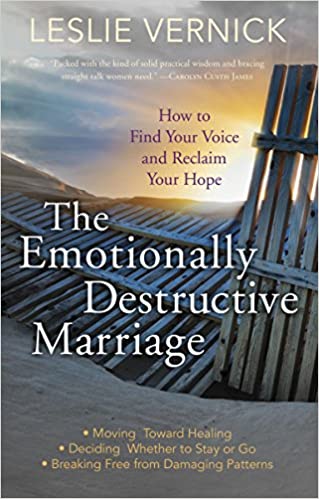 The Emotionally Destructive Marriage
by Leslie Vernick
You can't put it into words, but something is happening to you. Your stomach churns, your heart aches, and the tension in your marriage is making you feel weary and a little crazy. The constant criticism, disrespect, cruelty, deceit, and gross indifference are eroding your confidence and breaking your spirit.
For any woman caught in an emotionally destructive marriage, Leslie Vernick offers a personalized path forward. Based on decades of counseling experience, her intensely practical, biblical advice will show you how to establish boundaries and break free from emotional abuse. Learn to:
identify damaging behaviors
gain the skills to respond wisely
promote healthy change
stay safe
understand when, why, and even how to leave
recognize that God sees and hates what is happening to you
Trying harder to be a perfect fantasy wife won't help fix what's wrong your marriage. Discover instead how you can initiate effective changes to stop the cycle of destruction and restore hope for the future.

Two winners will be selected in our next newsletter! (Giveaway only available to U.S. residents)
If you would like to enter to win, you can click here to provide name and email address.
The winners of "Lord, I Just Want to Be Happy" by Leslie Vernick are Regis B. and Genny R.
Upcoming
Events

Want to have Leslie speak at your event? Click here to find out more information.
Center for Christian Counseling
Date TBA
Madison, WI
I Need More Support But Feel Stuck

By Leslie Vernick

Question: I know I need more support from outside in my marriage. It is a great burden on me. However, I do not know how to get that support. I read your blog and have read your others books on abuse, and those things have been lifelines for me. I really feel the need to have a trusted friend to talk to about my difficulties, but I am not sure how to find one.
I have considered joining one of your online groups, but that doesn't seem possible. My husband is a cleric. I homeschool. He works from home. He would be livid at me if he knew I was joining a support group for women in abusive relationships. I would likely not be allowed to continue and if I were it would be at great cost as he would make it difficult for me. I don't know how to do it on the sly either. He is at home, I am at home, the children are at home. Not always, but there aren't regular times when I am alone.
All my friends go to our church – where he is the leader. If I were to talk to one of them, it would put a huge burden on them since he is their leader. Plus they might feel the need to deal with it at a church level, which would also come back to me. To find a friend outside of church seems tricky as well. I am very busy and the burden I carry is heavy. My time is often spent trying to recover and heal from emotional pain, so just the time involved in finding a friend is daunting, never mind trying to get together without his oversight.
As I write this, I realize that perhaps I need to try to not homeschool in order to have more independence. However, I am concerned that some of my children might follow the wrong crowd at school. I am committed to bringing them up in the nurture and admonition of the Lord. Besides that, I would have to work and currently I struggle with my health. I think that is partly due to the years of this marriage as well as the burden I so often feel that he shouldn't be in ministry.
Answer: I feel for you. I hear you hurting inside. Your burden is heavy and you are experiencing great pressure and pain. You know you need to make a change because maintaining the status quo is making you ill. Yet your fear of making a change keeps you spinning in circles and staying stuck right where you are, to your own peril.
I wonder if you noticed that every good solution you came up with to help yourself came with an obstacle that stopped you from moving forward and taking action. From what you have communicated I believe you are extremely capable of coming up with good solutions for yourself. Therefore, I'm not going to give you any more solutions. Instead, I want to address your resistance to taking action on your own behalf (which I believe is a very common problem for good Christian women in your situation).
What People Are Saying About Leslie's Walking In CORE Strength Group
"In this class, I realized that because my people's pleasing addiction affected my ability to establish healthy boundaries in my life. My life has changed drastically! Yes, I am single and I'm ok with that. I have much better relationships with my teenagers. I am successfully setting boundaries! My kids give me daily opportunities to exercise that muscle!
Praise the Lord!!! And best of all – because Jesus has freed me to walk in CORE, I am clothed in strength and dignity….. and I smile (HOPE) in what the future holds. Is it scary some days? YES! But today I can confidently say that I can look fear in the face and smile."
-Margie S.
LESLIE WELCOMES YOUR QUESTIONS

Leslie wants to help you grow in your personal and relational effectiveness. Please submit your questions by clicking here.
Then, visit Leslie's Blog as she posts her responses to one question per week.
Note: Due to the volume of questions that Leslie receives, she is unable to respond to every question.