Walking In CORE Strength: Our 3 month group is open again. We only open it twice a year and allow 15 women per group. If you have ever wanted to be part of an intimate and personal coaching group, this is your chance. Learn all the details at leslievernick.com/groupcoaching
Divorce Sometimes is the Best Next Right Choice
Leslie Vernick

I recently had the pleasure of doing a podcast interview with Gretchen Baskerville, author of, "The Life-Saving Divorce." (You can listen at www.leslievernick.com/podcast.) She had so much wisdom to share we split the interview into two episodes! Today I want to share with you just a couple of the big questions she tackled.
1. Is marriage a permanent covenant…no matter what?
What the Bible says might surprise you. It's important to understand the background of the divorce passage of Matthew 19…the religious leaders were trying to trap Jesus by forcing him to choose between the teachings of two different Rabbinic schools. The school of Shammai said divorce was acceptable only in the event of sexual immorality but the school of Hillel said a man could divorce his wife for, literally, anything. Ridiculous reasons. Women were being discarded and left with no way to support themselves. God cared about that!
Also, Jesus' cousin had just been killed by King Herod Antipas for speaking up about the King marrying his brother's wife. The whole point of the religious leaders questioning Jesus about divorce was because they wanted the king to kill Jesus, too.
Now, this isn't some recently discovered history. This has been common knowledge among Bible scholars for more than a hundred years! Here's the point. This passage was about protecting women! It was never meant to keep a woman in a marriage where she is being emotionally, financially, and/or verbally abused but her husband hadn't been sexually unfaithful so she's stuck. And, yet, that's how it's been used.
Another "go-to" divorce verse is Malachi 2:16 which says, "God hates divorce." Or, does it? Did you know this verse was only interpreted this way by King James? And that was after 2,100 years of interpreting this verse to be talking about a man who simply wanted to divorce his wife for any trivial reason. The Dead Sea Scrolls confirmed this earlier interpretation. And that's why, since the discovery of the Dead Sea Scrolls in 1996, no major Bible translation has used the wording, "God hates divorce." (For more information go to www.lifesavingdivorce.com/malachi)
It's vitally important that women begin to do their own study of the scriptures instead of being swayed by culture or men who simply want to convince them to stay in an abusive marriage.
For a more in-depth study on this topic, Gretchen and I recommend you read David Instone-Brewer's book, "Divorce and Remarriage in the Church: Biblical Solutions for Pastoral Realities." Available here: https://www.amazon.com/Divorce-Remarriage-Church-Solutions-Realities/dp/0830833749
2. How does a woman deal with other Christians who disagree with her position on divorce?
Christians tend to paint nearly all divorces with the same brush: "wrong." I think we can all agree divorce is always hard. And there are times when it's wrong. But it most definitely isn't always wrong. Only you know all of the factors going into the decision to leave your marriage and that's why only you should ultimately make the decision with God's guidance.
Here's the reality: you are never going to change the mind of a biased person. That means you may have to distance yourself from certain people for a time. Don't spend your valuable emotional energy trying to make the world around you agree with your decision to divorce. They won't.
Allowing negative, judgmental people to speak into your life is giving them power in your life. That isn't to say you shouldn't allow feedback from healthy, godly people. Contemplate what they have to say. Really pray about it. But, as I said, the decision is ultimately between you and God. Live for his approval. He is the ultimate authority in your life. Don't give that position to another person.
No need to be mean or even angry. Instead, choose to find a good, Bible believing church with supportive people.One other thing. If you're in the middle of the pain of divorce, remember that God will not leave or forsake you. There is life on the other side and it can be a good life.
Resources:
Gretchen Baskerville's website: https://lifesavingdivorce.com/
List of Bible passages on divorce and abuse: www.lifesavingdivorce.com/abuse-in-bible
Life Saving Divorce book by Gretchen Baskerville
Relationship Truth: Unfiltered Podcast: www.leslievernick.com/podcast
Relationship Test: Are You in an Emotionally Destructive Relationship?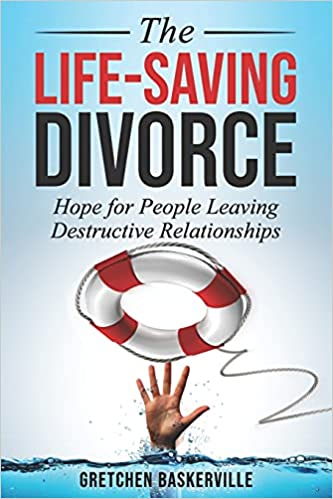 The Life-Saving Divorce: Hope for People Leaving Destructive Relationships
by Gretchen Baskerville
Are you in a destructive marriage? One of emotional, physical, or verbal abuse? Infidelity? Neglect?
If yes, you know you need to escape, but you're probably worried about going against God's will. I have good news for you. You might need to divorce to save your life and sanity. And God is right beside you.
In The Life-Saving Divorce You'll Learn:
– How to know if you should stay or if you should go.
– The four key Bible verses that support divorce for infidelity, neglect, and physical and/or emotional abuse.
– Twenty-seven myths about divorce that aren't true for many Christians.
– Why a divorce is likely the absolute best thing for your children.
– How to deal with friends and family who disapprove of divorce.
– How to find safe friends and churches after a divorce.
If you need a Life-Saving Divorce, there is hope for you, your faith, and your kids!
Two winners will be selected in our next newsletter! (Giveaway only available to U.S. residents)
If you would like to enter to win, you can click here to provide name and email address.
The winners of "The Emotionally Destructive Marriage: How to Find Your Voice and Reclaim Your Hope" by Leslie Vernick are Nancy R. and Suzy M.
Upcoming
Events

Want to have Leslie speak at your event? Click here to find out more information.
AACC
September 8th – 10th
Dallas, TX
Center for Christian Counseling
Date TBA
Madison, WI
Is There More Than One Right Answer?
By Leslie Vernick

Question: I feel very confused and lost in my marriage. We've been married for 17 years and it's been difficult. There is no physical or verbal abuse. But my husband has always had a short fuse and explodes easily over little things. He's a blamer and very negative. He is a controlling black-and-white thinker and I've never felt 'heard' when we disagree on a family decision. It's generally his way and even if I agree in the end, I'm resentful because I was still bullied into the final decision. Recently we started seeing a different Christian counselor (we've been in the past but it didn't help). This counselor has been great and really has seen to the core of my spouse rather quickly. The counselor calls my husband out and to the table, requiring him to own his stuff. This is good news but I still feel anxious. If my husband is going to counseling and somewhat 'trying,' then I guess I should stay. We do have multiple children and a child with a significant disability. I want to be free from this marriage but feel like I don't have a strong Biblical justification. And I feel guilty because of my children (if I initiated a separation). At the same time, doesn't God want us to be in healthy, Christ-honoring marriages? My gut says, my husband can probably make a few changes, in the short term, but never to the point where this could be a loving partnership. What is the Godly way to handle this situation?
Answer: Thank you so much for your questions. There are many layers here to unpack. 17 years is a long time to live in a difficult marriage. You mentioned that there is no verbal or physical abuse happening in your home. As I read and reread your question and background information, I can't help but notice that your emotional well-being is being compromised in various ways. First, by his short fuse and being quick to become angry, second, by not honoring your ideas and the fact that you feel bullied into making decisions. If this has been the pattern for 17 years dear one, I would call this verbal violence. From the tone of your note, the blaming and negativity have taken a toll on you, and perhaps your children. Blame is often a shield we humans raise to protect the ego. Please do not assume the blame for the blame- remember, the blamer does not always tell the truth. The fact that you are feeling anxious and guilty and conflicted in your next best steps, tells me that it is time for some CORE Strength work.
What People Are Saying About Leslie's Walking In CORE Strength Groups
"My favorite part was just getting to hear directly from my coach on the subject. I actually found that I have started attempting to operate from my CORE without even knowing it. I definitely need work in some areas, but the validation that I am headed in the right direction was great! The affirmation and encouragement from her. Knowing that I'm not the only one out there trying to do as God would have me, but still feeling stuck and alone at times."
-Dana Lee

LESLIE WELCOMES YOUR QUESTIONS

Leslie wants to help you grow in your personal and relational effectiveness. Please submit your questions by clicking here.
Then, visit Leslie's Blog as she posts her responses to one question per week.
Note: Due to the volume of questions that Leslie receives, she is unable to respond to every question.