FREE TRAINING: I am doing a brand new workshop on Thursday, February 16th. The topic will be "I'm Not Okay When You're Not Okay": Defining my problem, your problem, and our problem." you can save your spot at leslievernick.com/joinwebinar
Caring For Yourself Isn't Selfish
Leslie Vernick

Sometimes I have a hard time taking good care of myself.
My good friend Barb has watched me burn out and melt down because I've allowed myself to get depleted. Why do I do this to myself? I know better. After all I'm the expert!
And yet, I still struggle to actually practice good self care. I know I'm not alone. It isn't that we don't know how to take care of ourselves, or even that it is good to do so. Every day we're bombarded with messages about how to manage stress, the value of good friendships and the importance of adequate sleep, exercise and healthy eating to our well-being. The problem isn't knowledge. It is practice.
Why don't we do it?
Because we're too busy and we feel selfish, guilty and fearful when we take time or resources just for ourselves. Let me explain.
Many of us try to be a Betty Crocker mom, a Victoria Secret wife, and a Martha Stewart housekeeper, all while working to help provide some family income. We tell ourselves we ought to home school our kids and feel selfish if we don't want to or can't.
In addition we should pray and study our Bible every day, take care of our aging parents, volunteer at church, be involved in a small group, work out at the gym …and the list goes on and on.
When we can't keep up, (and we can't) many of us feel guilty. We don't stop to say "no" or set limits on what we can do because we're afraid that someone might get mad or won't like us if we disappoint him or her. But God never asks us to do it all. Rather he tells us to be a good steward of our resources. All of us only have four resources at our disposal. Our time, our talents, our energy, and our money.
How we choose to allocate these resources not only impacts us, but also those we love.
Therefore, it is essential that we give some thought to our deepest values and priorities. Feeling stressed out or burnt out exposes how we have been misspending our resources.
For example, many people are overwhelmed these days because of high credit card debt and financial difficulties. Their resource of money has been overspent, and the consequences are now draining them emotionally and financially.
We do the same thing with our other resources. We go into debt with our energy resources by extending ourselves over and over again beyond our limits, leaving ourselves physically drained and emotionally exhausted. Always hurrying is a refusal to accept the reality of time. We leave no margins for interruptions or delays and try to squeeze every moment out of our day.
It's not surprising that we feel like a taut rubber band ready to snap. Sometimes life becomes too hard because we have not been good stewards of our resources, including OURSELVES! We collapse under the stress of trying to do more than we have the resources to handle. Take some time this month to evaluate how you allocate your resources of time, energy, money, and talents.
Ask yourself these two questions.
1. Are you living within your limits, or are you always overdrawn?
2. Do you budget your resources according to your values and priorities and your family's needs, or do you use up your resources in order to live up to other's expectations or gain their approval?
Living unrealistically – always going into the red is not taking good care of yourself. It is STRESSFUL AND STUPID! It's like giving someone unlimited access to your bank card.
Don't do it.
Learn to say "no" when you need to and don't feel guilty or fearful for doing so! Remember, there is a high price for being too nice!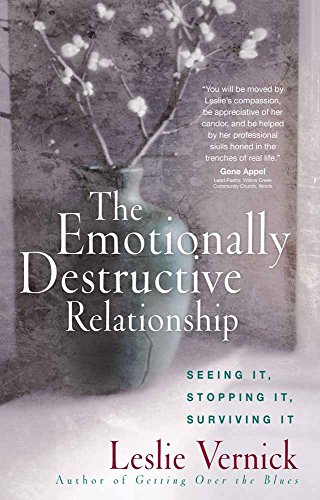 The Emotionally Destructive Relationship
by Leslie Vernick
Leslie Vernick, counselor and social worker, has witnessed the devastating effects of emotional abuse. Many, including many in the church, have not addressed this form of destruction in families and relationships because it is difficult to talk about. With godly guidance and practical experience, Vernick offers an empathetic approach to recognizing an emotionally destructive relationship and addresses the symptoms and the damage with biblical tools. Readers will understand how to:
Reveal behaviors that are meant to control, punish, and hurt
Confront and speak truth when the timing is right
Determine when to keep trying, when to get out
Get safe and stay safe
Build an identity in Christ
This practical and thorough resource will help countless individuals, families, and churches view abuse from God's perspective and understand how vital it is for victims to embrace His freedom from the physical, emotional, spiritual, and generational effects of emotionally destructive relationships.
Two winners will be selected in our next newsletter! (Giveaway only available to U.S. residents)
If you would like to enter to win, you can click here to provide name and email address.
The winners of "The Emotionally Destructive Relationship" by Leslie Vernick are Judy W. and Marci F.
It's Still All About His Needs
By Leslie Vernick

Question: My husband cheated and then abandoned me and our 5 children for nearly 2 years. He has recently apologized and wants to work things out. I agreed, and we have been taking steps to restore our relationship. He lives 4 hours away, so we only see him every 1-2 weeks for a few days. Recently he has been saying he needs reassurance that we will be together in the end. I think he is getting discouraged because it's taking me so long to "come around". How do I reassure him I am still willing to work on things, but that I don't have a timeline on my healing? I fear that he will be so discouraged that he will walk away…. again.
Answer: I am so sorry you have had to experience this kind of pain. I'm sure it has not been easy for you to be the sole parent to 5 children for almost 2 years. I agree you do have your own healing to do, and I hope you continue to do it.
Adultery is a serious break in trust. It is a betrayal of the worst kind. It devastates the victim (you) and God says it is grounds for divorce. Yet, you did not initiate that option over the past 2 years. I assume you waited, hoping, praying he would come to his senses and repent. Now you say he's apologized but he wants your reassurance that all will be well… in the end.
Let's take first things first. What is your NORTH? What's most important to you to be the kind of person you want to be?
What People Are Saying About Leslie's book "The Emotionally Destructive Relationship"
This book was so helpful to me when I was going through a trying time in my marriage. Leslie Vernick is a Christian and is very pro-marriage and both of those were incredibly important qualities to me when I was looking for a book to help me learn how to handle my marital conflicts. She draws her wisdom both from extensive experience working with married couples and from a thorough understanding of Scripture, which she cites throughout the book. I was so encouraged to read others' stories and know I was not alone, and her wisdom helped me sort through hurt feelings to see the heart of what was going wrong in my relationship and what I could do to help fix it. I could not have been more impressed with this book. It was exactly what I needed.
~ Arietta
LESLIE WELCOMES YOUR QUESTIONS

Leslie wants to help you grow in your personal and relational effectiveness. Please submit your questions by clicking here.
Then, visit Leslie's Blog as she posts her responses to one question per week.
Note: Due to the volume of questions that Leslie receives, she is unable to respond to every question.